When you make the choice to add a pre-made dashboard, you'll have the option to choose from a list of templates. One of these templates is the A/R Dashboard, which is pre-configured with tiles designed to give you a high-level overview of your firm's A/R aging and financial performance. After adding this pre-made dashboard to your main dashboards page, you can edit, delete, or rearrange its tiles. You can also add new tiles depending on what your firm wants to achieve.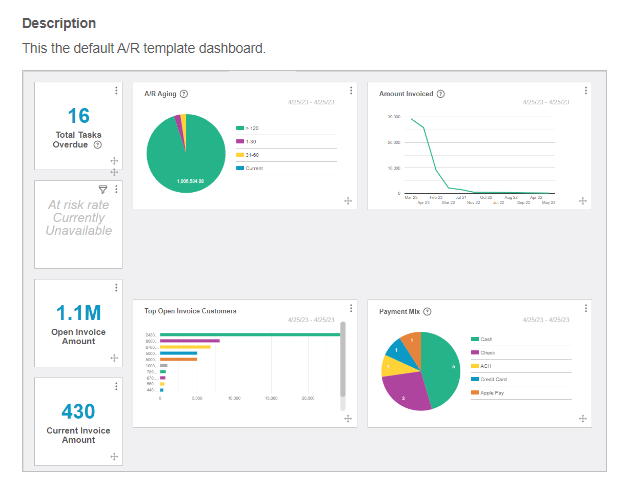 The A/R Dashboard includes a handful of A/R focused quick insight and large graph tiles.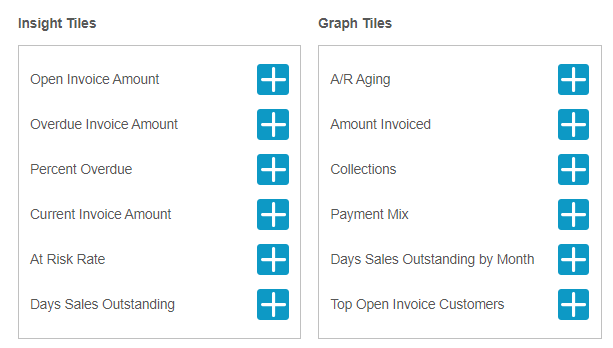 Below, we'll explain what each of these tiles can show you about your firm's invoicing and billing trends.
Insight Tiles
Open Invoice Amount
The total dollar amount of all your firm's open unpaid invoices.
Overdue Invoice Amount
The dollar amount of all your combined outstanding and overdue invoices. If the number on this tile is large, you may need to prioritize following up with clients about their invoice payments.
Percent Overdue
The percentage of your firm's total open invoice amount that is past due. If this percent number is too high, it's a sign that you may need to prioritize your client outreach and payment collection efforts.
Current Invoice Amount
This is the dollar amount of all your combined current invoices that still have yet to be paid, giving you insight into your future earnings. The number you see on this tile excludes overdue invoices.
At Risk Rate
This tile displays the percent of overdue invoices that still haven't been paid 60 days after their due date. The odds that an invoice will be paid can go way down if 60 days have passed since an invoice's due date without any payment. Monitoring this number will let you know whether your cash flow is at risk, and you should try to keep it as low as possible.
Days Sales Outstanding
The number on this tile conveys the average number of days it takes for your clients to pay their invoices. If you've set a target number for this metric, keeping an eye on this tile to see how closely you stick with it will let you know whether you should reassess your strategy around client outreach and invoice due dates.
Graph Tiles
A/R Aging
The A/R aging graph tile visually conveys the dollar amount you still need to collect on invoices during each aging period. You'll be able to see how much money is overdue within 0-30 days, 30-60 days, 60-120 days, and 120+ days prior to the current date. You can click into this graph to see a more detailed breakdown of these amounts for each period, as well as which clients you may need to follow up with first.
Amount Invoiced
This tile will show you a monthly recap of the total amount you've invoiced for. Here, you can get a sense for what your invoicing trends and patterns are, which can help with future financial and budget planning.
Collections
The Collections tile shows you how much money you've actually collected from client payments and deposited into your account. These numbers are arranged in a monthly format, and you can change the date range displayed to view payment collection trends over time.
Payment Mix
"Payment mix" refers to the payment methods your clients use to pay their invoices. This can include credit cards, bank transfers, checks, or other payment types. Because every payment method processes at a different rate, you may prefer clients pay with certain methods over others. Monitoring this tile will let you know what type of payment method your clients most frequently use. Note that, if your firm uses BigTime Wallet and the Client Portal to process client payments, they'll only be able to pay with either bank transfer or credit card.
Days Sales Outstanding by Month
This graph tile displays the same data as it's corresponding insight tile, but with more visualization and details. You'll be able to see how your DSO numbers change from month to month, which can let you know whether you should rethink your invoice terms or client reminders. If this number increases month by month, you might need to plan ahead to stem future cash flow problems.
Top Open Invoice Customers
This tile displays a list of your clients by the dollar amount they still owe for invoices. Here, you'll be able to see which of your clients have the highest amount of open invoice dollars, which lets you know who you may need to follow up with most urgently.