System admins in BigTime can to a degree control what their clients see when they access the Client Portal. This includes the ability to turn certain features on or off, which will either display or hide these features from the client's view.
To activate or hide features from the Client Portal, first go to your Project List (MY COMPANY…PROJECT LIST) and open your chosen project. Client Portal settings are configured on a project-by-project basis. Once you've opened your selected project's dashboard, go to the CLIENT tab, and then the PORTAL SETTINGS sub-tab.

If you've already turned on the Client Portal and given clients access, you'll see a list of features at the top of this screen, each of which has a toggle switch next to them. This toggle switch will allow you to turn each feature ON or OFF.

Let's take a look at each of these features and what they look like in the Client Portal once activated.
Teams
Activating the TEAMS feature in your PORTAL SETTINGS window will show your clients a list of your firm's staffers that have been assigned to work on that specific project. Clients will be able to see names, roles and emails for each staffer who has or will be logging time toward their project.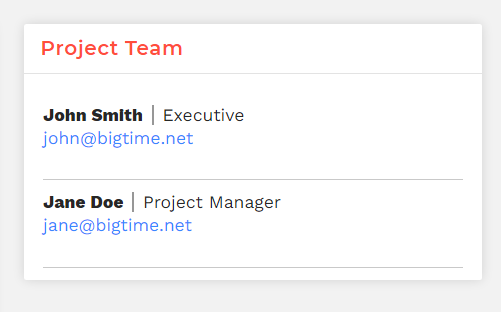 Timesheet
Turning the TIMESHEET feature on will update the Client Portal display to show a list of the timesheets that have been submitted toward the project in question. When you flip the toggle switch for this feature to ON, a few additional configuration options will appear. These options reflect the approval stage the timesheet has reached: PRIMARY APPROVAL, SECONDARY APPROVAL, or FINAL APPROVAL.
Selecting one of these options will determine which approval stage an invoice needs to be at to be displayed in the portal. For instance, if you turn this feature on and select SECONDARY APPROVAL, only timesheets that have passed the secondary approval stage will appear in the Client Portal. These timesheets, along with their approval status, will appear in a list form at the bottom of the Client Portal window.

Invoices
The final feature in this list is INVOICES. If you want clients to be able to make payments in the Client Portal, you'll need to have this feature turned on. Once activated, they'll see a list of invoices and can make payments towards them.

Similarly to the TIMESHEET feature, you'll have some additional configuration options when it comes to displaying invoices in the Client Portal. You can either choose ALL VISIBLE and display all invoices in the portal, or you can choose SELECTED VISIBILITY. If you select the latter option, you'll be able to mark which invoices you'd like to show your clients in the BILLING HISTORY tab. Read this article to learn more about how this works.

Remember that if you want to save any changes you make to your portal settings, you'll need to click the SAVE CHANGES button at the bottom left of this window.