This article will show you how to send a payment using BigTime Wallet. There are two ways to go about it, and we'll show you both ways.
First, let's get to a drafted invoice. Then, we'll send the payment.
Get to a Drafted Invoice
1. Click INVOICING...OVERVIEW from your navigation bar.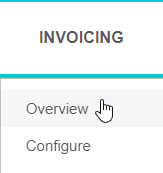 2. Find the middle tile and click on the Drafts tab. Then, click on the tile itself. This will take you to your Draft Invoices window.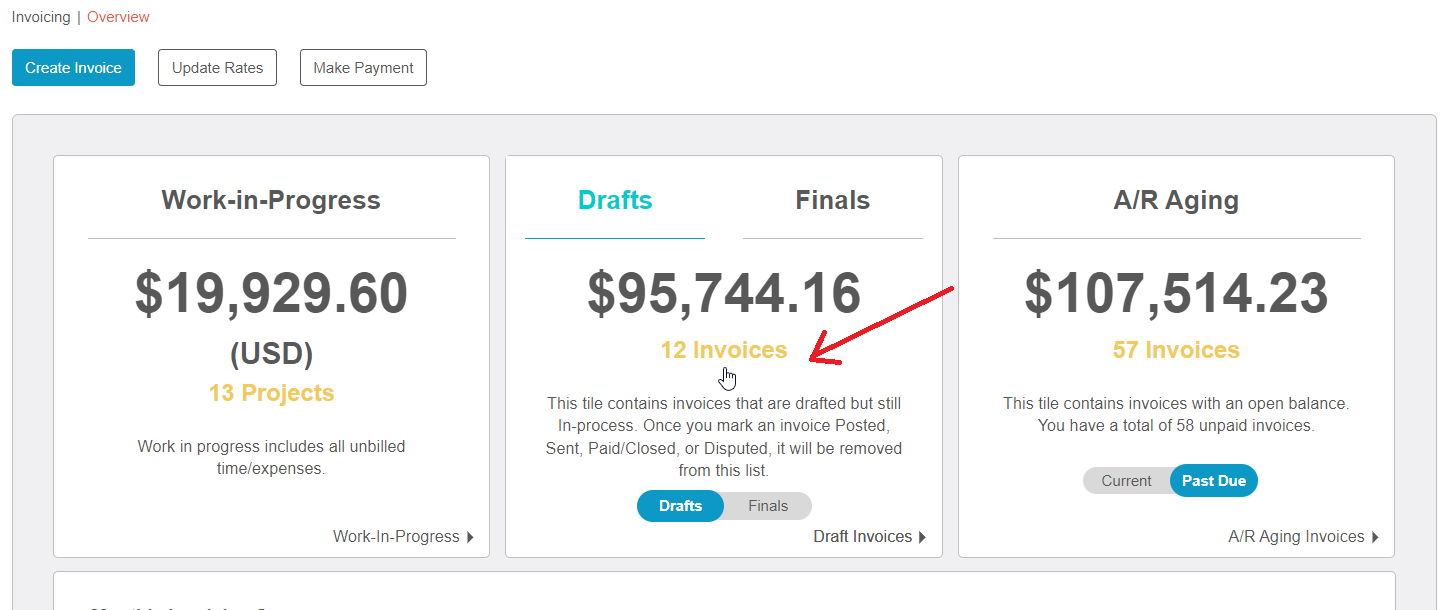 3. Click on a value in the AMOUNT column. This will take you to the drafted invoice for a specific project.




You'll default into the Invoice Detail tab, which is where you want to be.

We'll focus on the far-right column on this window in order to send a payment, which is what we'll do next.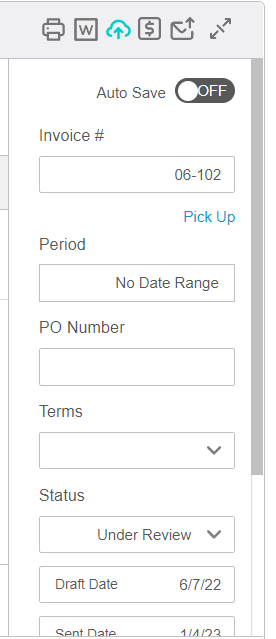 Send a Payment
Scroll down on the far-right column to the PAYMENT INFO header (see above image). Here, you'll select the payment options you want to make available to your client.
The payment options you select here are the options your client will have when they go to make the payment. For example, if you only check the box next to Allow Credit Card, then credit card will be the only payment option available to your client.
Click SAVE CHANGES on your Invoice Dashboard to save your selections.
Now let's send a payment. There are two ways to do this.
Send the Payment Link
First, you can get the payment link and share this link with your client via text, chat, or email. Use the payment link when:
You need to email the invoice to someone outside of BigTime.
You want to provide your client another way to access the Payment Portal, which is where payments are made.
To get this link, click on the hyperlink, GET PAYMENT LINK.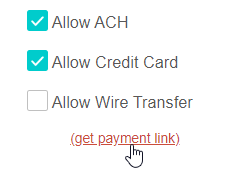 A new window will populate with the link. Click COPY LINK to do just that.


Send an Email
An alternative way to send a payment is to send an email in BigTime, as you normally would when you invoice a client.
Click on the ENVELOPE ICON.

As typical, a small window will populate with the email template for this email. For the purposes of this article, let's focus on the end of this window.
Notice that box next to ALLOW USERS TO VIEW/PAY THIS INVOICE ONLINE is automatically selected. That's because we've already selected payment options on the drafted invoice (see the section above) under the Payment Info.
Click EMAIL INVOICE to do just that.