See how your Jira projects are linked with your BigTime projects on the Jira Project Integration screen. You can also add, block, and map your projects from this screen.
To get started, click MY COMPANY...INTEGRATIONS from your navigation bar.

Then, click on the JIRA SOFTWARE tile.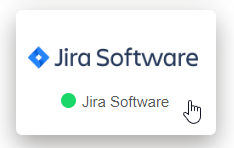 Click on the JIRA PROJECTS tab.

Your screen will look like this:

You can see the Jira project on the left-side and the BigTime project on the right.
Here, you can map a Jira project to an existing BigTime project. You can also add more Jira projects on this screen. For example, say you only brought in a few of your Jira projects. When you're ready to add more, return to this screen to make your additions.