The Tasks and Subtasks you import from Jira will appear in the Task Editor in BigTime. This article will help you understand and navigate the information that populates from Jira.
Your Jira stories are accessible in the Task tab after you integrate BigTime with Jira. The Task Editor is the most common place to view and manage tasks in BigTime. So this article will show you how to view and manage tasks and subtasks in the Task Editor.
Note: This article assumes you know how to access and use the Task Editor.
Say I just integrated BigTime with Jira. My Jira stories will populate as tasks and subtasks on the Task Editor.
When I integrated with Jira, I selected the SUBTASK mapping. This is why you see the hierarchy in the above image.
Note that Knowledge Base Articles is listed twice:
* As a single task (on the top line in black font) and
* As a task group (starting with the green font).


This hierarchy happens automatically when you sync with Jira, and it's intentional: it allows you to manage a single task.
So in this case, I can budget for and track time against Knowledge Base Articles because it's listed as a single task. Otherwise, I wouldn't be able to. I'd only be able budget and track time toward the subtasks.
Let's take a closer look at this Task Editor window, specifically at the columns.



There are a few points to note:
*Type- refers to the Jira issue type, such as story, epic, or bug.
*Current Status- refers to the Jira status, such as "selected for development" or "backlog."
Keep in mind that the changes you make on the Task Editor won't affect your data in Jira. That's because you can only sync from Jira to BigTime. You can't sync from BigTime to Jira.


Task/Budget Details
Details from Jira will show up on your BigTime tasks and subtasks. For example, I have a description for a story in Jira.
This description will populate in the NOTES section of my BigTime task, found on the Tasks/Budget Details window.
To get to this window, click on the TRIO OF DOTS next to a task and select EDIT TASK from the picklist.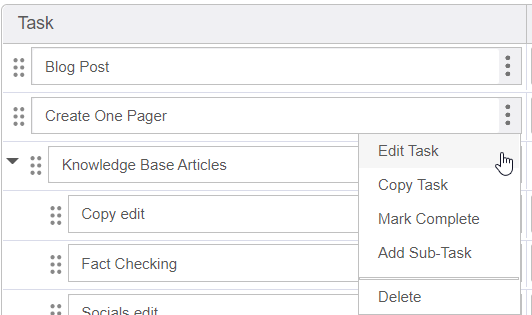 The notes from Jira are populated into BigTime under the NOTES header.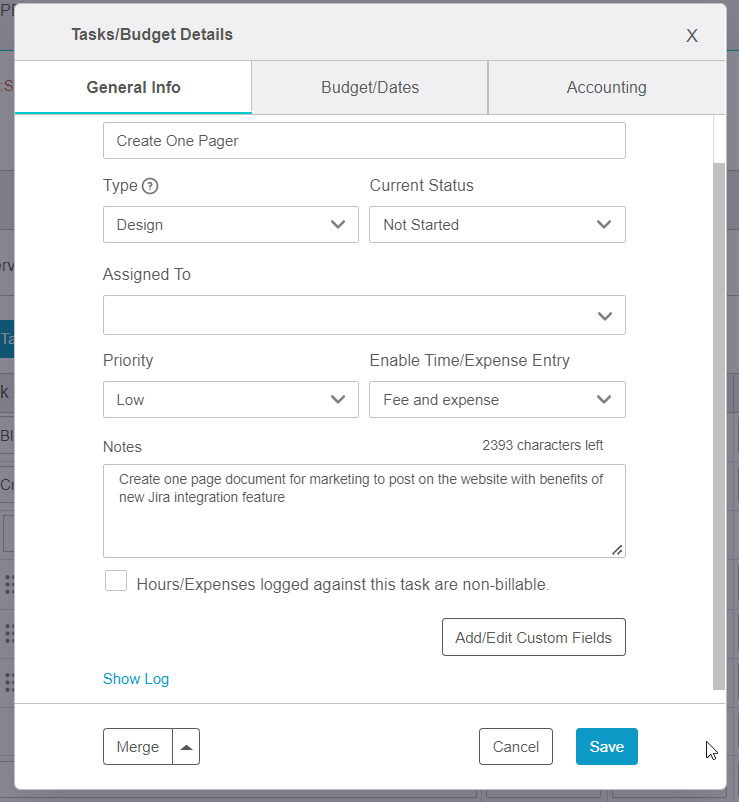 It's worth noting, too, that three custom fields are automatically created on this window when you integrate with Jira. These fields are labeled JIRA Issue ID, JIRA Issue Link and JIRA Epic.
Here's what you need to know:
Jira Issue ID refers to the ID in Jira. In this case, it's AP-6.
Jira Issue Link is a link to the issue. Click on the preview link and you'll be linked directly to it.
Jira Epic is a link to the epic, if it's assigned to one. Click on the preview link and you'll be linked directly to it.