You can give certain staffers the ability to create tasks, or units of work, that can be added on the Task Editor or Task Dashboard. This article will explain how to grant staffers this user right.
NOTE: Instead of "tasks," your firm may refer to these units of work as "budget items," "phases," "work items," or "engagements." It's easy to update the lexicon settings in BigTime to accommodate your firm's needs.
Giving staffers the ability to create tasks is a two-part process. First, you need to create a user group with security rights. Second, you need to add the user to the security group. It's a simple process, and we'll explain each step.
Create a User Group With Security Rights
Let's start with the creating a user group and turning on a specific security right. Follow the steps below.
1. Click MY COMPANY...USER RIGHTS from the navigation bar.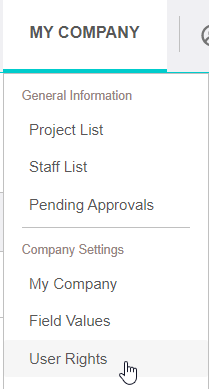 2. Click ADD NEW GROUP, near the bottom-right of the new window that pops up.



3. Create a name for your security group in the text box at the top of the window.



4. Select the ON button next to "Act as a task/activity administrator." This is the minimum permission required to allow users to create tasks within BigTime.



5. Click SAVE, near the bottom-right of your window, to save your work.
Add the User to the Security Group
The second part of the process is adding the user to the security group. Follow the steps below.
1. Navigate to MY COMPANY...STAFF LIST.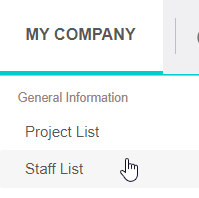 2. Select the staffer who you want to add to the security group that you just created.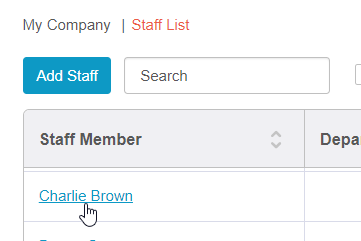 3. Click on the USER RIGHTS tab located on the navigation bar.



4. Check the box next to the user group you made previously in order give your staffer the ability to add tasks in BigTime.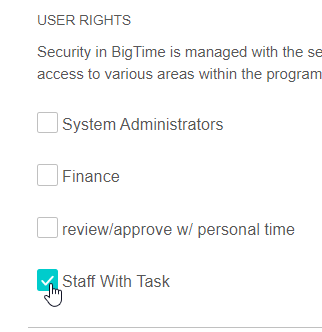 5. Click SAVE CHANGES near the bottom-right of your window.

Now that you've added one staffer to this user group, you can repeat these steps to add more people to it.
TIP: Give Staffers More Control Over Tasks
In addition to creating tasks, you may want select staffers to have more task and project-related rights. To give a staffer more access to projects and staff, turn on the following user rights: "View/manage any staff member" and "View/manage any project."
Troubleshooting
I WANT TO GIVE CERTAIN STAFFERS THE ABILITY TO CREATE TASKS AND EDIT THEM FREELY, INCLUDING STATUSES, DUE DATES, AND BUDGET INFORMATION. HOW DO I DO THAT?
In addition to task administrator access, you need to turn on the following permissions in "User Rights:" "edit task details on my tasks" and "access task budget data."
IS THERE A SEPARATE PERMISSION SETTING TO ALLOW STAFFERS TO ADD RECURRING TASKS?
No, granting staffers the ability to create tasks will allow them to create recurring tasks, too.
HOW DO I RESTRICT STAFFERS FROM DELETING TASKS?
You can restrict the tasks to which your staffers have access to. But unfortunately there's not a way to limit this function if you've allowed staffers the ability to act as task administrators.