Expenses that don't meet approval criteria by managers are sent back to staffers and flagged as "Rejected." In just a few steps, staffers can edit and resubmit said expenses to re-initiate the review/approval process.
Step by Step: Editing and Resubmitting Rejected Expenses
1. Go to TIME/EXPENSE...EXPENSES to navigate to your Expenses Dashboard.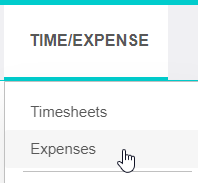 2. Click on the hyperlinked text that reads REJECTED. This will appear in the Status column of a submitted expense report with rejected expenses.

3. Select the rejected expense(s) to edit. Rejected expenses will appear with a red square icon and a "Rejected Entry" note at the top of the expense details form. Make any required changes as directed by your manager to expenses that need corrections, and then hit SAVE to update expense details.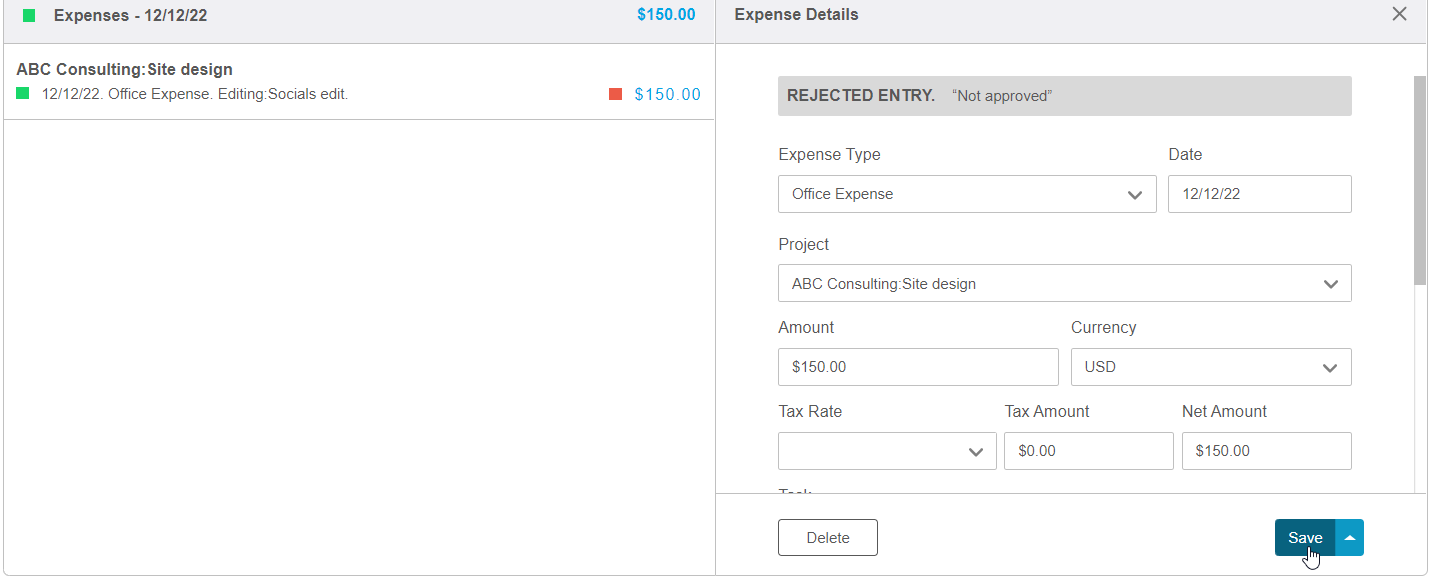 4. Submit the expense(s) again by clicking on the blue button at the bottom of your screen that reads SUBMIT EXPENSES.

5. Click RESUBMIT EXPENSES. Selecting this button means that you confirm wanting to move forward with the resubmission.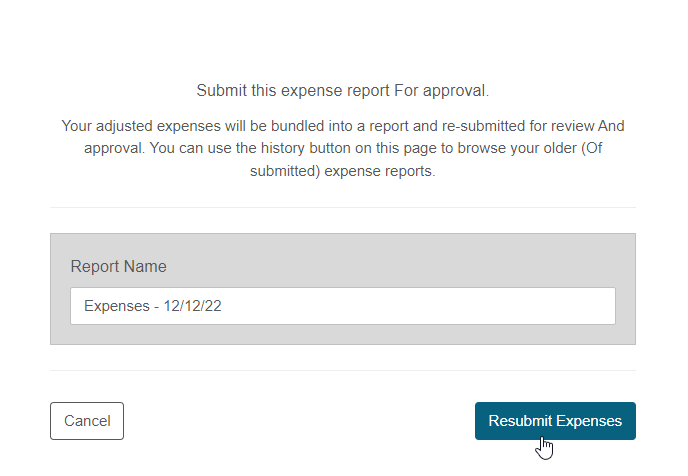 Once you resubmit expenses, you will receive notice that they've been sent on for review. You can keep up on expense status from the Expenses Dashboard/Expense History screen.

Troubleshooting
HOW DO I KNOW IF I HAVE REJECTED EXPENSES TO CORRECT? If your manager has established notification settings for you, you will receive notice via your BigTime inbox. You can also monitor the status of your submitted expense reports on your Expenses Dashboard.
WHERE DO I FIND NOTES ABOUT THE REASON WHY MY EXPENSE WAS REJECTED? If your manager included instructions for editing a rejected expense, you'll find notes at the top of the Expense Details page, next to "Rejected Entry."
HOW DO I KNOW IF MY RESUBMITTED EXPENSES HAVE BEEN APPROVED? You can check the status of resubmitted expenses on your Expenses Dashboard, from TIME/EXPENSE...EXPENSES in the navigation bar.