If an expense report is rejected, then it can be renamed before it's re-submitted. Read on to learn how.
NOTE: This article assumes that at least one expense has been rejected. The following steps explain how to re-name the rejected expense.
1. Click TIME/EXPENSE...EXPENSES.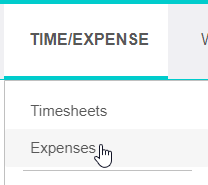 2. Click EXPENSE HISTORY.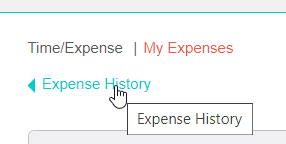 3. Click on the hyperlink for the rejected expense that needs to be updated and re-submitted.


4. Open the expense and make the necessary changes, since it was rejected. Be sure to save your work.


5. Click the hyperlink at the bottom of your window, CLICK HERE TO SUBMIT THESE EXPENSES. This will take you to a new screen where you'll have the opportunity to re-name the report before it's re-submitted.

6. Re-name the report, if you wish, by updating the text in the textbox.