You're working in BigTime and have a question or need some information about a feature and how it works. Help is just a few mouse clicks away inside your BigTime environment. This article will explain the many ways you can get the information you need while you work.
Click the QUESTION MARK on the navigation bar and a picklist will populate. It contains the many ways you can get help. We'll go through each option.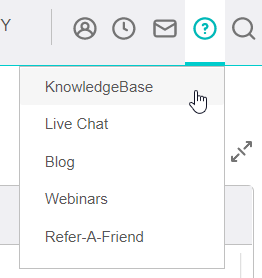 Knowledgebase
Click on KNOWLEDGEBASE and a new tab will populate with BigTime's knowledgebase, which is a collection of articles that explains how to use BigTime features. In this new tab, you can search for specific articles or topics and the matches will show up. For example, search "Gantt charts", and all of the Gantt chart matches will populate.
Live Chat
Click on the LIVE CHAT option and a short form will populate. Fill out this form to start a chat session with a BigTime Customer Support representative. Keep in mind that our hours of operation are: 9AM CST to 5:30PM CST.
Blog
Click BLOG and a new tab will populate with BigTime's blog. Here you'll find both content-related and industry-specific articles. You'll learn about BigTime releases, for example, as well as project management and PSA software, among other topics.
Webinars
Click WEBINARS and a new tab will populate with various BigTime webinars to sign up for. BigTime webinars are an opportunity to listen and follow along as a BigTime expert gives detailed explanations on important software features.
Here's what you'll learn about in our three recorded webinars:
Project management: find out about BigTime's workflow, so you can manage your staff's workload.
Invoicing: discover how to use each of our invoicing calculators: manual, time and materials, and fixed fee. You'll also learn how to set up bill rates, print or email invoices to clients, and post invoices to QuickBooks, among other topics.
Reporting: put your data to good use by using our pre-built and custom reports.
We also post "how-to" videos on YouTube, so you're bound to find what you need!