Jason uses his corporate credit card while in Florida to pay for his hotel, food, and transportation. Upon his return, he adds a charge in BigTime to log all of the charges he incurred on the trip.
This is an example of a non-reimbursable expense. In this situation, Jason doesn't get paid. Instead, all of his expenses get posted to QuickBooks, where they'll post to the corporate credit card account.
This article will show you how to add a charge.
1. Click TIME/EXPENSE...EXPENSES from your navigation bar.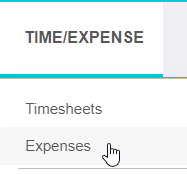 2. Click on the white triangle next to ADD NEW EXPENSE and select ADD CHARGE from the picklist.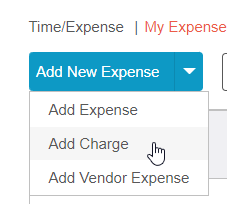 3. Enter the expense details, including a credit card which is the field at the top of your window.

5. Click SAVE to save your work. Then, submit the expense as you normally do for expenses.