To allow staffers to enter and submit expenses against company credit cards, administrators need to create these values within BigTime. Here is a step-by-step guide to help you activate credit card expense entry within the system.
Entering Corporate Cards Into Bigtime
1. Select MY COMPANY...FIELD VALUES in the navigation bar. Then click the tab with the Field Values label.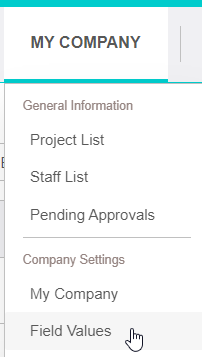 2. Click on CREDIT CARDS from within the Field Values tab.


3. Select the ADD NEW VALUE button. This will open up a screen for adding a credit card for expense entry.

4. Set access details for specific credit cards. Here you'll add the card name and details about those you'd like to allow to log charges against the card. You can also choose the QuickBooks link for pushing all expenses attached to this card in BigTime over to the accounting system.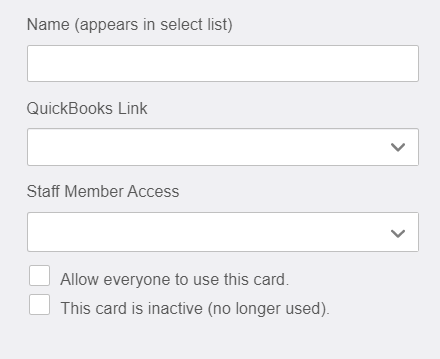 5. Click SAVE to capture all the details for the credit card you entered to make it available for expense entry. You can also use the options from the up arrow next to the SAVE button to add multiple credit cards.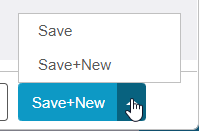 After admins have activated credit cards for expense entry, staffers can begin entering credit card charges. For details on how to do that, read Entering Credit Card Charges.
FAQ
CAN I ALLOW ALLOW ALL STAFFERS TO LOG CHARGES AGAINST A CORPORATE CREDIT CARD? Absolutely. To allow any staffer in your firm to log an expense against a credit card, simply check the box next to the "Allow everyone to use this card" option from the credit card edit screen.
HOW DO I RESTRICT CREDIT CARD EXPENSE ENTRY ACCESS TO SPECIFIC STAFFERS? Using the drop-down arrow from the Staff Member Access field, you can customize access by checking the box next to the names of staffers you'd like to grant credit card expense entry abilities.
HOW DO I EDIT OR DELETE A CREDIT CARD? Simply go to MY COMPANY...FIELD VALUES...CREDIT CARDS and click on the card from the list of corporate cards to make relevant changes. Hit SAVE to update the record. To delete a credit card, hit the DELETE button and confirm the action to remove it from the list.
HOW DO I LINK CREDIT CARDS TO QUICKBOOKS? If you've integrated BigTime with QuickBooks, we'll automatically import your list of credit cards—you just need to assign them to staffers.