After creating project budgets a natural next step is to monitor budget status. Your firm can track this through BigTime reports and using certain invoicing features to ensure this data is updated and reflected on both the task and reporting levels.
How Submitting Time and Expenses Impacts Budget Status
Time and expense submission plays a major role in invoicing, managing project budgets, and your overall workflow in BigTime. Hours and expenses submitted and approved against tasks can be used to update budgets and invoice clients. In turn, this impacts the estimates set on hours and charges for tasks. Plus, any progress on task estimates impacts the overall status of the project budget.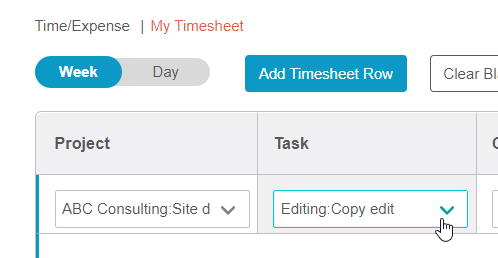 If you haven't already established time and expense workflows, use these helpful resources to help you initiate these processes for your firm.
Invoicing and Budget Status
Since project budgets are created at the task level in BigTime, the fee budget input on the Budget/Dates tab for tasks determines the budgeted amount against which invoices are issued.
In order to successfully report on invoiced amounts against this budget, there are a couple of important details to know when invoicing.
Time and Materials (T&M) Invoices: When issuing a time and materials invoice (when you have a project budget established), you need to subtotal by tasks in order to accurately reflect the invoiced amount against the estimate. If you do not select this option, the invoiced amount will not be reflected against the budget total on invoicing history or reports.
For details on creating time and materials invoices and how to arrive at the subtotaling area on these invoices, read Creating Time/Materials Invoices.
Fixed-fee Invoices: Fixed-fee invoices are only possible to issue when you have a budget in place. The options that appear to you when drafting invoices will directly impact your task details. Specifically, you can set an invoice amount according to milestones or task percent completion. Setting this value on your invoice will automatically update that field within the task detail. Read about how this percent complete field relates to archiving tasks and more about creating percent complete invoices.
You can also display budget information on PDF invoices. Learn about adding billing progress to your print invoice.
Reporting on Budget Status
BigTime offers a few out-of-the-box reports about tasks to keep managers and teams aware of what work has been completed and what still needs to be done against project estimates. All of these reports can be edited to increase or customize the level of detail about time, expense, and invoicing activity and the impact on task estimate status.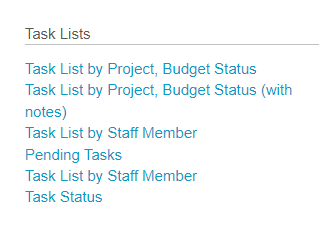 Time and expense activity against task estimates can be reflected in metrics like the total amount of fees and expenses input for a given task (Total Input), estimated billable charges remaining (Charges Remaining [Est-Billable Charges]), as well as to show where you stand with remaining estimated hours against your budget (Hours Remaining [Est-Input Hours] or [Est-Billable Hours]).
Hand in hand with time and expense activity, invoicing history also affects task-related reports in the system. If your firm reflects budget status on invoices, you can also show this on task reports by including fields like Charges Remaining (Est-Total Invoiced) or Total Invoiced.
There are a number of fields for inclusion on task reports that draw directly from timesheet, expense, and invoicing activity. What you choose to include or exclude is up to you. See Reporting on Tasks and Creating Custom Reports to get started.