A Time/Materials (or "T&M") invoice uses your hours, billing rates and expenses to automatically compute an invoice's dollar amount. It's an extremely popular format for professional firms, and this article walk you through how they work.
We'll show you how to create T&M invoices, how to adjust them, and how to review and bill what the system calls work-in-progress, or "WIP" (eg - all of your unbilled time/expenses).
An Example T&M Invoice
The invoice line items below represent a fairly typical T&M billing situation.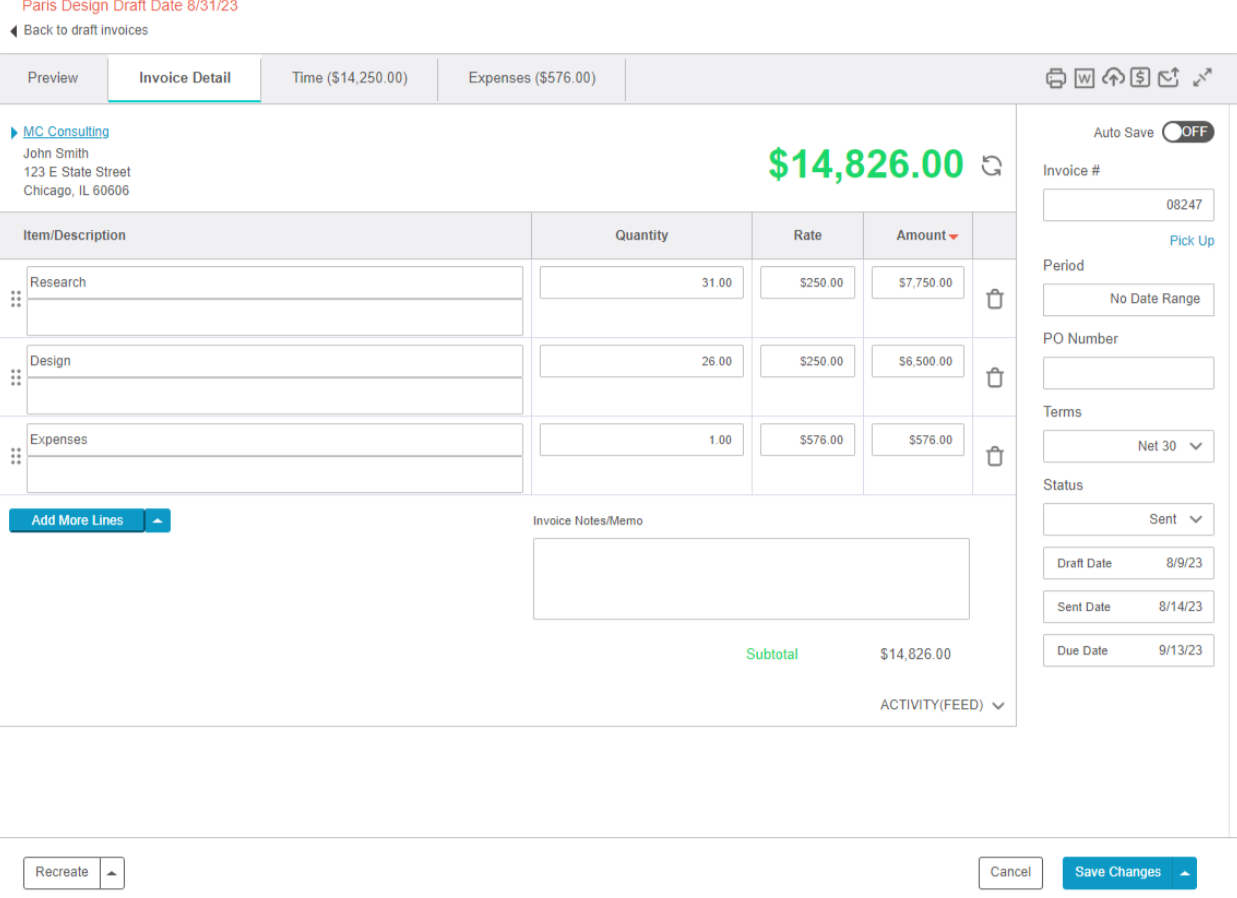 Here, the firm is billing both hours and expenses. The hours are being billed at a rate of $250/hour, and the expenses are lumped together into a single line item.
BigTime can create invoices like this automatically for you. We simple pull any unbilled time/expenses onto the invoice and then sub-total that information by staff member, category, task, team role, etc. As long as you have established the billing rates for the project you are invoicing, this type of invoice can be created in just a few clicks.
Step by Step: Creating a T&M Invoice
1. Click the CREATE INVOICE button on the INVOICE...OVERVIEW page. This will launch the invoice wizard.

2. Select the Project you'd like to bill. Note that selecting a specific project will update the invoice/WIP details on this page, so you can see the total hours/expenses you'll be billing.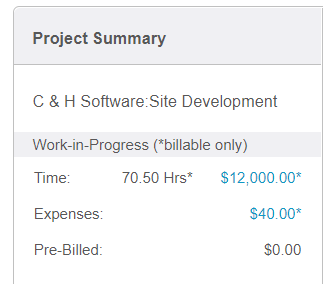 3. Choose the T&M Invoice style. Once you do, you can click the Next button to see a draft T&M invoice, configure it and finalize it.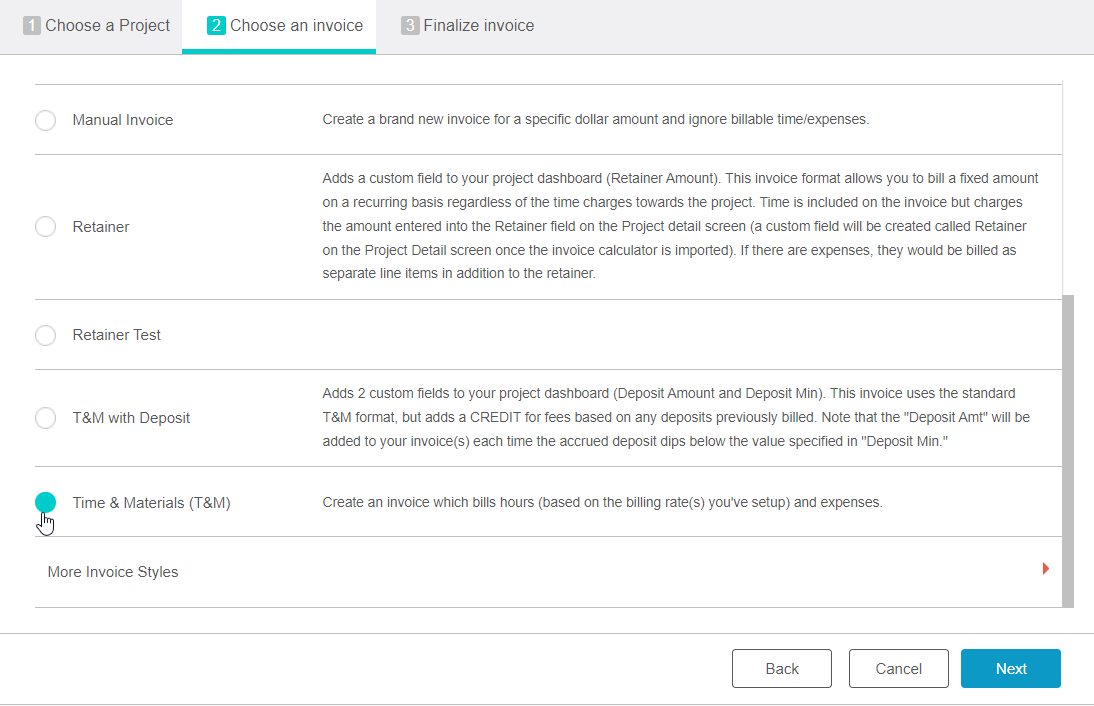 4. Use the sidebar controls to adjust your invoice details. When you do, you'll see the line items recalculate automatically, based on the changes you make.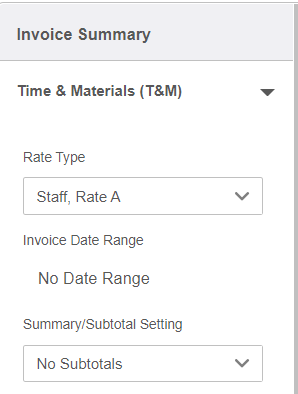 Limit your WIP to a specific date range by changing the invoice date range. Just click on the field to select specific start/end dates.
Update the default billing rate for the project by selecting one of the base rate(s) from the Rate Type picklist.
Change the description by adjusting the line item subtotal values. When you pick different subtotal settings, the line items will summarize time/expenses by the setting you select.
5. Click the FINALIZE button when you are ready to finalize your invoice. Note that this will relieve your WIP and pull all of your unbilled time/expenses onto this invoice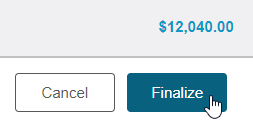 Limiting the WIP You Include on an Invoice
By default, the invoicing engine creates a new invoice based on all of your unbilled WIP. There are a number of specific circumstances where you may decide you would rather bill a portion of your unbilled WIP. This section will walk you through how to do that.
Billing for a Specific Date Range
As mentioned in the step-by-step above, you can control the date range over which an invoice is created using the INVOICE DATE RANGE selector in the finalize screen. When you do, the system will automatically drop any time/expenses that fall outside this date range, holding them for a later invoicing cycle.
Note that selecting a date range will bring up the checkbox shown above as well, allowing you to apply this date range filter to unbilled expenses. Leave that selection unchecked if you'd like to bill time for a given date range but you'd like to bill all unbilled expenses.
Dropping Specific WIP From Your Invoice
Once an invoice is created and finalized, you can drop specific entries from the invoice and re-calculate the invoice line items to reflect that adjustment.
1. From the Invoice's detail screen, select the TIME tab. This will open up a list of all the time/WIP linked to the invoice.

If you don't see tabs along the top of your invoice screen, then you haven't clicked the FINALIZE button yet.
2. Check off the time entries you'd like to drop by clicking on the checkbox next to each one of them.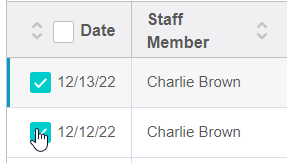 3. Select DROP from the BULK ACTIONS button at the top of the page. When you do, the system will drop those entries back into your unbilled time pool. Note that this will not delete those entries - it simply holds them for your next invoicing cycle.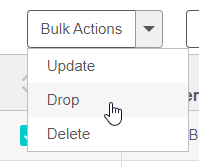 4. Click the RECALCULATE button once the entries have been removed in order to re-create the invoice's line item entries to reflect your new fee total(s).

Creating an Invoice From Specific WIP Entries
In addition to creating an invoice and then dropping specific entries, you can also create a new invoice from selected time/expenses. Then, the T&M invoice that you create will ignore date range filters and include only the WIP you select.
For details on how to create a T&M invoice from specific WIP entries, take a look at this article.
Showing Subtotals on Your Invoice
When you create a simple T&M invoice with no subtotals, the system will create a single line item for time, and one for expenses.
For many firms, an invoice with this level of detail isn't helpful. So, BigTime added support for 11 different subtotal types. If, for example, you subtotal your invoice by Labor Code/Rate, the resulting invoice line items would look like the example shown below.
Here, not only am I able to see the total hours logged against this project by labor code, I see the actual billing rate at which those hours are being billed. Subtotals are useful for reporting as well. Subtotaling by Task, for example, will allow you to report on exact invoiced amounts by task.
TIP: Use the Rate Options To Show Billing Rates
Subtotaling by Labor Code/Rate will fill in the actual billing rate in the invoice's Rate field, but it will also create separate line items for any entry that is billed out at a non-standard rate. The subtotal options that include billing rate are at the bottom of the subtotal picklist.
Dropping/Adjusting Line Items on Your Invoice
When you are editing a Time/Materials invoice, changes you make to the line items on screen will effect the time/expense WIP behind the scenes. Depending on the action you take, the system will either drop the time/expenses (allowing you to hold them for another invoicing cycle) or write that time/expense down.
De-Select Line Items to Holdback WIP
For sub-totaled invoices, you can uncheck the WIP that you'd like to drop from this invoice. Unchecking a line item will (a) reduce the invoice's total dollar amount and (b) drop the corresponding WIP back into your unbilled time pool (for use in a later billing cycle).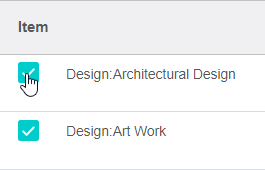 To Write WIP Up/Down, Adjust Line Item Amounts.
If you adjust the total billable amount on your invoice, the time/expense entries that make up that number will be written up/down based on that adjustment. In the example screen shot below, the hours billed by Krista Brown will be dropped back into the unbilled pool (eg - held for another billing cycle), but the hours entered by Steph Brown will be marked down to $0.
Adding Custom Charges/Line Items
While designing your invoice, you may decide to include a line item that isn't associated with time or expenses. Any additional lines that need to be created can be added with the +ADD MORE LINES link at the bottom of your invoice charge details. Click the link and you'll see a new (blank) line item where you can simply fill in the details (note that line items must have a non-zero amount).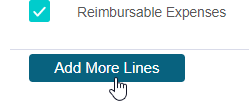 Click Cancel To Remove Your Draft
When you click the FINALIZE button on screen, the Invoicing Wizard will return you to the previous screen. But, keep in mind that the draft invoice you are editing has already been created in the system.
If you'd like to abandon your invoice before it's finalized, click the CANCEL button instead. This will delete the draft you are working on, dropping your WIP back into the unbilled pool and returning you to the INVOICING...OVERVIEW screen.