BigTime comes pre-populated with expense codes for the purposes of invoicing or staff reimbursement for expenses. These codes are not fixed, and firms are free to have as many or as few as desired. System Administrators can customize these values by editing, adding, or removing any items that aren't applicable.
Navigating to Your Expense Codes Area
On the navigation menu click MY COMPANY...FIELD VALUES.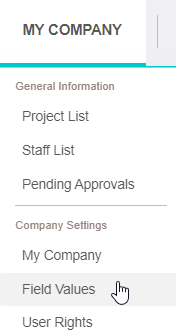 On the next screen, select the tab called EXPENSE CODES under the BASIC CODES section. Here you'll find a list of all existing expense codes.

Creating New Codes
To create a new expense code, selectADD NEW VALUE.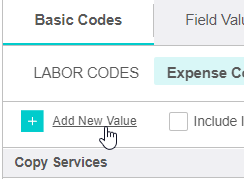 On the right, under "General Information," enter a name, code, select a service item (if connecting this to a QuickBooks service item), and a description if desired. Click SAVE to add the code to your list of values.
Note: Each expense type must have a unique identifier assigned to it. This identifier is what you will input in the "Code" field.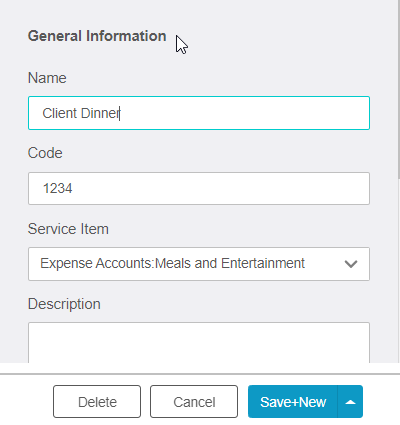 Editing Existing Expense Codes
To make adjustments to an existing expense code, simply select an item from the list to expand the level of detail for that item.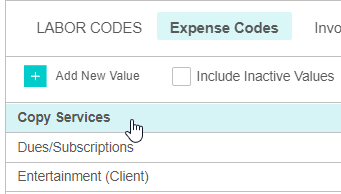 To make an item inactive, select the radio box next to "This code is inactive." Click the blue SAVE button to apply the change.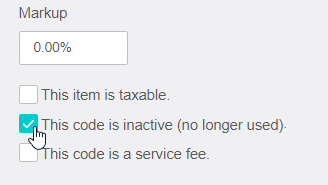 Once inactive, the item will appear as such in the expense codes list. To restore an item as active, again click the box next to "This code is inactive" and hit SAVE.

To delete an expense type, select the applicable tile and click DELETE. You will be prompted to confirm that you want to make this deletion. Click YES to delete.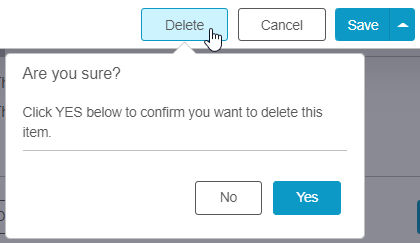 Any changes administrators make to expense codes will be reflected and available for users to select when entering expenses from the Expense Details screen.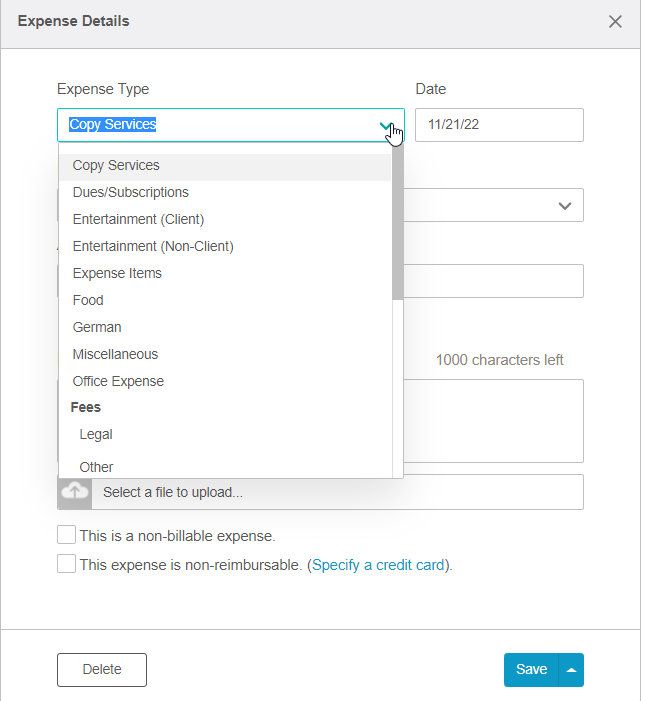 FAQ
HOW DO I INACTIVATE AN EXPENSE CODE IF IT IS NO LONGER USED?
Inactivating an expense code is done simply by opening up a created expense code and checking off the option "This code is inactive (no longer used)." Selecting this option will remove the code from the Expense Details screen and will still allow it to be reported on via the Report Center.
DO MY STAFF ALL SEE THE SAME EXPENSE CODES? Yes, all active expense codes are available for all staff members.
HOW DO I MARK AN EXPENSE CODE AS NON-BILLABLE?
You can mark an expense code as non-billable by clicking inside the details and selecting the option "This labor code is non-billable."
HOW DO I ALLOW STAFFERS TO ENTER PER-UNIT EXPENSES?
See Allowing Users to Enter Per-Unit Expenses.
HOW CAN I VIEW INACTIVATED EXPENSE CODES?
Inactive expense codes are viewable from the list of expense codes when the box next to "Include Inactive Values" is checked. The value will appear with "inactive" in light grey and in parentheses next to it.

HOW DO I INTEGRATE AN EXPENSE CODE WITH QUICKBOOKS?

Expense codes in BigTime can be linked to "service items," "other charge items," or "expense accounts" in QuickBooks Desktop. In order for this to happen, be sure you do the following:

- Add values to these items in QuickBooks.

- Run the Sync Agent.

- Link expense codes in BigTime with QuickBooks by following the instructions below:

To connect an expense code with QuickBooks, choose the expense code from MY COMPANY...FIELD VALUES, and then select the relevant value from the Service Item dropdown menu. Click SAVE and the expense code will now appear on the expense codes list with a link icon next to it to indicate that it has been properly linked to a QuickBooks service item.

WHAT TYPES OF QUICKBOOKS OBJECTS CAN BE INTEGRATED WITH BIGTIME EXPENSE CODES?

You can integrate expense codes with service items, other charge items, or expense accounts. (QuickBooks objects are service items and expense accounts that exist in different picklists.)

WHY SELECT AN ITEM OVER AN EXPENSE ACCOUNT?

Selecting an item may be a better option if you're:

- Generating invoices in BigTime, and

- Sending your invoice to QuickBooks with time and expense details.

Items can link to your accounts and are accepted into QuickBooks line items, but expense accounts aren't.

CAN I INTEGRATE MORE THAN ONE BIGTIME EXPENSE CODE TO THE SAME ITEM OR ACCOUNT?

Yes.