The Task Dashboard offers certain bulk-action controls to system administrators and project managers to help manage tasks as they move through their workflows. These functions allow for ease of use when creating, reassigning, updating, and even archiving tasks.
Accessing the Bulk Actions Menu
To access the Bulk Actions menu, select the tasks you'd like to update by checking off the boxes next to each task name on the Task Dashboard (WORKFLOW...TASK BOARD).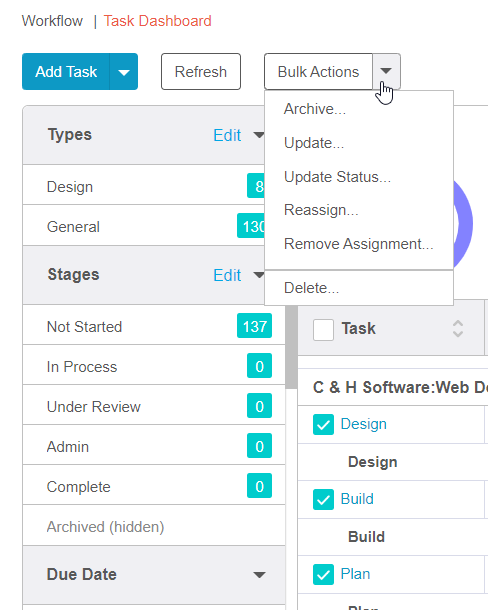 This will activate your Bulk Actions menu, which will appear on the left above your task list.
Tracking Workflow Changes Through Bulk Actions
The Bulk Actions menu allows you to update tasks as they move through each stage of their workflows. Using the options from the menu, you can update task statuses, archive old tasks, reassign or remove specific task assignments, as well as delete tasks.
Archiving Old Tasks
The first option from the Bulk Actions drop-down menu is the ARCHIVE action. You can always reverse this action, but BigTime will ask you to confirm whether or not you would like to proceed with archiving and hiding the selected tasks.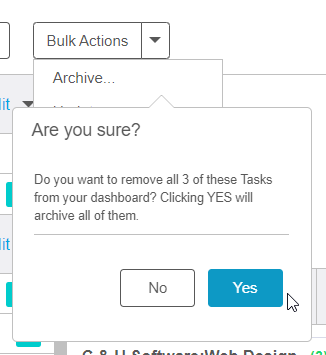 Learn more about viewing archived tasks and unarchiving themhere.
Updating Task Statuses
The second option from the Bulk Actions menu is UPDATE STATUS.The statuses available for each task are specific to the stages you established for your given task type workflows. For more on configuring and managing these statuses, read Setting up and Managing Your Workflow.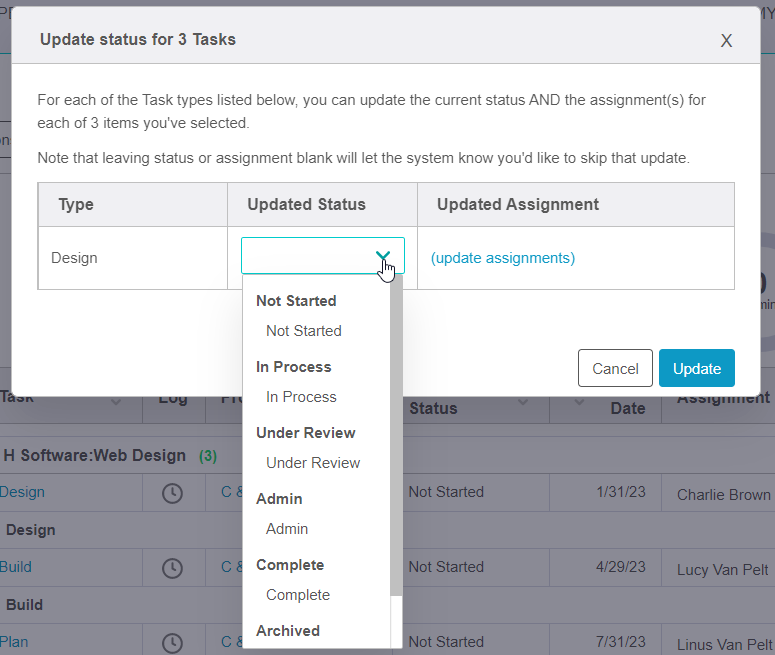 Reassigning and Removing Task Assignments
As mentioned in Due Dates and Task Assignments, BigTime makes it easy to hand off tasks from one staffer to another based on where they fall in the workflow. To make this exchange easier, you could use the Bulk Actions menu to remove tasks from one staffer and create a new assignment. Using the REASSIGN option, you can "hand off" tasks by selecting a new staffer from the picklist.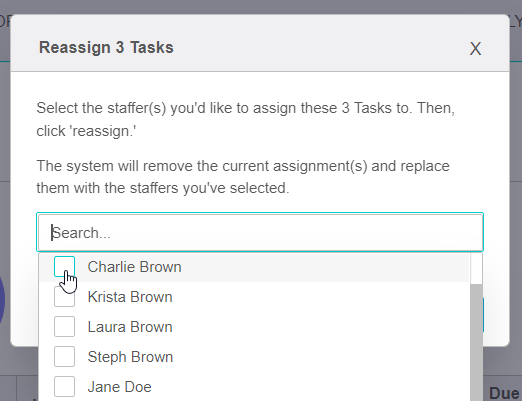 To remove task assignments in bulk, click the REMOVE ASSIGNMENT button. Check the names next to the staffers from which you'd like to remove assignments.
Deleting Tasks
The DELETE button is the last option from the Bulk Options menu. Since it's a permanent action, make sure that you're completely sure before clicking the YES button. There is also an option to merge tasks, which might be helpful if you'd like to keep existing information from task records.