Many firms add due dates and assign staffers to tasks once project budgets are established. This allows you to: (a) communicate due dates internally to your project team, and (b) allocate work to different staff members. Read on to learn how to set due dates, make and change staffer assignments on tasks, and view unassigned or "pool" tasks.
Assigning Staffers and Due Dates to Tasks
Staff assignments and due dates can be set from the General Info tab of a task.
1. Open the task record. Simply open the task from the Task Dashboard by clicking on the hyperlinked task name.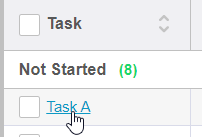 2. Assign staffers from the picklist. Choose the assigned staffer(s) from the drop-down menu. Tasks can be assigned to one or more staffers, and staffers don't need to be a member of a project team in order to be assigned a task.



3. Set the due date by clicking into the DUE DATE field. On the BUDGET/DATES tab, click into this field to select the relevant date from the calendar.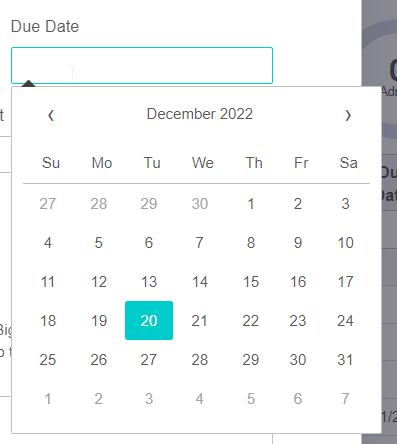 4. Click SAVE to update the task record.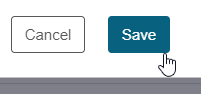 Tasks Can Change Hands Throughout Their Lifetime
For many firms, tasks begin with one assignment, and then get routed to different members of the project team as they are completed. In BigTime, we make that process easy to manage by creating "workflows" for different types of tasks.
Each time a task moves from one stage to the next, you have a chance to hand it off to another staffer. You can use filtering options on the Task Dashboard to view tasks at particular stages and use bulk actions to update and change assignments.
Read Setting up and Managing Your Workflow to learn more about establishing and managing task workflows.
Viewing Assignments and Due Dates
Managers and administrators can view upcoming due dates and staff assignments on all tasks. Using the Due Date filter, you can narrow down due dates by selecting the tile for overdue tasks and tasks due today, this week, or this month.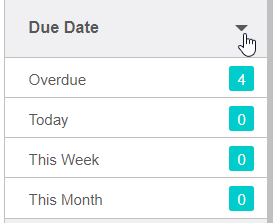 In addition, you can take a look at how an individual staffer's schedule looks by selecting the staffer from the Assignments filter. This will help provide a picture of staffers who might be overextended, which might assist with redistributing tasks.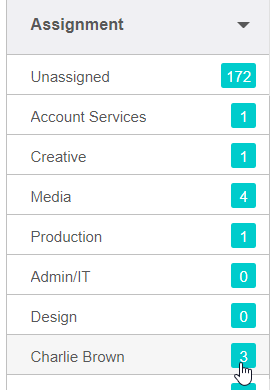 Staffers will see only the tasks to which they're assigned and unassigned tasks under a given project (if they're a part of that project team). They can use the Due Date filter to keep track of their upcoming due dates.
Viewing Unassigned Tasks
Some project managers leave tasks unassigned. When a task is unassigned, it's considered a "pool" task. That means it can be worked on by any staffer who belongs to that particular project team. These pool tasks will be visible from the Task Dashboard of each project team member, and the Assignment column will be empty.

Pool tasks are a great way to let your entire project team work on every task in the system, but you must use project teams in order to take advantage of them. If pool tasks are created on a project with no team members assigned to it, then only system administrators (or users with task administrator rights) will be able to see them from the Unassigned bucket.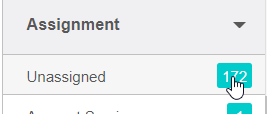 TIP: Users Will See Only Assigned Tasks on Their Timesheets
The tasks users see in picklists and throughout BigTime will always include task assignments. In order for a task to appear on a user's timesheet, it needs to be assigned to the staff member. Note that unassigned tasks (or "pool tasks") will appear for each project team member as well. Once a task is marked "completed," it will no longer show up in a staffer's picklists.