You can choose to lock timesheet entries at the end of each period. That means, the timesheet period will be closed, and staffers can no longer enter time for a specified period.
There are several lock periods to choose from: bi-weekly, monthly, and quarterly. You can also choose to add a grace period. This will give your staffers a few more days to enter and submit time once the timesheet period closes.
This article will show you how to access and use the lock timesheet feature.
1. Click TIME/EXPENSE...TIMESHEETS from your navigation bar.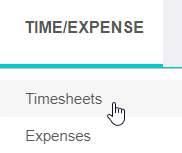 2. Click the GEAR icon near the top right corner of your window.


3. Check the box next to the phrase, LOCK EACH TIMESHEET PERIOD.




Several options will populate. Let's go through them, moving left to right.

Lock Period
Click on the red arrow under LOCK PERIOD and a short picklist will populate with these options: bi-weekly, monthly, quarterly.
You can choose to lock your timesheet submission by one of these options instead of a submission period (which is found near the top of your window).


Grace Period
You can choose to add a grace period, which is an additional amount of time tacked onto your timesheet submission period during which staffers can still submit time. This will give your staffers a few more days to enter and submit time once the timesheet period closes. The number you enter will keep the timesheet period open for that number of days.
Lock Date
Your timesheet Lock Date is calculated based on your timesheet submission period (which can be weekly, bi-weekly, semi-monthly, monthly or quarterly). Time can't be entered prior to the date that shows up in this box.
This date is automatically generated by BigTime, and you can't update it manually. However, if you change the lock period selection from quarterly to monthly, for example, you'll notice that the lock date changes. Your lock date can also change based on whether or not you set up a grace period.
To clarify how this feature works and what you can/can't do with timesheet locking, let's take a look at how it could work in a real world scenario.
Timesheet Period Locking in Action
Let's say your firm wants to lock timesheets to a specific period. You've set up your SUBMISSION PERIOD as "Weekly", and your FIRST WEEKDAY is "Monday". Let's also say today's date is Thursday, April 27th, so the start date for your weekly time submission this week will be Monday, April 24th.

If you turn on timesheet locking and set the LOCK PERIOD as "Weekly", any time entries prior to April 24th will be locked. You'll see this reflected in the LOCK DATE field.

However, if you have a grace period set up, your timesheet lock settings will subtract that grace period number from the current date. BigTime's system will then find the Submission Period your subtracted date lands within. The First Weekday for that Submission Period will become your new LOCK DATE.
Imagine you set your grace period as 8 days. Going back in the past 8 days prior to your current date of Thursday, April 27th takes you to Wednesday, April 19th. Since you've set your First Weekday as "Monday", and your Submission Period as "Weekly", BigTime will refer to the First Weekday for that week to find your new timesheet lock date. That means the LOCK DATE field will autofill as Monday, April 17th.

After setting up your timesheet lock settings, click UPDATE TIMESHEET FORMAT in the top left corner of your screen to save your changes.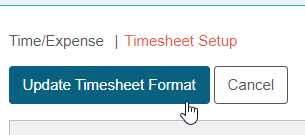 If you are still confused about how timesheet locking periods work, you can always contact BigTime Support for additional help.