You don't want staffers to log time to completed projects. This article will explain how you can prevent this from happening.
Once a project is complete, update the status change in BigTime. Give the project and inactive value, like "completed" (as shown in the image below). This action will remove the project from timesheet and expense entry picklists.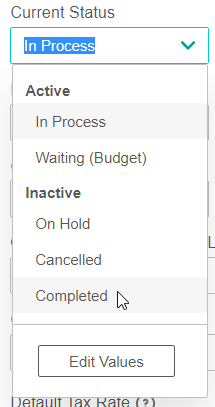 If a staffer has entered time to an "inactive" project and the timesheet row is on their timesheet, they can still save and submit their time to that project. However, the staffer won't be able to add a new timesheet row for that project. If the project is marked inactive and has a due date, the staffer will receive an error if they try to log additional time to it.