Enabling Email Notifications
To allow users to establish email forwarding of system notifications, system administrators must first enable email notifications for the firm.
1. Select MY COMPANY...NOTIFICATIONS from the navigation menu. This will open up your firm's email and notification settings.



2. Place a checkmark next to "Enable Notification Delivery Via Email" on the EMAIL SETTINGS tab. This will enable staffers in your firm to turn on email forwarding for themselves within their user profiles.



3. Click SAVE to apply these email settings for your firm. To personalize the messages that staffers receive with system notifications, read Notifications in BigTime.



ACTIVATING EMAIL FORWARDING
Once the system administrator has enabled email notifications for the firm, any user can activate these notifications from his or her profile.
1. Click MY PROFILE from the person icon in the navigation menu to open your profile.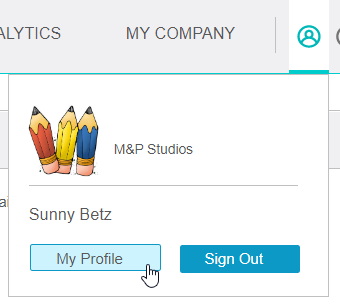 2. Check the box next to "Enable Email Notification" from the NOTIFICATIONS SETTINGS tab. This will send notifications to the email your BigTime account is linked to.


3. Remember to click SAVE to update your notification settings.


TIP: Cut Down on Duplicate Notifications
When you're logged in to BigTime, you will receive notifications in your BigTime inbox. If you'd rather not receive the same notification(s) to your email address while you're actively working in the system, uncheck the box next to "Receive Emails While Logged In" to prevent overlapping notifications.

FAQ
HOW DO I KNOW WHICH EMAIL ADDRESS MY BIGTIME ACCOUNT IS LINKED TO? Your BigTime account is linked to the email address you used to first get started in the system. You can find it in your user profile.


CAN I CHANGE THE EMAIL ADDRESS THAT NOTIFICATIONS ARE FORWARDED TO? Sure. Refer to Changing Your Email Address for steps on making this change to your profile.
AS A SYSTEM ADMINISTRATOR, HOW DO I CHANGE THE "SEND FROM EMAIL" ADDRESS FOR INTERNAL NOTIFICATIONS AND EMAILS TO CLIENTS? You can change this information from MY COMPANY...NOTIFICATIONS on the Email Settings tab. You can customize the display name and email address for both in-product notifications and external email delivery settings.
HOW OFTEN ARE BIGTIME MESSAGES/NOTIFICATIONS FORWARDED TO EMAIL? To avoid overloading you with emails, the system processes messages/notifications in a batch for email forwarding once per hour.

Any messages that are directly written to you from an admin or a manager within your firm are always triggered to be processed and sent at that hour mark.

Notifications, however, only get forwarded to your email if they are newly marked as unread. For example, if you've already received an email to notify you of new task assignments, the next email triggered to send to your email will occur only once you've marked your notice "Read" or deleted it from your inbox.

If you'd rather get more instant notifications instead of waiting on the once-per-hour limit, the Slack integration is designed to send a notice immediately to you once the notice has been newly marked as unread.
WHAT DOES AN EMAIL FROM BIGTIME TYPICALLY LOOK LIKE? BigTime email notifications/messages typically resemble the sample below. These summarized emails have a clickable link to bring your users to their inboxes in BigTime and let you know when they've completed their assigned tasks.