The Getting Started Guide shows you how to unleash the power of BigTime. Once you've signed up, we'll jump start your ability to run a smarter, more productive, and more profitable business starting now.
Takeaways
BigTime is, well, big. You can use as much or as little of the system as you'd like. Use the system guide to figure out what functionality you'd like to implement first.
Your customer data is organized into projects. Take a few minutes and add a sample project or two to see how it works.
Staffers are BigTime's users. You add everyone -- employees or contractors alike -- to your BigTime Staff List.
Metrics/Reports are updated in real-time. New entries show up in real-time, but you can't edit or bill time until it's submitted.
Link to QuickBooks when you're ready (so you can import all the basics and avoid entering staffers and projects by hand).
Signing Up
BigTime gives you all the tools you need to keep track of your growing team, and it provides all the inputs you need to track costs, budgets, utilization, realization and the other metrics that make your firm more successful.
To get started, all you need to do is signup. When you do, you'll get an email confirmation with a link that will setup your firm's subscription.
Why We Ask You for Your Industry
BigTime has a flexible and robust set of configuration options that allows you to tailor it to your company's needs. We configure those options when we setup your firm based on the industry you specify.
Menus, Walkthroughs and More
The very first screen you'll see when you login to BigTime is our initial Walkthrough. Click through those pages to get a quick primer on how the system is organized. Then, when you're done, click the START USING BIGTIME link on the last page.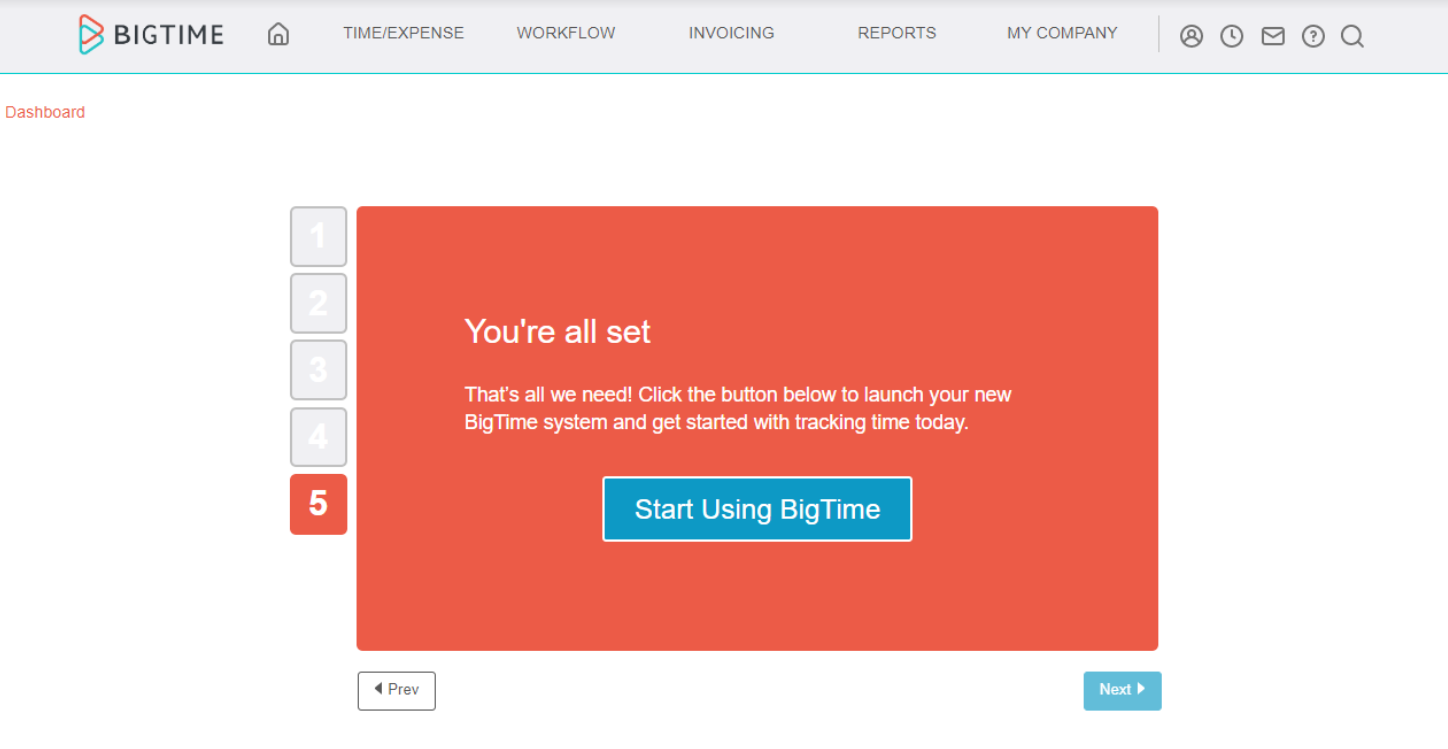 Menu references in the system guide follow a standard convention. So, when we say "click on the MY COMPANY...STAFF LIST" we mean this link: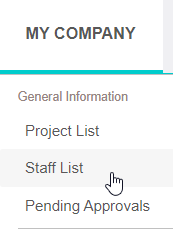 R

i

g

h

t

s

i

z

i

n

g

B

i

g

t

i

m

e

f

o

r

Y

o

u

r

F

i

r

m
You can use as much or as little of the system as you choose. But, the more you take advantage of, the better BigTime will get at helping you pay attention to the metrics that matter. Nobody uses the entire system out of the gate, but we've added some feature links below (along with stories about customers who've used those features to make their firms work smarter).
Assigning users to limit the projects/tasks they see
Using Budgets to help set priorities
Using Tasks to generate real-time progress reports
Linking together time, expenses, budgets and invoices
Using BigTime reports to zero in on the details
Implementing review/approvals in BigTime
Getting More from the Apps you use everyday
Getting Started With Projects
Most of the information you enter into BigTime rolls up into a project, and managers have lots of tools and reports at their disposal to help them keep track of projects, clients, teams and budgets. The system creates a project for every customer in your system, even if your firm doesn't use projects. So, some firms will have exactly one project per customer (just a general "consulting" project). We do that so that we can have a consistent interface across all of your client work.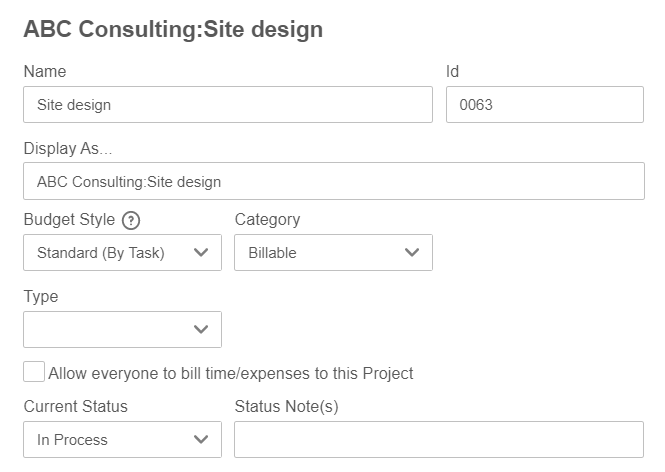 Adding a Project From The Project List Screen
You can add one or two sample projects in the system by navigating to the MY COMPANY...PROJECT LIST page and clicking ADD PROJECT. When you do, you'll get a screen that lets you enter basic information. You can add a client, add a project, or do both in the same screen.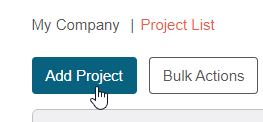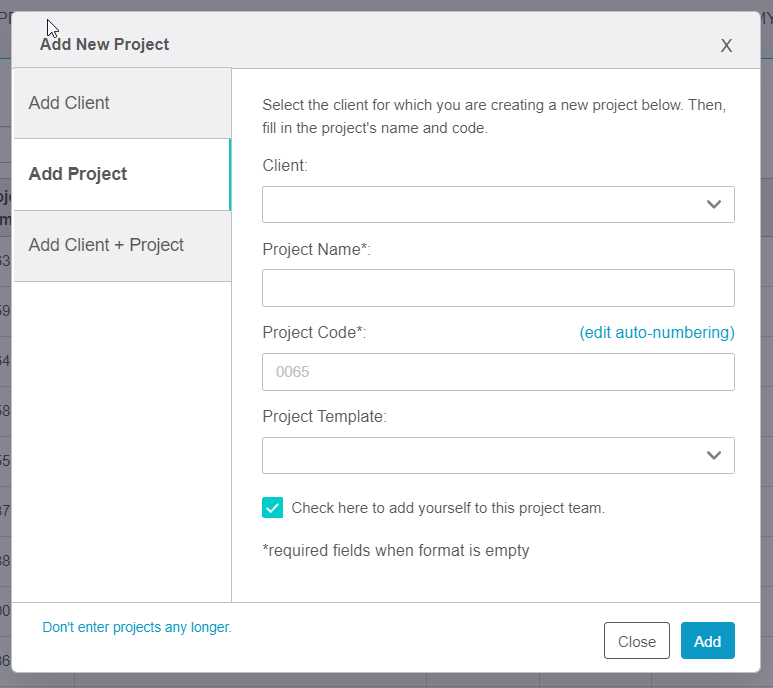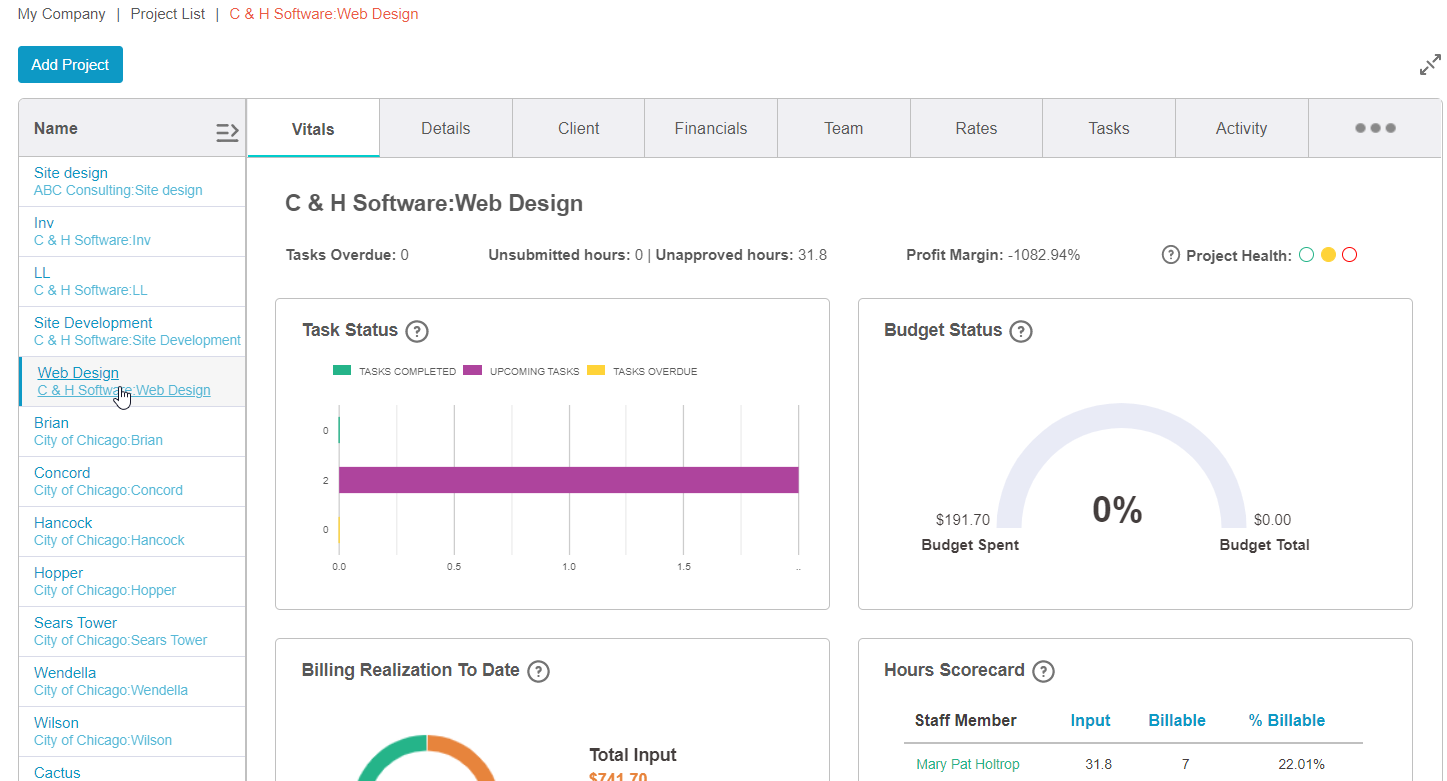 TIP: Flat Vs. Hierarchy View
Remember, every client in the system has at least one project. Don't use projects? Try adding a project where the client and the project name are the same. You can switch from the flat view to the hierarchy view to see how BigTime organizes projects into clients behind the scenes
Once you add a project or two, you're ready to track time, expense and billing data. Keep in mind that BigTime can be bolted on to your accounting system as well, so we can integrate time and billing history and give you a comprehensive picture of your firm's performance over time.
Inviting Your Staff
BigTime is a tool which lets your entire team collaborate — managers, employees, contractors, etc. Every participant in that process is considered a "staff member" (contractors as well as employees). To add one or more staff members to the system, all you have to do is add them using the ADD STAFF button on the MY COMPANY...STAFF LIST page.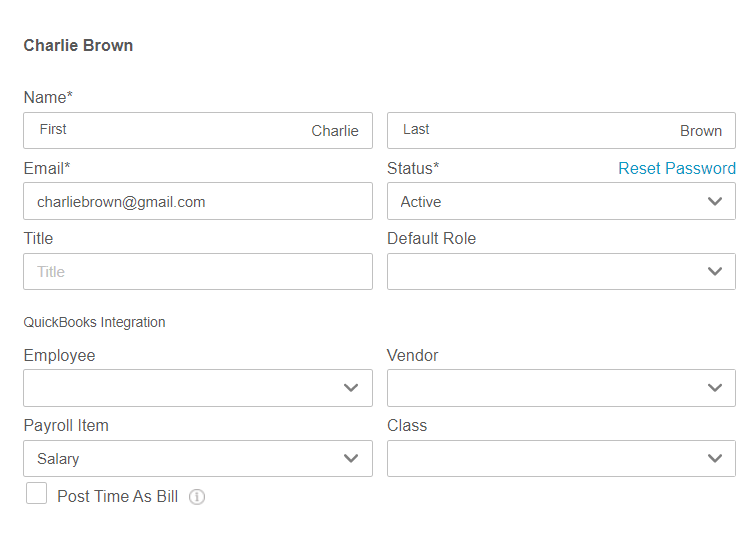 What Happens When I Add Staffers To My System?
You have two options: Inviting staff or simply Adding staff. Inviting a new user to the system will send them an email with a link that lets them setup their own user login to your system. When you login, you see the entire system. When your staffers login, they see only what they need to get their job done (typically the timesheet and expense entry screens -- along with some basic reports).
For more information about what your staffer will experience when they login, take a look at the Welcome to BigTime for New Users article.
TIP: Invitation Emails
BigTime uses your new staffer's email address as a unique Id, and we send them an email invitation as soon as you click the INVITE button. They will need to click on a link within that invitation in order to setup a password and access your system. Once they do, you'll see their status change from "invited" to "active." Need to resend a user invitation that's been lost in the mail? Just resend the email from that staff member's info page.
Tracking And Submitting Time
The very first timesheet you and your staff will see is the weekly timesheet. There, you can click the ADD ROW button to add a new row for time, select the project you'd like to bill to, and fill in extra data (like notes) as needed. Entries are auto-saved on this page as you move from row to row. BigTime provides a quick walkthrough to users who are new to the page.

Unsubmitted Time Is Mine. Submitted Time Is Yours.
At some point (typically weekly), your users will need to click the SUBMIT link at the bottom of their timesheet. Clicking submit is a virtual version of handing in a timesheet. It gives you an electronic indication that they're done entering time and making changes for the week, and they are ready for you to do whatever it is you'd like to do with that time! You can edit it, add it to invoices, send it over to QuickBooks or just ignore it.
That's important because once a user submits their time, they can't edit it any more. Just like handing in a paper timesheet, once a user submits their time it's not theirs to edit. It's now available for Administrators and Managers to review and edit.
TIP: Review and Approval
Some firms use BigTime to setup a review/approval workflow for time. Once a user submits their timesheet, a manager is assigned to it. That manager can accept and/or reject individual entries or they can accept/reject the entire timesheet. In this circumstance, rejected time is sent back to the user for edits. That rejection workflow is the only way a user will be permitted to edit their time once it has been submitted.
Likewise, before a user submits their time, Administrators and Managers can't edit it. They can see it (in reports, screens and summaries), but they can't edit it. Unsubmitted time belongs to the user, only they can make changes to it.
Timesheets Can Include Exactly The Data You Want
As the Admin, you can click the settings icon on your weekly timesheet in order to edit the columns and details that appear on your timesheet. The setup screen for timesheets lets you do any of the following:
Edit the columns on your weekly timesheet
Edit the fields that are filled in for each day
Determine what fields/columns are mandatory and which ones are optional
Edit the weekly start day
Change how your time entries are rounded
Change the way your project picklist looks (eg - use a hierarchy or a flat view)