Use your Activity Dashboard effectively and have it appear as you'd like it. These things are possible when you understand how to use the features on the Activity Dashboard toolbar found on the Staff Dashboard.

First, let's get to an activity. Then, we'll show you your toolbar options.
1. Click MY COMPANY...STAFF LIST from your navigation bar.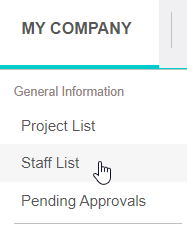 2. Click on a staffer's name on the STAFF LIST.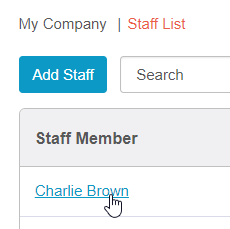 3. Click on the ACTIVITY tab.




We're going to focus on the top-most part of this dashboard: the toolbar. We'll explain each feature, moving left to right.



ADD ACTIVITY
Click the ADD ACTIVITY button to add a new activity. A new window will pop up where you can enter activity details.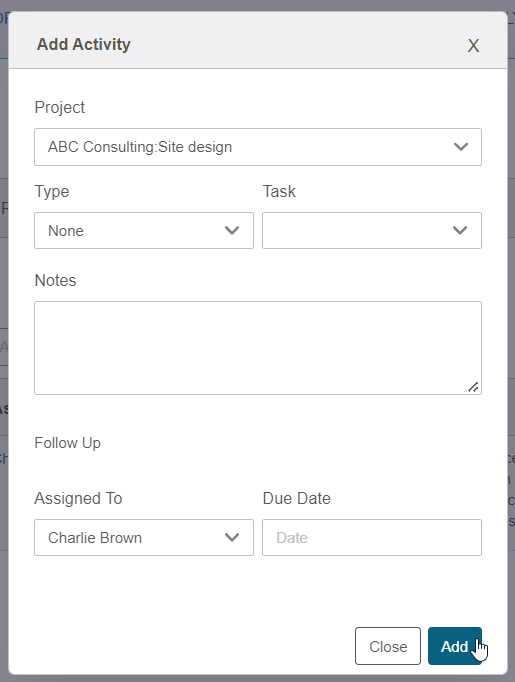 Remember to click ADD to save your work and add the activity to the staffer.


Bulk Actions
By default, BULK ACTIONS is not activated until you check one or more boxes next to an activity.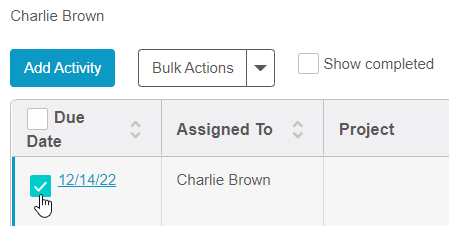 To use this feature, click on the WHITE TRIANGLE and a picklist will populate where you can make your selection.

Here's what you need to know:

*Mark as read- the staffer has read the activity.
*Mark completed- the staffer has completed the activity. This removes the activity from the Activity Dashboard, but completed activities are easily retrievable, as explained in the next section.
*Delete- delete the activity. This is a permanent action that removes the activity from the Activity Dashboard.
Show Completed
Say a staffer has completed several activities. Although they no longer appear on their Activity Dashboard, you can easily retrieve them by checking the box, SHOW COMPLETED. The Activity Dashboard will populate with the completed activities

You can even access completed activity details by clicking on the hyperlinked date under DUE DATE.
Export
Click on the GRAY ARROW next to EXPORT and a short picklist will populate with two ways to export Activity Dashboard details: PDF and XLS (ie, an Excel document).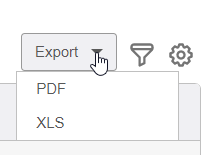 Filter
Click on the FUNNEL icon to add filters to your columns.

Filter a column by clicking on the column name. Or click on the FILTER icon on the column itself, where you can apply parameters to a filter. This will allow you to filter a column based on particular details.
For example, we clicked on the triangle next in the DUE DATE column and a small window popped up. We entered a date range and clicked APPLY. Our Activity Dashboard populated with results based on the parameters we provided.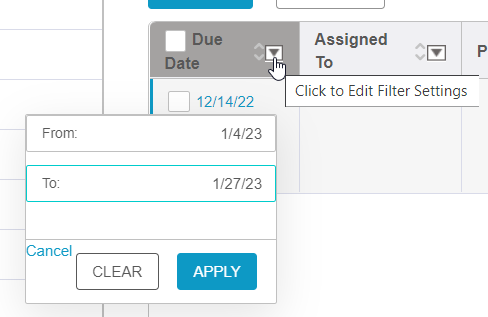 Add or Remove Columns
Click on the GEAR icon and a picklist will populate where you can add or remove columns.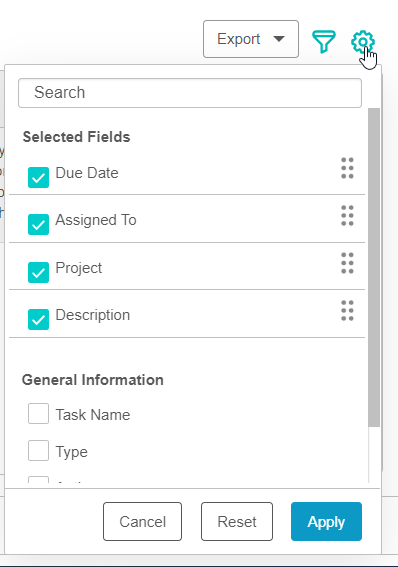 Check and/or uncheck boxes next to the fields you want to include or exclude.
Update the order of your columns by clicking on the INTERSECTING ARROWS next to a selected field; drag and drop the field as you'd like it to appear on your window.
Click APPLY to apply your changes.