If you're a system admin, you can terminate a staffer in BigTime. You can also view the history of a terminated staffer and reactivate them. This article will show you how.
First, here's how to terminate a staffer:
1. Click MY COMPANY...STAFF LIST from the picklist (dropdown menu).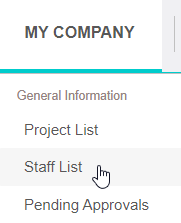 2. Click on the name of the employee who you want to terminate.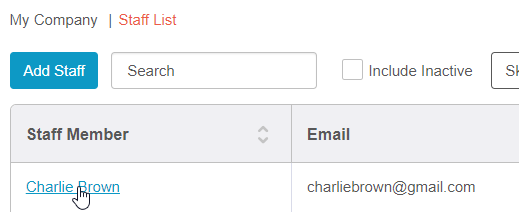 3. Click on the gray arrow under the STATUS label and select TERMINATED from the picklist.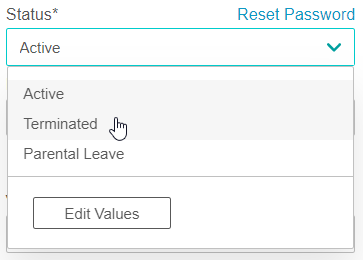 NOTE: "Active" and "Terminated" are two values that are automatically populated in the "Status" field picklist. You can create additional values by clicking the hyperlink "edit these values. "Click here to learn how.
1. Click SAVE CHANGES to save your selection.


This action will remove the selected employee from your staff list. Any staffer can be terminated, even if they've submitted time and expenses.
Viewing a Terminated Staffer
As long as you have rights to view the staff list, you can view terminated staffers by following these steps:
Click MY COMPANY...STAFF LIST from the picklist. Once your staff list appears, check the box INCLUDE INACTIVE. Doing so will add your terminated staffer(s) to your staff list. Now you can view a staffer's timesheet and billing history, among other details.

Reactivating a Terminated Staffer
If you're looking to reactivate a terminated staffer, click on the staffer's name in the staff list. Then, click on the red triangle under STATUS and select ACTIVE from the picklist.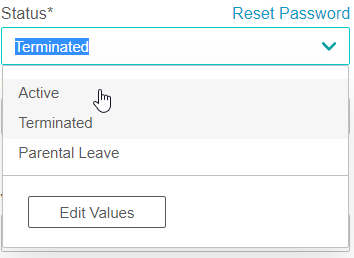 Remember to save your work by clicking SAVE CHANGES near the bottom-right of your screen.
FAQ
WHAT HAPPENS WHEN A STAFFER IS TERMINATED?
Terminated staffers no longer have access to BigTime and they don't show up in the staff list.

I NOTICED THAT MY STAFFERS ARE AUTOMATICALLY LABELED AS "ACTIVE." WHAT DOES AN "ACTIVE" STATUS MEAN?
A status tells the standing of a staffer. New employees become "active" staffers automatically. Then, when you invite this user, they'll be allowed to enter into your firm. Sometimes system admins want to add more statuses, like paternal/maternal leave. They can do so by editing the staff member's status.