Project and Project Billing are two Status Code categories that tell the status of a project. Add values to these categories so you can see how a project's tracking on the Project Dashboard.
In this article, we'll:
Define Project and Project Billing,

Show you how to update the values for both categories, and

Point out where you can use these values in BigTime.
What Are Project and Project (Billing)?
First, let's find out what these values mean in BigTime:
Project refers to the standing, or status, or a project: whether it's on hold or in process, for example.
Project (Billing) refers to the standing, or status, of a project during its billing cycle, whether it's an active project that's in process or an inactive one that's on hold, for example.
Now let's learn how to create and edit these values in BigTime.
Create and Edit Project and Project (Billing) Values
Both Project and Project (Billing) values are added and edited in a similar way, so we'll show you how to do both at the same time. To keep it simple, we'll use Project for our step-by-step, and will note any differences for creating a Project (Billing) value.
1. Click MY COMPANY...FIELD VALUES.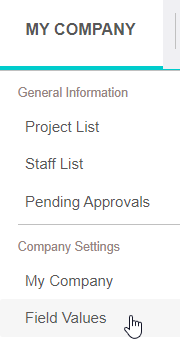 2. Click STATUS CODES on the gray navigation bar and you'll be automatically placed in the Project category.




NOTE: If you're adding a value under Project (Billing), select Project (Billing) instead. Then, the rest of the steps are the same for both values.


3. Click ADD NEW VALUE to add another value to the list below. To edit an existing value, just click on it and make your edits on the right-side of the window.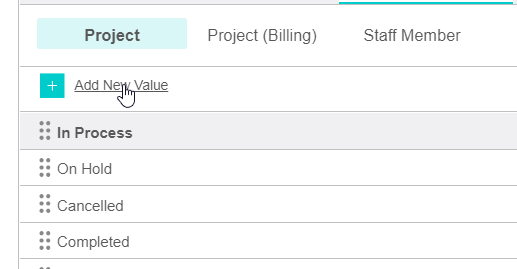 4. Add details about your new value on the right-side of the window.



NOTE: Make a value inactive by checking the dialog box next to the phrase ITEMS ATTACHED TO THIS STATUS ARE INACTIVE. This means BigTime will archive the data associated with the inactive value, without deleting it. To reactivate the value, uncheck the box and save your selection.
5. Click SAVE+NEW to save your work. Doing so will also allow you to add more values, if you wish.



Use Project and Project (Billing) in Bigtime
Use both of these values on the Project Dashboard.
To get to the Project Dashboard, click MY COMPANY....PROJECT LIST and select a project that's listed on the left side of your screen.
In the image below, Project values are located under CURRENT STATUS. Project Billing values are located under BILLING STATUS. These fields are toward the middle of the Project Dashboard.

For both fields, click on the red triangle and you'll see the values you created. You'll notice that BigTime distinguishes between active and inactive values in the picklist.
If you want to make a change to your Project or Project (Billing) values, you can follow the above steps. Or click on the hyperlink at the end of either picklist: EDIT THESE VALUES. Doing so will direct you to the specific area to make changes.
Remember to save your work by clicking SAVE CHANGES.