Most BigTime users rely on tasks, or units of work, to help stay within budget and meet project deadlines. Use your Task Dashboard to create tasks and add task-related details like budgets, due dates, and assignments.
Note: An alternative way to add tasks is using the Task Editor in the Project Dashboard. Also, instead of "tasks," your firm may refer to these units of work as "budget items," "phases," "work items," or "engagements." It's easy to update the lexicon settings in BigTime to accommodate your firm's needs.
In this article, we'll first explain how to create tasks on the Task Dashboard. Then, we'll explain how to add details for each task.
Create a Task
Follow these steps to create a task.
1. Click WORKFLOW...TASK BOARD.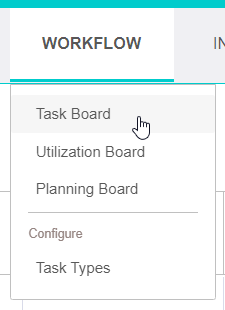 2. Click ADD TASK near the top-left corner of your window.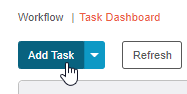 3. Add task details in the new window that pops up. The task needs a task name and it must be assigned to a project.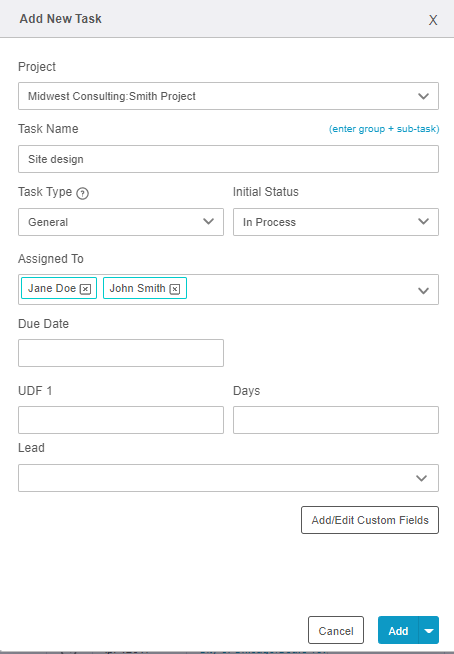 4. Click ADD to add your task to your Task Dashboard.

If you click on the WHITE TRIANGLE next to ADD when you create your task, you'll notice you've got several more options.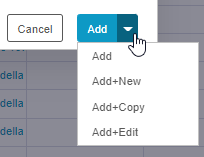 Here's a brief summary of each option:

Add— add the task you created to your Task Dashboard.

Add+New—add the task you created to your Task Dashboard and open a new window to create a new task.

Add+Copy—add the task you created to your Task Dashboard, and copy these task details and create another task.

Add+Edit—add the task you created to your Task Dashboard and edit the details of this task. A new window pops up where you can add information, like expense budgets and task notes.
Add and/or Edit Task Details
Now that you've created a few tasks, let's add and/or edit task details, like start and end dates and expense budgets. You can edit a task at any time. Follow the steps below to learn how.
Get to your Task Dashboard (WORKFLOW...TASK DASHBOARD) from the navigation bar. Then, click on one of the tasks hyperlinked on your Task Dashboard.
Note: You can also add and edit task details using the Task Editor.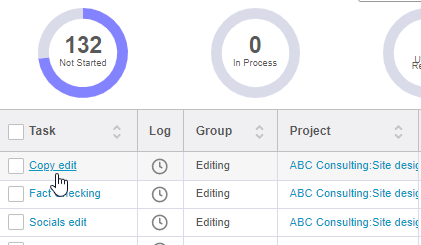 A new window will pop up with three tabs where you can add more information about the task you created. We'll walk through each tab next.
Note: You'll only see two tabs if you don't have an integration with an accounting system configured.
General Info
This tab includes details you added when you created the task originally, like the task name. However, you can edit details and/or add information to fields you'd previously left blank.
Plus, there are several new fields worth highlighting:
Add notes about the task by typing in the large textbox.
Determine the task's priority: low, medium, or high.
Enable time/expense entry. This setting allows the system admin to determine the entry type for their staff: fee and expense; fee only; or expense only. Below is a brief explanation of each option:
-Fee and expense - both time and expenses can be tracked to the task.
-Fee only - only time can be logged to the task.
-Expense only - only expenses can be logged to the task.
Indicate if the hours and expenses logged against the task are non-billable. (Do this by clicking the dialog box under "Notes").
Add a custom field. This means you'll add a field that'll provide additional information about the task, like a website or note.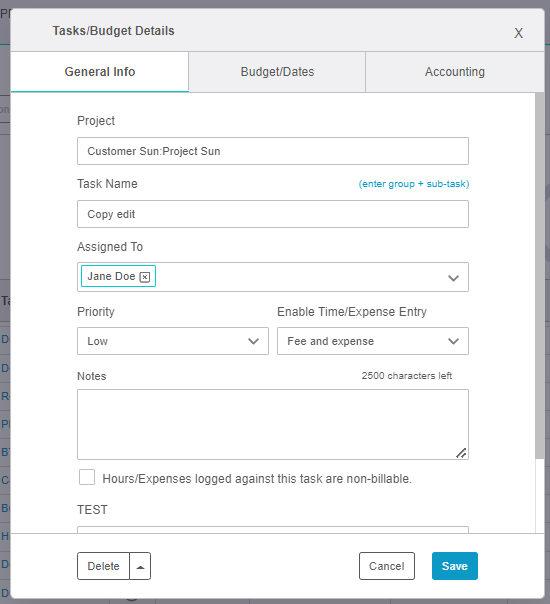 Remember to save your information by clicking SAVE.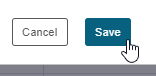 Budget/Dates
Click on the BUDGET/DATES tab to add task start and end dates, as well as hour and expense budgets.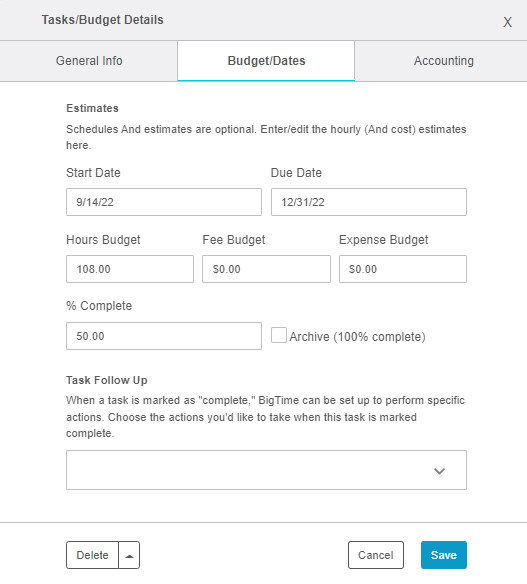 Click here for more information about creating project budgets in BigTime on the Task Dashboard.
Accounting
If you've enabled an accounting system integration, you'll see the "accounting" tab, as seen in the image below. Use this tab to link the task to QuickBooks.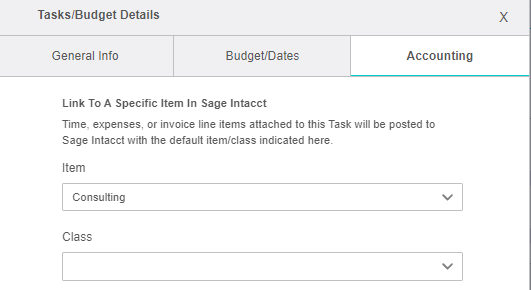 The picklist that populates under DEFAULT CLASS comes from QuickBooks, where the list is managed. Default classes are used as a form of grouping, often used if a company has multiple locations.
You can link tasks in BigTime to QuickBooks' classes. Then, when staffers post time, expenses, and/or invoices, BigTime will automatically apply the default class to those items.
Where To See Task Details
The task details you add will appear on your Task Dashboard.

In the example above, we can see at a glance the project that the task's assigned to, current status, start and due dates, and assignment. You can adjust your dashboard by adding or removing columns, so that you've got the information that's most relevant to you.
FAQ
DO I NEED TO ASSIGN MY TASKS IN ORDER FOR STAFFERS TO SEE THEM?
It depends on your user rights settings.
There's a setting in user rights to "log time/expenses to any project." If that setting is turned on, then a staffer can log time to any project and unassigned task for that project. In other words, the staffer doesn't have to be on the project team to see unassigned tasks.
If this setting is turned off, then the staffer needs to be listed as a "team member" for the specific project in order to see unassigned tasks in that project.
CAN ALL USERS CREATE TASKS?
No, not all users can create tasks. To create tasks users need access to "Act as a task/activity administrator."
WILL MY STAFF MEMBERS BE NOTIFIED OF TASKS ASSIGNED TO THEM?
Yes, you can have the system notify users of tasks assigned to them. Click here to learn how to activate this setting.