After you draft multiple invoices, you can choose to consolidate or combine them into a single one. That means, you can send your client one invoice, instead of many.
Consolidated invoicing allows you to print, email, and post project-level details on a single customer-level invoice.
This article will show you how to create a consolidated invoice. First, let's get to your Draft Invoices dashboard. Then, we'll create a consolidated invoice.
1. Click INVOICING...OVERVIEW from your navigation bar.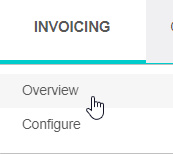 2. Find the DRAFTS/FINALS tile, click the DRAFTS toggle button and then click on the tile directly.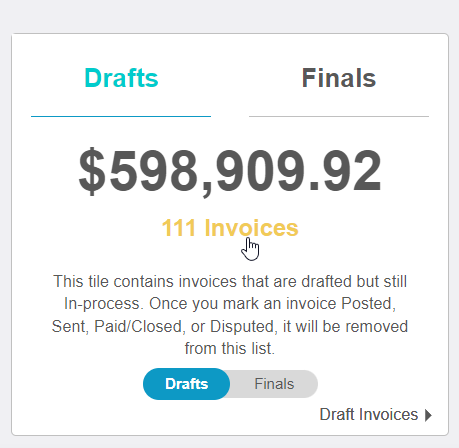 NOTE: You can also consolidate an invoice by clicking on the Finals tab, then clicking on the middle tile. Or access it via the A/R tile.
3. Check the boxes next to each invoice that you want to consolidate.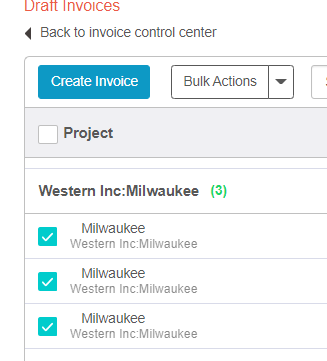 The invoices you choose need to have the same invoice date in order for the consolidation feature to work. However, the invoice date can be different if you're adding an invoice to an existing consolidated one.
4. Click on the WHITE TRIANGLE next to BULK ACTIONS and a picklist will populate. Select CONSOLIDATE from this list.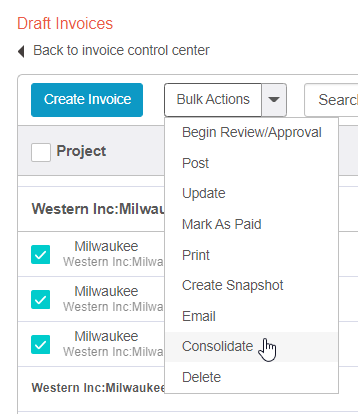 A small popup window will appear, asking if you're sure you want to consolidate the selected invoices. Click YES to consolidate.

The consolidated invoice is listed first, with the sub-invoices -- the individual invoices that make up the consolidated invoice -- underneath, as you can see below.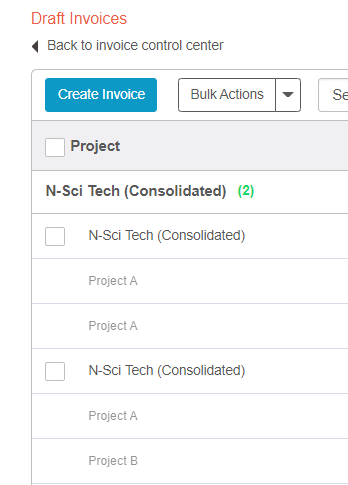 Now that you've created a consolidated invoice, you're ready to view, edit, and post it to QuickBooks.
Automatically Consolidate Invoices
You can automatically consolidate invoices.
Make this selection on the CLIENT tab on your Project Dashboard for a particular project. Check the box next to CONSOLIDATE INVOICES near the end of the window.
With this selection, any invoices created on the same day for this client will be consolidated. This avoids the extra steps of creating each invoice and manually consolidating them.