Use reports to gauge whether or not your staffers are over or under capacity. You can use an existing BigTime report or you can create a custom report to get the capacity information you need. We'll explain both options in this article.
Use an Existing Report
You can use an existing report that'll look back at staffers' past performance, which will reveal whether a staffer is over or under utilized. Use this information to make business decisions. If Jack didn't meet his capacity last month, then you may allocate more work to him next month.
To access this type of report, click ANALYTICS...REPORT CENTER. Then, scroll down to the report type section labeled PAYROLL, and click the hyperlink TIMESHEET SUMMARY (BY DATE RANGE).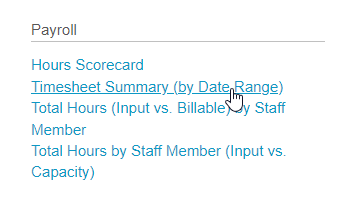 BigTime will generate a report, and it'll look something like this:

Now you can see which employees are hitting their capacity or falling short of it.
Create a Custom Report
Consider creating a custom report when there's specific capacity-based information you'd like to know.
If you're new to custom reports, click here to find out more about them. Below we'll highlight a few points to consider to get capacity details when creating a custom report:
Select STAFF LIST from the REPORT TYPE when you begin creating your report.
Check boxes under the headers "hourly ratio" and "hours input (date range)" to get detailed capacity and input information when selecting criteria for this report.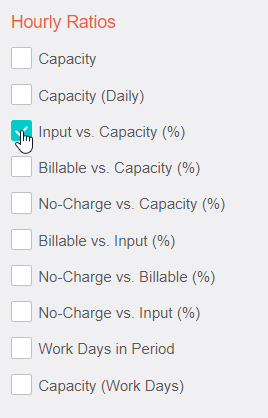 After you create the report, you'll see a lot of information that can help you determine how your employees are doing from a production standpoint.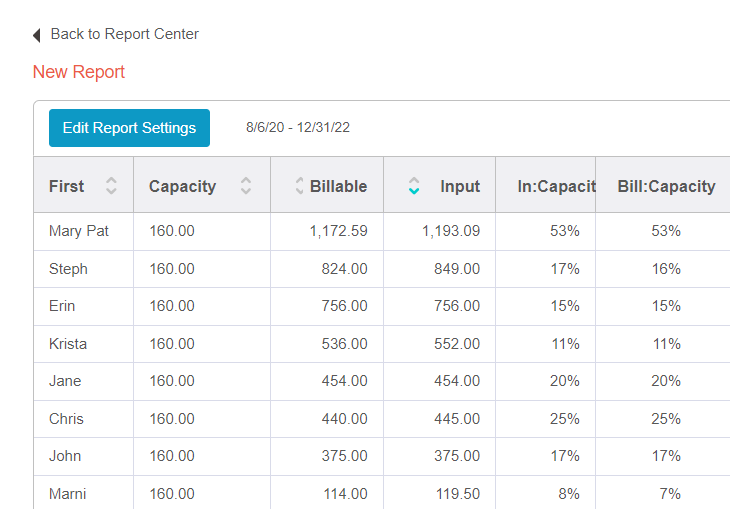 TIP: Show Staffers if They're Not Meeting Their Daily Capacity.
Use your customization options for Timesheets to show staffers if they're over or under capacity for the day.