Cost centers refer to the department or function that contributes to the costs of the organization. If an engineer purchases a new computer, the cost will be allocated to the engineering department. You can add cost center values in BigTime to designate a cost.
You can create cost center categories that are relevant to your firm. Do this by updating the lexicon settings. Examples of cost center categories include: group, function, and location.
This article will explain how to access cost centers and how to add new values.
Takeaways
Add cost center values to designate the department responsible for a cost.
Customize the values you create, so they are firm-relevant. You can add as many or as few values as you'd like. Plus, you can add descriptions to add more information about each value.
Apply the values you create on the Project Dashboard for each project. Then, run reports to see which staffer type—sales or administration, for example—costs you the most money.
Access Cost Centers
Follow these steps add or edit cost center values:
1. Click MY COMPANY...FIELD VALUES.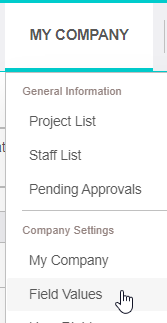 2. Click COST CENTERS at the top of the gray navigation menu.


3. Select a cost center category.

Note: You can customize cost center categories, so your categories may look different than the ones shown in the image below.

4. Click ADD COST CENTER.

5. Add details about your new value.


Then, click the white triangle next to SAVE+NEW and select SAVE from the picklist to save your work.