Once you choose between either customizing an existing report or building the components of your own custom-made report, there are are number of settings available to administrators for further making reports your own.
Sorting, Grouping, and Filtering
You can apply both dynamic sorting/grouping and filtering on reports in BigTime. There are also more permanent solutions to grouping and filtering. You can edit grouping/sorting features to add up to three levels of grouping and also create custom report filters to be applied and memorized on a given report.
Live Filtering and Custom Report Filters
To access your customization menu, click on the gray arrow next to the CUSTOMIZE button within your saved report, and select CUSTOMIZE from the picklist that appears. Once you select this option, you will be opening the Report Wizard—which is the report editor.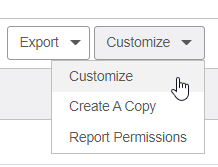 Other Options From the Report Utility Bar
In the utility bar above your reports, you'll notice a few options for navigating and editing them.
For a quick way to search your report, use the MAGNIFYING GLASS ICON to search for a particular value.

To save, print, and share reports, use the EXPORT button to download reports in either PDF, XLS, or DOC format. When live filtering is applied to a report, you could simply export that view, which will capture this filtering—if you choose not to apply custom filters behind the scenes. You can also set page breaks by custom report grouping when exporting to PDF.


And to view your report more closely, click the ARROWS ICON to expand it to a full-screen view.

Customizing What Report Viewers See
Another important facet of report editing is controlling which viewers have access to certain data and what exactly they see. This can be done by restricting access by security groups, creating report sharing groups to share reports with specific users, and also setting restrictions within reports on exactly what report viewers should see. Learn more about establishing these security settings from the Setting up Report Security section.