Verify that drafted invoices are complete and accurate with invoice review and approvals. This optional feature allows multiple reviewers, of your choosing, to review an approve an invoice.
The invoice review process is simple, but effective. Draft an invoice and start the invoice review process from the drafted invoice. Invoice reviewers receive a notice in their BigTime inbox that alerts them of the invoice to review, and directs them to it. They accept or reject the invoice on their REVIEW/APPROVE INVOICES window.
This article explains the invoice review and approval workflow and your many options within it. You'll learn:
About the invoice review and approval workflow,
How to activate invoice review and approval, and
Who can review and approve invoices.
Takeaways
Invoice review and approvals is a safeguard against errors, from inaccurate expenses to typos. This feature allows multiple people across your firm to review and approve an invoice.
Decide who'll review and approve invoices. You can choose from various combinations of staffers, departments, and roles.
Expedite the invoice approval process with leapfrog, an optional invoice review and approval feature.
The Workflow
The review and approval process follows a specific path:
Start the review process. Start the invoice review process by clicking the hyperlink FORWARD TO REVIEW in the drafted invoice. Reviewers receive a notice in their BigTime inbox, which directs them to the invoice that needs to be reviewed. Any invoice reviewer can review an invoice at any time.
Approve or reject. A reviewer can accept or reject an invoice, and can add notes to explain their decision. A reviewer can edit an invoice if they have the user right "Create New Invoices" enabled. This right gives a reviewer access to the Invoice Detail, Time, and Expenses tabs on the drafted invoice in order to make edits.
Resubmit. If an invoice is rejected, any staffer with rights to create invoices can re-submit it. That means, any system administrator or staffer with the user right "Create New Invoices" and is either on the team for that project or has the user right "View/Manage Any Project."
Approval. Approval is the final step in the workflow. It certifies that the invoice is accurate and ready to be sent to the client.
Use BigTime's notification system (MY COMPANY...NOTIFICATIONS) to stay on top of the invoice reviewal process. Notices are turned on by default, and will keep reviewers informed when invoices are ready for review.

Activate Invoice Review and Approvals
Pick the reviewers you want to review and approve invoices. Navigate to MY COMPANY...PENDING APPROVALS. Then click the hyperlink, ADD INVOICE REVIEW TO YOUR WORKFLOW. The number of approvers depends on your Bigtime package. Firms with Premier or Projector can set up multiple levels of approval.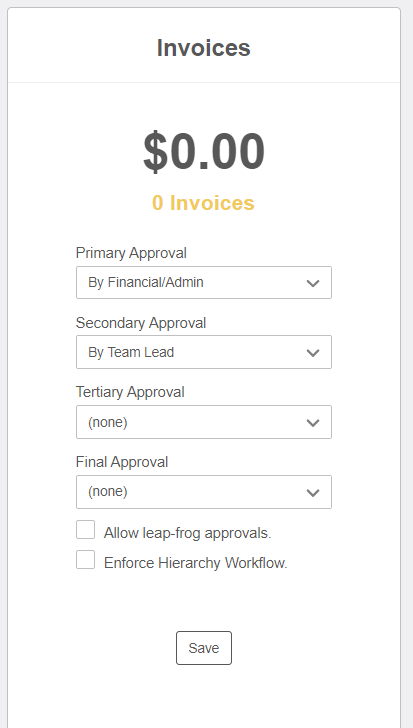 For each approval level, select an approver from four categories. This is also where you'll decide whether or not to activate leapfrog. We'll explain these options in detail next.
Learn more about invoice review and approval set up.
Invoice Review and Approval Options
There are multiple categories to choose from for each reviewer: Simple, Departments, Team Roles, or Specific Staffer. These reviewer types appear in each picklist for each reviewer. This section takes a closer look at who you can select as a reviewer.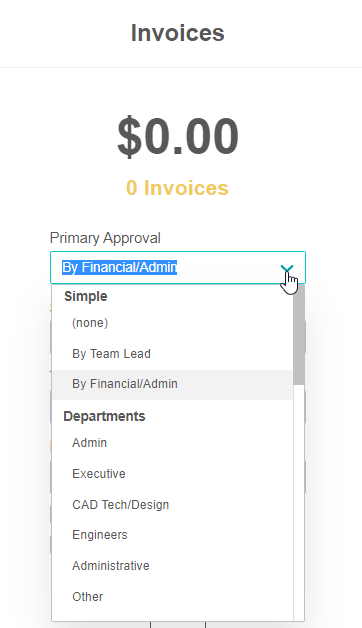 Simple
Team Lead and Financial Admin appear under the header SIMPLE. These roles are frequently selected in the invoice review workflow, which is why they appear at the top of the picklist. If there's more than one team lead, the first one in the list will be selected to review the invoice.
Departments
Think of department as a category that your staffer works in. Engineering, Media, and Account Services are examples of departments. If there is more than one person in the department, anyone in that department can review the invoice.
If you want invoices reviewed at the department level, be sure to indicate which staffers are in which departments. To do this, navigate to the Staff Dashboard (MY COMPANY...STAFF LIST) and click on a staffer's name. Make the department selection on the BASIC INFO tab. Learn how to add or edit departments.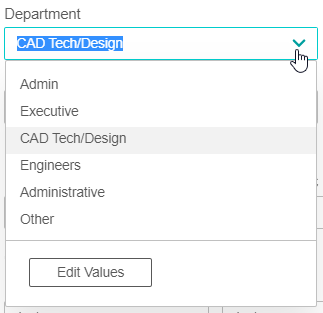 Team Role
TEAM ROLE refers to the different positions on your team, such as creative director or project manager.
Make these selections on the TEAM tab on your project dashboard (MY COMPANY...PROJECT LIST, and click into a specific project). In the image below, Ben's role on the team is Creative Director and Jason's is Project Manager.
Learn how to update the team role values.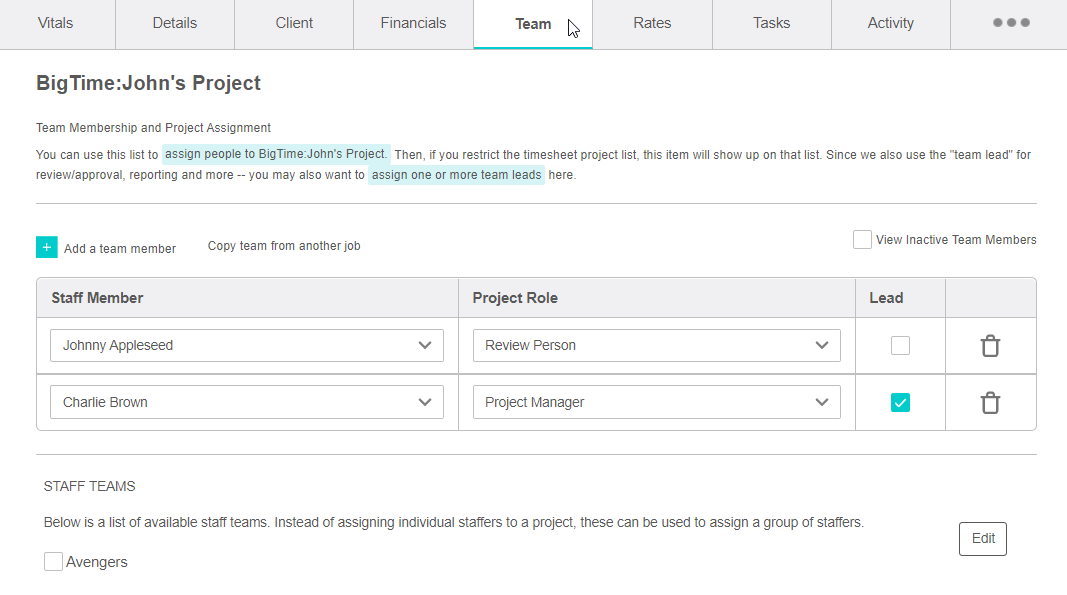 Specific Staffers
Select specific staffers to review and approve invoices. SPECIFIC STAFFERS is the last header in your picklist. To add a staffer to the reviewer approver picklist, the staffer needs to have the user right setting for "review" and "approval."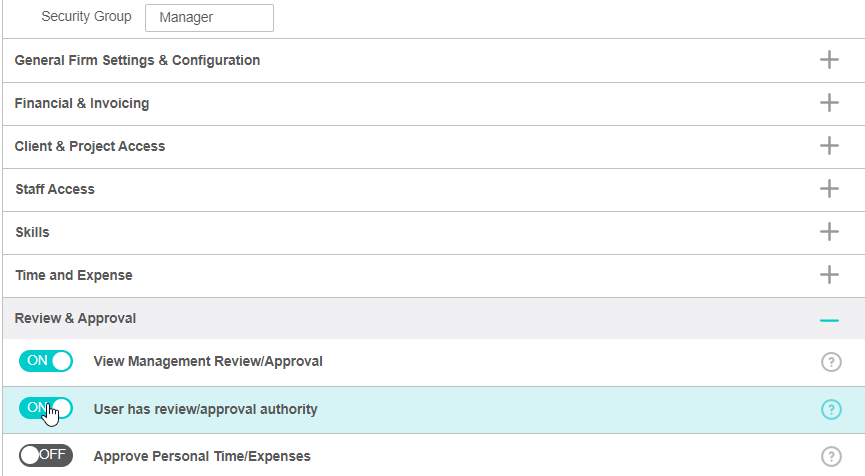 Administrators
Administrators, including financial administrators, can approve or reject an invoice at any time—even if they're not in the review workflow. If an administrator is not part of the workflow and approves an invoice, it skips all of the other reviewers.
Have your financial administrator review and approve invoices by activating the user the "Financial Administrator" permission. To do this, navigate to MY COMPANY...USER RIGHTS. Select a security group and click ON next to FINANCIAL ADMINISTRATOR. Then, click SAVE at the end of the window. Users assigned to a security group with this right can post data to your accounting system, review financial transactions, and override approvals.