After you draft multiple invoices for each of your projects, you can choose to consolidate them onto a single client-level invoice. That means, you can send your client a single invoice instead of many.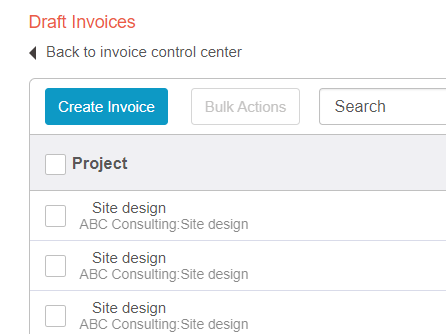 Takeaways
Send your client one invoice with all of the necessary information. Although there's only one invoice, instead of multiple, you can still provide details about the individual invoices that make up the consolidated invoice.
View and Edit a consolidated invoice, much like you'd view and edit any invoice you create.
Automatically consolidate invoices. Any invoices that are created on the same day for this client will be consolidated automatically when they're created. This avoids the extra step of creating each invoice, then manually consolidating them.
Post your consolidated invoice to QuickBooks.
About Consolidated Invoicing
Consolidated invoicing allows you to print, email, and post project-level details on a single customer-level invoice.
For the consolidation to work, you need to choose invoices that have the same date. However, the invoice date can be different if you're adding an invoice to an existing consolidated one.
There's a hierarchy in consolidated invoicing: the word "consolidated" appears next to the invoice that was consolidated, and the sub-invoices are listed beneath.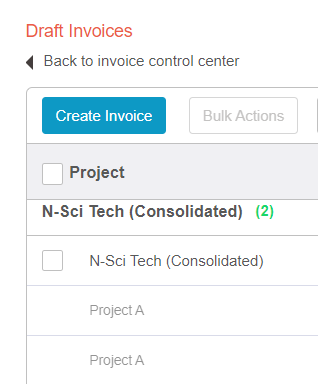 View and Edit Consolidated Invoices
You can view and edit consolidated invoices and sub-invoices: the individual invoices that make up the consolidated invoice.
A consolidated invoice is grouped by project; the sub-invoices appear as line items.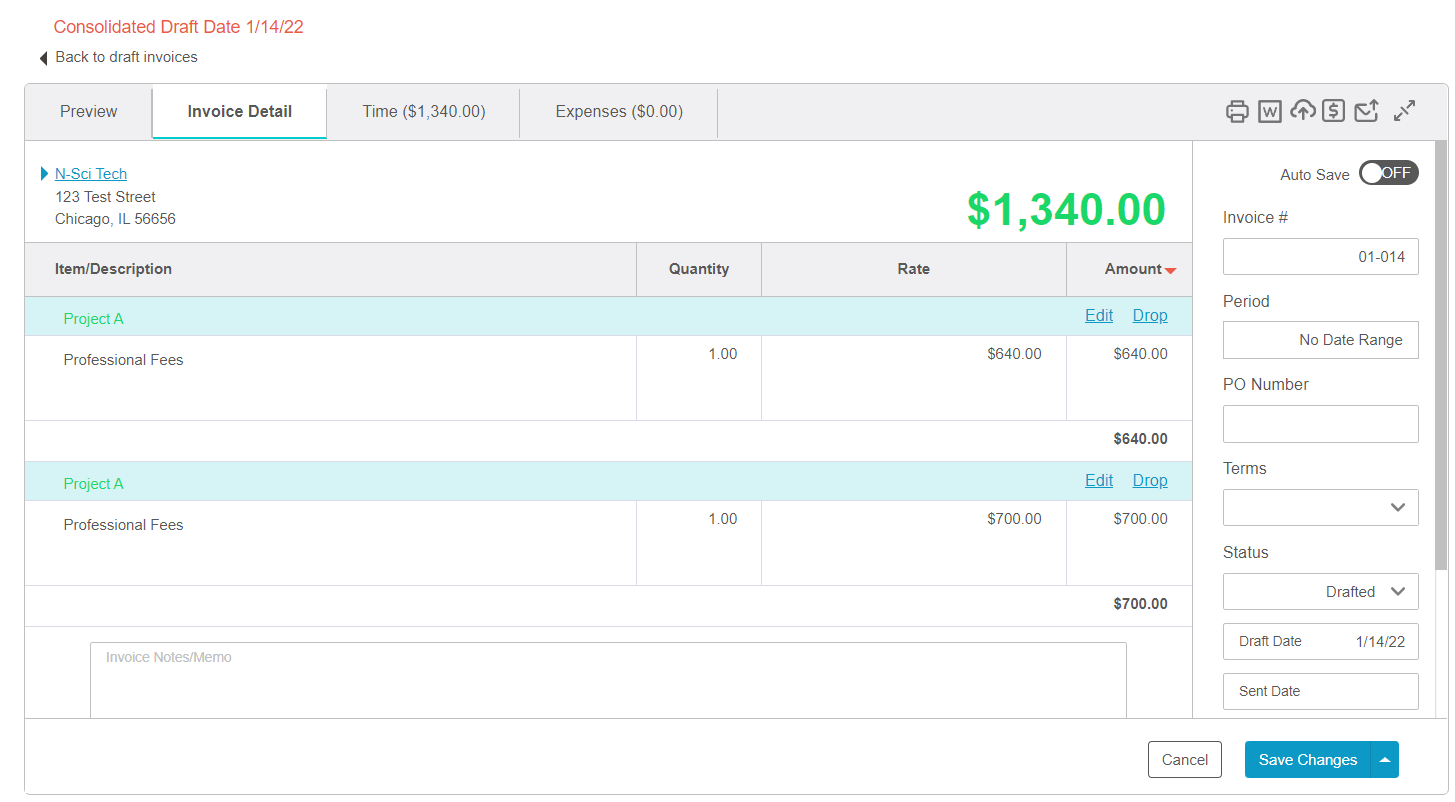 Common fields like invoice number, status, and terms can be edited and saved on the consolidated invoice.
Sub-invoices inherit these common fields from the consolidated invoice, and they're read-only. So if you change the status on the consolidated invoice, all of the sub-invoices will be affected as well.
Line items are read-only. That means, you can't make changes to the line items inside the consolidated invoice. But you can access the specific sub-invoice to make changes.
Do this by clicking EDIT on the consolidated invoice.

Or remove a line item all together by clicking Drop. This will remove the invoice from the consolidated invoice. It will now become its own invoice.
Above all, consolidated invoices work much like regular invoices. In addition to viewing and editing a consolidated invoice, you can post it to QuickBooks. You can also update the PDF template, so the invoice looks as you'd like it before sending it to your client.