Just like regular timesheet review/approval, timesheet review and approval for DCAA compliance requires your firm to first activate the kind of approval workflow that's preferred (approval by project or by manager). Review Timesheet Review and Approval for details on configuring those settings.
What follows is a closer look at the steps that are unique to timesheet review by managers for DCAA compliance.
Viewing and Editing Timesheets
From the timesheet review area, you can drill into a time entry detail and edit certain fields like the billable hours, bill rate, and notes.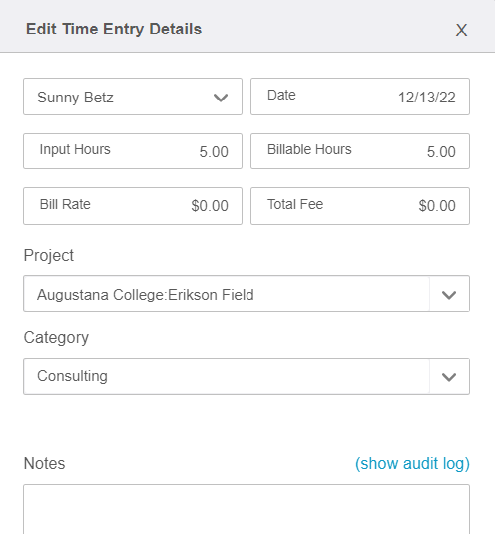 By default, however, admins and managers are not allowed to edit input hours. If for some reason there's a need to edit hours, you can do that by clicking the UNLOCK ENTRY button. This will open up all the fields for editing on the time entry detail.
Since a change like this falls outside of the accepted time review process for DCAA timekeeping, it will be noted in the audit log and you will be asked to explain it in the Daily Audit Log Note portion of the form. As long as the reason is logged, this will make the DCAA auditing process much easier.

To view audit log history for time entries, you can do that within the time entry detail by clicking SHOW AUDIT LOG above the Notes field.

TIP: Unlock, Edit, and Delete Time Entries From a Staffer's Profile
System admins can also unlock submitted entries for editing or deletion from the staffer's profile. Simply select the staffer from MY COMPANY...STAFF LIST, go to the TIME tab, and select a timesheet from the Date Range column.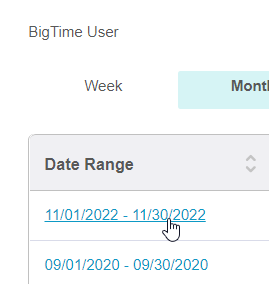 This will display all entries for that timesheet and the option to select entries to delete or drill into the input hours and unlock the entry as you would from the review/approval area of BigTime.
Rejecting Submitted Timesheets
Managers have the option to reject entire timesheets or reject specific entries, and include any notes about the rejection.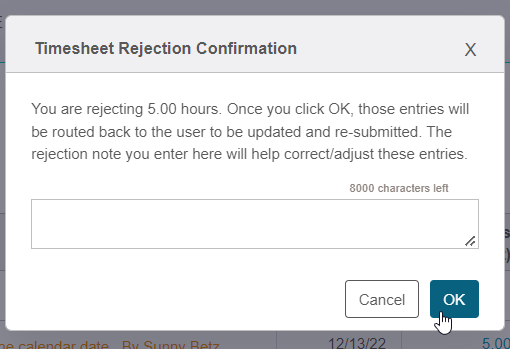 While the rejected entry itself will be recorded in the audit log, the reason for rejection is not captured in the audit log. It will be noted when it's sent back to the user, since this is more of an internal note. Staffers can be set up to receive a notification to their BigTime inbox when time is rejected. They can also find and edit any rejected entries from the bottom of their Timesheets page.
Approving Submitted/Corrected Timesheets
Just as with rejecting time, managers can approve single timesheets or drill down into individual entries to approve one at a time or in bulk. When approving certain entries, you will be prompted to confirm approval with your electronic signature.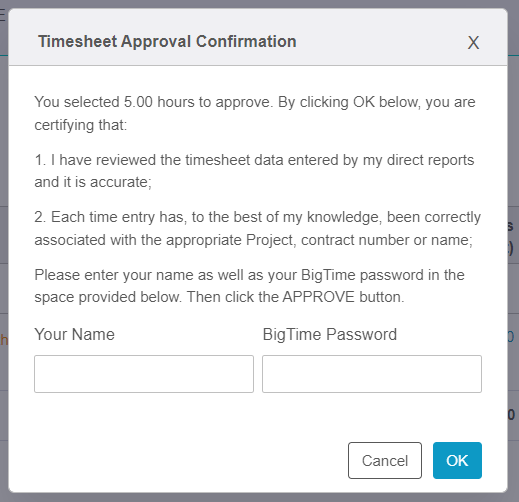 To approve an entire timesheet from the Review/Approve Timesheets area, you can check off the timesheet you'd like to approve and click the APPROVE button in the top left corner.

From there, you will be taken to a page to verify all user-submitted information and audit log notes, and acknowledge it with your electronic signature.
TIP: Choosing the Right Timesheet Approval Workflow
For staffers who work on multiple projects, it's possible that multiple project managers will need to review and approve their time. BigTime makes it easy to assign review/approval rights to multiple managers by allowing you to choose multiple levels for timesheet approval.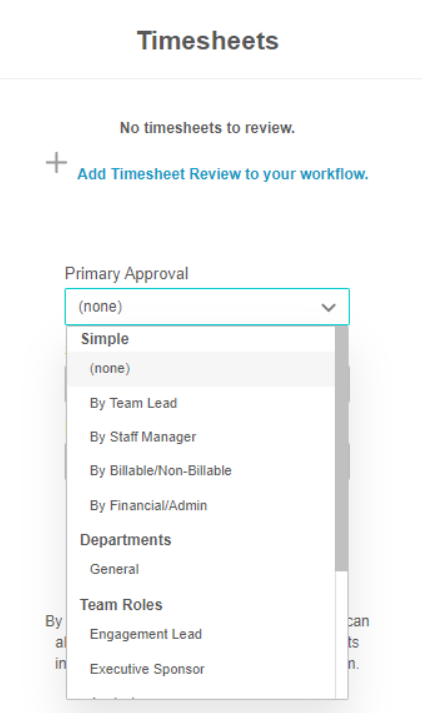 When you click EDIT SETTINGS on your Timesheet Approval tile, you'll be able to assign multiple different managers from picklists to primary, secondary and final approval status.