Time entry for DCAA compliance is similar to the regular time-tracking process in BigTime. You can learn more about that workflow here. BigTime provides a way to ensure your staffers are tracking time in accordance with DCAA compliance regulations. Staffers are required to add audit log notes with each time entry, log any changes and edits, and certify their timesheets when submitting them for review and approval.
DCAA-Compliant Time Logging
When you log in to BigTime, you will be brought to the Timesheets area, which is accessible from the TIME/EXPENSE...TIMESHEETS tab on the menu bar.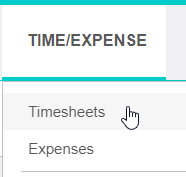 You can add time entries by selecting a job and category from the picklists in those columns, and clicking directly into the box beneath the date to enter hours.

You are required to add audit notes along with hours for the active day, and you won't be able to save your time entry without this note. If you add a time entry for a previous day, you'll be asked to explain the reason for this change with an audit log entry. Logging time ahead for billable work is not permitted.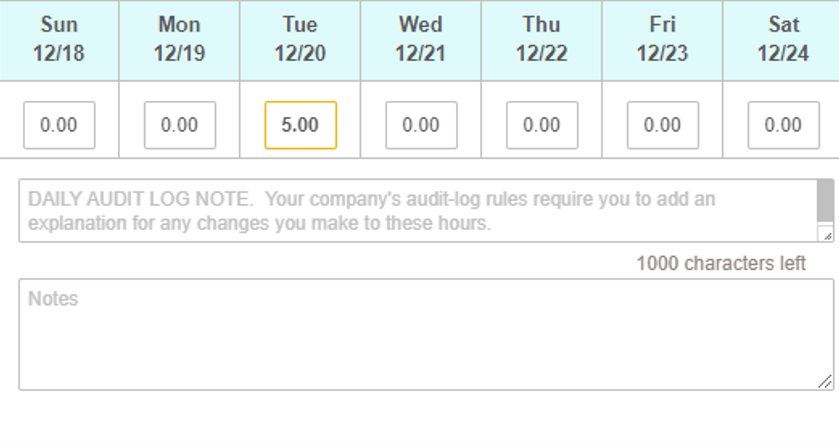 When you're ready to record your time entry, simply click the SAVE button.

Submitting and Printing Verified Timesheets
Once you're ready to submit time, you can do so at the bottom of your timesheet by clicking the hyperlink that reads CLICK HERE TO SUBMIT THOSE HOURS.
Once you do that, you'll be asked to select the time period for submission.

You will then be asked to verify any comments, as well as add additional notes where needed. This might mean explaining an entry that was added later or adjusted, perhaps after it was rejected and corrected.

Once you've checked that all comments are accurate, you can verify this information with your electronic signature, which is your name and BigTime password. Then click the SUBMIT THIS TIMESHEET button to send it on for review.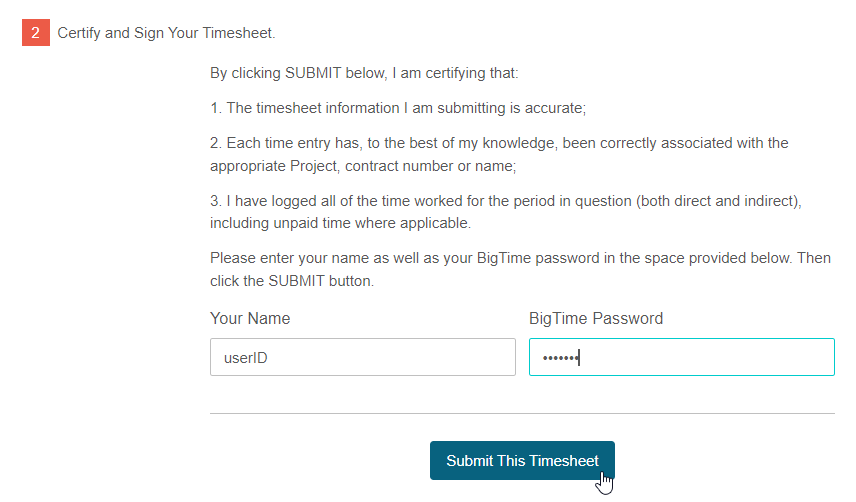 After you complete the submission, you'll have the option of returning to your timesheet area or printing the timesheet you just submitted by clicking DOWNLOAD/PRINT THIS TIMESHEET.

You can also do this at any time (from your Timesheets area) for submitted timesheets by selecting the week you'd like to print and clicking the printer icon, pictured below.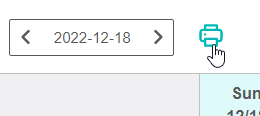 The printed timesheet will display hours, audit log notes, and your digital signature.
TIP: Edit and Resubmit Rejected Time
If you need to edit and resubmit rejected timesheet entries, you might receive a notification to your BigTime inbox. You'll also see a notice that corrections are needed from the "Timesheets to Submit" area of your timesheet. You can select the text that reads REVIEWED/UPDATED to review and correct rejected hours and send them back for review and approval.

Tips for Administrators
There are tools available to system administrators for customizing time entry, which might assist the DCAA timekeeping process. For example, you can set a submission period, and even lock timesheet entry beyond the last day in that period. You can also set time entry rounding, add additional columns to the timesheet form, and make certain detail fields required for staffers to complete.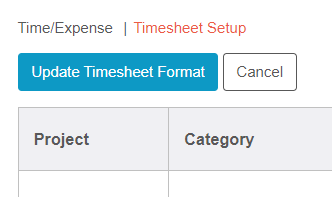 In addition, system admins can submit time entries (as well as print those verified timesheets) on behalf of staffers. BigTime will keep a record of who completed the submission, and this will be available from the weekly Certified Timesheet Report. Learn more about that report and other reporting options available for audit trail reporting from DCAA Timesheet Audit Trail Reporting.