In this article we will show you the functions available within the POST EXPENSES area. You'll learn how to drill into views, customize settings, and alter the information to specific date ranges. Only financial or system administrators are able to access this page.
Navigating to the Post Expenses Screen
To get to your expenses, click the QuickBooks tab on the navigation bar at the top of the page, then select the POST EXPENSES button.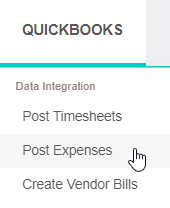 Bulk Selecting Reports
Clicking the checkbox next to expense report names will allow the financial admin to post expenses to QuickBooks or to mark them as unposted.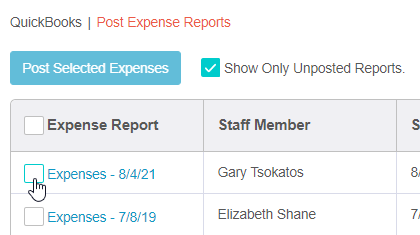 Once you have selected the expenses you wish to post, click the POST SELECTED EXPENSES button at the top lefthand side of the page.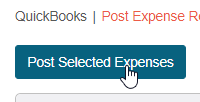 Any previously posted expense reports may be marked as "unposted" in case you have to post the information again. This button will only work for reports that have the green checkmark indicating that the information has been posted before. Be sure to delete the posted report in QuickBooks before reposting the information again.
Show Only Unposted

This checkbox allows you to view all reports to date that have not been sent up to QuickBooks.
Restrict Reports to Date Range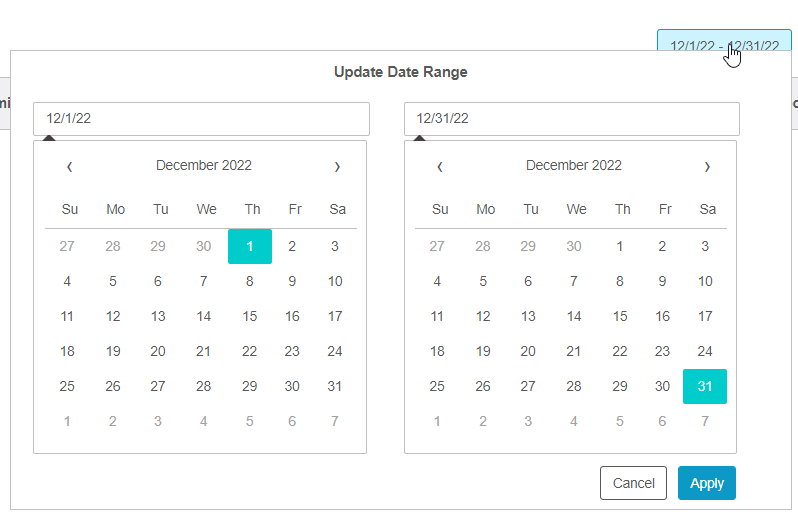 Clicking on the date range on the upper right-hand side will allow the user to filter the expense report information that only falls within the date parameters selected. Select a start date, an end date, and then hit "apply".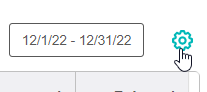 The gear icon on the upper right gives you a shortcut to the QuickBooks integration screen that allows you to access settings such as:
Post expenses as billed: this setting enables you to bill your expenses within BigTime and also post as billed so you don't accidentally invoice the expenses again in QuickBooks.
Export only approved time/expense entries: this setting will not allow expense entries that have not yet been approved to go into QuickBooks.
Default Accounts: the default accounts section allows you to set your default checking and accounts payable account, which is required in order to post any expenses.
Viewing Report Details
Financial and system administrators can drill down directly into reports to view all details associated with them. To view the details within a report, click on the hyperlinked name of the report. You can do any final edits or delete details from this screen. Once you're done, click "Back to Expense Reports".