Create an invoice template to include relevant invoice information, like budget status, receipts, and line item details. Then, access these templates in a drafted invoice. This article will walk you through both processes.
Create an Invoice Template
Follow the steps below to create an invoice template.
1. Click INVOICING...CONFIGURE from your navigation bar.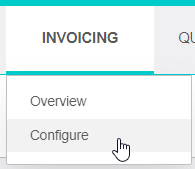 2. Click PDF STYLES.


3. Scroll to the end of the window, and click the orange button labeled CREATE NEW. When you hover over the button, its color will change to blue.



A new tab will populate and this is where you'll want to include details for this specific template. The top part of the tab is where you give a template a name.

This makes it easy to find and edit the template in the future. Each template you create and save will appear in a list when you click INVOICING...CONFIGURE and select PDF STYLES.

The second part of the template determines the appearance of your invoice header: whether or not to include your company logo and the client's address, for example, as well as the font color and size.

The last part of the template is where you select or unselect the specific invoice details, like time/expense details, receipts, and budget status.

Once you've made your changes, your invoice will look like this:


4. Click SAVE to save your template.

Access a PDF Template on a Drafted Invoice
Now let's get to a drafted invoice and apply a template to it.
Note: This article assumes that you know how to draft an invoice.
1. Click on the PREVIEW tab once you're in a drafted invoice.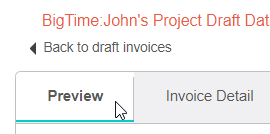 2. Click on the GRAY ARROW in the text box at the top of your view and a picklist with your templates will populate.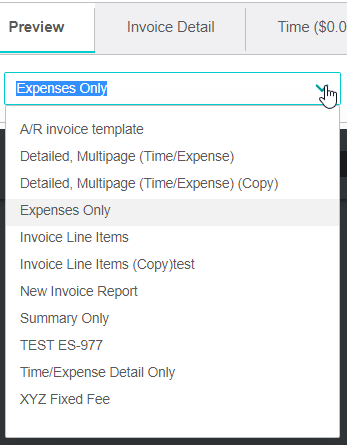 3. Select a template.

Sometimes it's helpful to take snapshots of different templates and then compare them, which you can do on this Preview tab.

Select an invoice and click SNAPSHOT. A history of your snapshots will appear on the right side of your window (see image below). Click on these hyperlinks to preview the invoice in the selected template.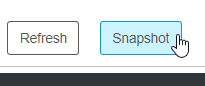 4. Click SAVE CHANGES to save your work.