Email an invoice directly to your client from the drafted invoice itself. Before you send it, you can customize the message, add attachments, and include any number of users and/or contacts. Plus, BigTime keeps track of who sent the invoice and when, and who viewed it. This article will show you how to customize your invoice email and send it.
First, we'll get to a drafted invoice so you can see where you'll find the email invoice option. Then, we'll customize and send the email.
1. Click INVOICING...OVERVIEW from your navigation bar.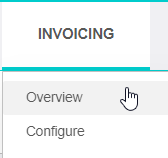 2. Click on the DRAFTS tab (on the middle tile), and then click on the tile itself.



3. Click on a hyperlinked dollar amount in the AMOUNTS column to get to the drafted invoice.




You'll default into the Invoice Detail tab on your Drafted Invoice.


4. Click on the ENVELOPE icon.




A new window will pop up with your email options.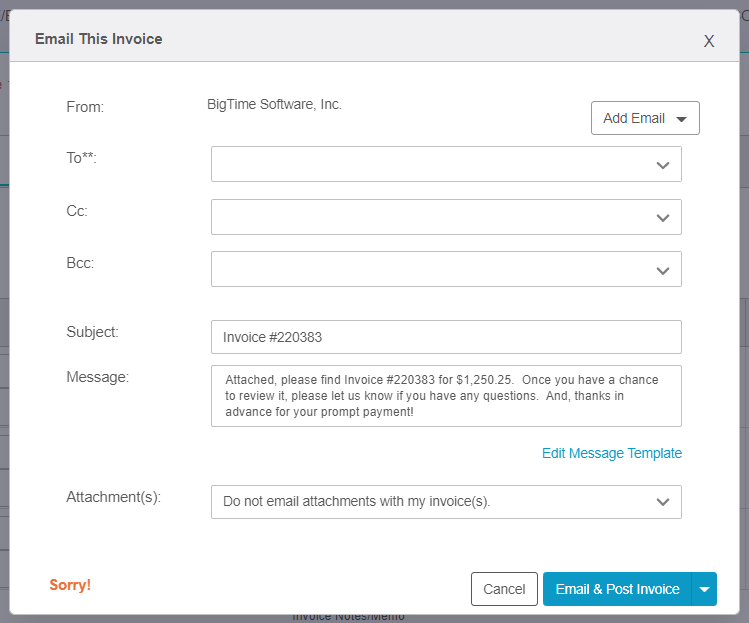 We'll explain each option:

TO: (i.e., who this email is being sent to) - This is your client.

CC: (carbon copy) - This is the project's Team Lead.

BCC: (blind carbon copy) - This is the system administrator.

NOTE: You can add more contacts to the invoice. See the tip at the end of the article.

Subject/Message: The information that appears in these text boxes is auto-generated. However, you can edit it to fit your needs.

Attachment(s): Click on the GRAY ARROW next to the Attachment(s) box and a picklist will appear. This is where you tell BigTime how you'd like to handle the attachments for this invoice.


5. Make your email changes and/or selections. Then, click the white triangle next to EMAIL INVOICE and a picklist will appear.
EMAIL INVOICE will do just that: email your invoice.
EMAIL & POST INVOICE will both email your invoice out and post it to your account.
EMAIL ME A PREVIEW COPY will send you a preview of the invoice. However, you'll have to go back into the email template and click EMAIL INVOICE to send the email.


Note: BigTime keeps track of who sent an invoice and when in the activity feed. Click the GRAY ARROW next to ACTIVITY(FEED)

at the bottom of

your invoice. You'll see when the invoice was sent and by which staffer. You'll also see who opened it.


TIP: Add More Contacts to an Invoice
If you'd like to add another contact who's not listed, then click MORE…This will direct you to a window where you can add a new contact.



Click ADD EMAIL and a picklist will appear.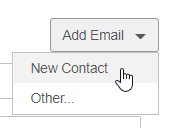 NEW CONTACT means the person who you're adding is a new BigTime contact. This person will be included in your list of contacts.

OTHER means the person will be added to this email, with the option to save this person's email for future email lists. "Other" contacts are not added to your BigTime contacts, but they're included in the picklists shown above.