When you need to make the same change for multiple tasks or subtasks, use Bulk Actions on your Gantt chart. It'll save you a lot of time and help prevent errors that come along with repetitive data entry. This article will show you how to use this feature.
NOTE: This article assumes you know how to access and use Gantt charts in BigTime.
Get to your Gantt chart for a specific project and click BULK ACTIONS, located near the bottom-right of your window.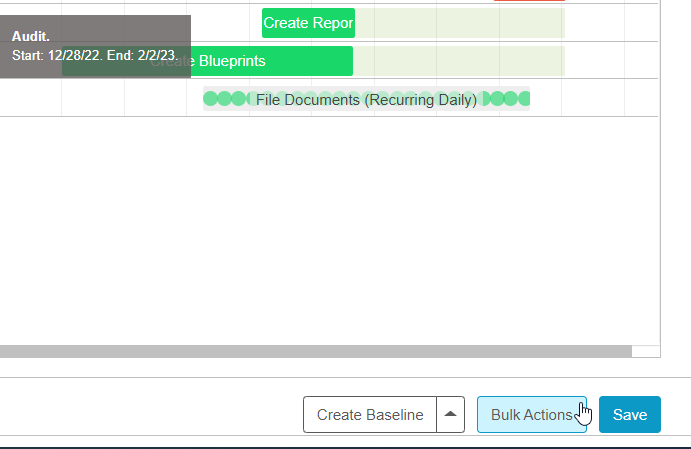 Your window will now look like the image below, with small boxes next to each task and subtask. You'll also notice several options that populate where the Bulk Actions button was. As soon as you select one task, the faded out options will become available for use.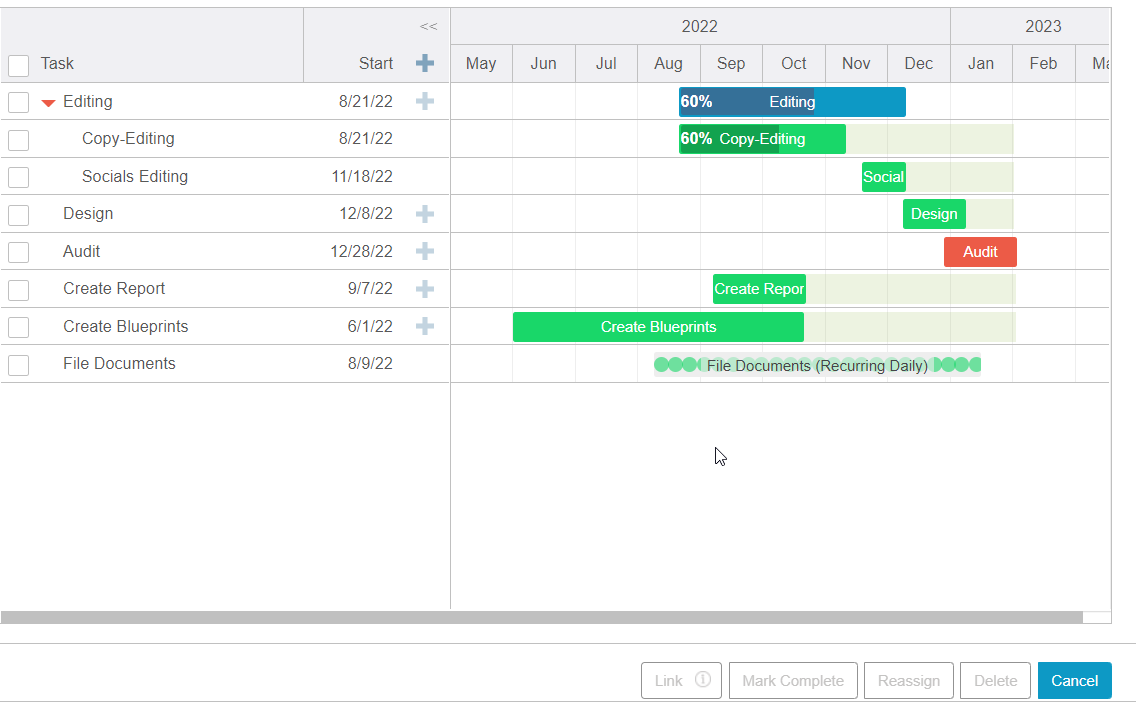 TIP: Select Multiple Tasks and Subtasks at Once
Select each task one at a time by checking the box next to the task name. Or check the box next to a task to select it and all of its subtasks. For example, we checked the box next to the "Editing" task and all of the subtasks were automatically selected as well.

Or if you want to select everything (ie, all of your tasks and subtasks) check the box next to TASK in the column header.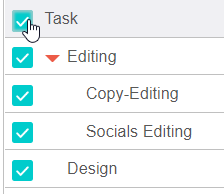 Bulk Actions Options
You've got several options to choose from when you use Bulk Actions. We'll walk through each one next, moving from left to right across the window.

Link
Automatically link checked tasks with a finish to start link (ie, at the end of one task, another will start).
Mark Complete
If your task is finished, use the MARK COMPLETE button to indicate that it's done. Then, choose to hide complete tasks from your Gantt chart by checking the box, HIDE COMPLETED TASKS.

Reassign
Reassign tasks to different staffers. Once you click the REASSIGN button, a new window will pop up where you can select the staffers you'd like to reassign the task(s) to.
When finished, click REASSIGN on the popup window.
Delete
Delete removes the selected tasks and/or subtasks from your Gantt chart.