See how staffers spend their time on a particular project with the Time Detail window on the Utilization Dashboard, a Premier and Projector-level feature. Hyperlinks for input and billable hours will direct you to this window. Then, customize and use the data on this window to see if you're getting the most from your staffers.
This article explains how to get to the Time Detail window and how to customize it.

Access the Time Detail Window for a Specific Staffer
1. Click WORKFLOW...UTILIZATION BOARD on your navigation bar.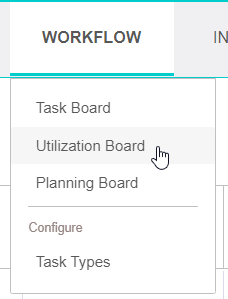 2. Click on a hyperlinked staffer name to generate a Time Detail window for that staffer.



3. Click on the hyperlinked hour amount in the INPUT or BILLABLE HOURS column.




A new tab will populate with the Time Detail window for this staffer.

NOTE: Click on the hyperlinked number in the ALLOCATED column to be directed to your resource allocation window.




Now let's customize this window.
Customize a Time Detail Window
You've got several customization options on your navigation bar in your Time Detail window. We'll navigate from left to right across this bar to explain your options.

Include Non-Billable Time
By default, the Time Detail window includes non-billable time. However, you can exclude non-billable time by unchecking the box next to the phrase: INCLUDE NON-BILLABLE TIME.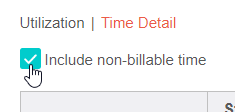 Add Filters to Each Column
Click on the FUNNEL ICON to add filters to your columns. Filters are an easy way to sort your data.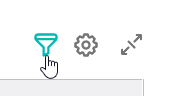 To filter by task, for example, click on the FILTER ICON on the TASK column. A small window will populate and you can select the task(s) you want to filter by (see image below). Then, click APPLY. Your window will update appropriately.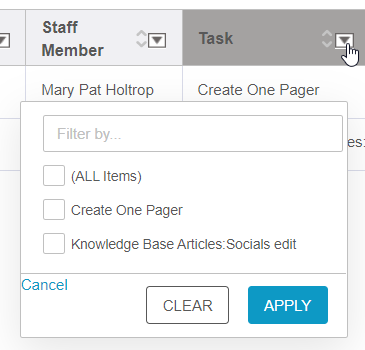 To remove filters from all columns, re-click on the filter icon (the triangle enclosed in a square) on your navigation bar.
Add or Remove Columns
Click on the GEAR icon to add or remove columns. Then, check any fields you'd like to add as a column. Or uncheck any field that you'd like to remove. Plus, you can arrange these fields on an order that's pleasing to you. Click on the intersecting arrows to drag and drop the field.
Click APPLY when you're finished making your changes.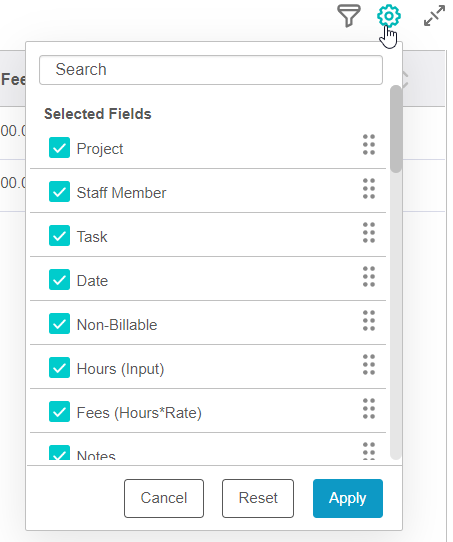 Expand Your View
Click on the GREEN BOX to expand your view to full-screen. Users with a lot of columns may find this view helpful to see all of the details on the Time Detail window.