A benefit of creating custom fields is using them throughout BigTime. They can provide detailed information at a glance to help you make informed decisions.
First, you can add custom fields in the the reports you create. This is just another way to get the most out of your BigTime software: having important information at your fingertips. Click here to learn about creating custom reports.
Second, you can apply custom fields to your project bar. That way, you can easily see the details you need.
Here's how to add custom fields to your project bar:
1. Click MY COMPANY, on the right-side of the navigation bar, and then click PROJECT LIST. This will take you to your list of projects.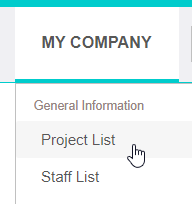 2. Click the GEAR ICON and a menu of selected fields will appear.

3. Scroll down to the end of this list, until you see the custom fields you've created.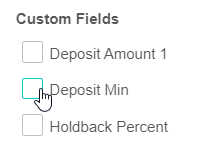 4. Click on the custom field you want to add, then click the APPLY button.



Now your custom field will appear on your project bar. It'll look something like this:



In the example above, "Deposit Min" is our custom field that's now visible in the project bar.