Use the resource allocation report series to get a high-level view of your staffers' productivity and the status of your projects over time. By using these reports, you can answer these type of questions:
How much time did I think we'd spend on this project?
How much did we actually spend?
Do we need to add people to our team?
How much time is being spent on our current projects mid-month, and do we need to make changes for next month?
Is time being spent on the right projects?
Ultimately, these reports allow you to see how the many parts of your business fit together. Now you can project into the future and make sound business decisions.
In this article, we'll show you how to access and use resource allocation reports effectively to get the information you need.
Accessing Resource Allocation Reports
There are several pre-existing resource allocation reports you can access in BigTime. Here's how:
Click ANALYTICS...REPORT CENTER to get to your report center. Near the bottom of this window, you'll see a section called ALL REPORTS. Then, look for a selection of reports under the header ALLOCATION REPORTS.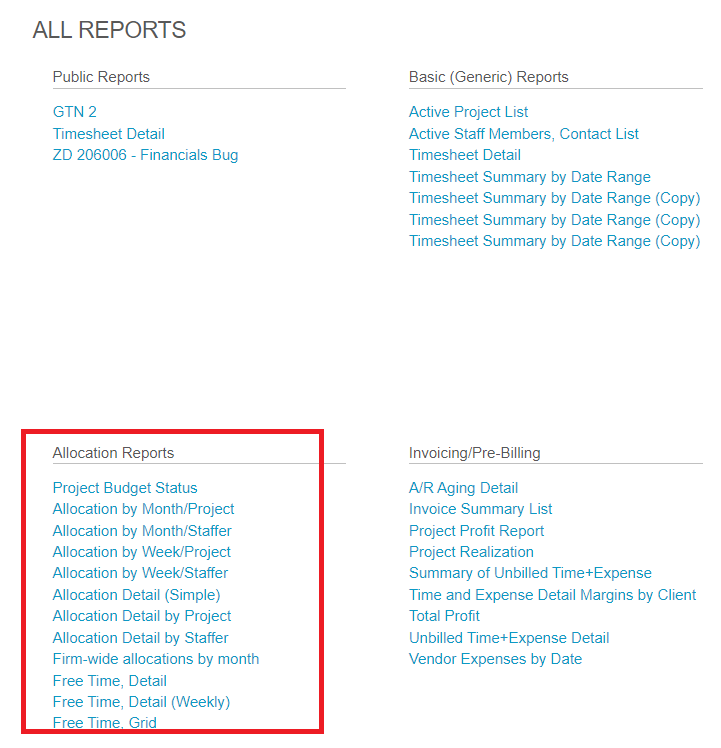 In the sections that follow, we'll walk through two reports: Allocation Detail by Staffer and Allocation by Month/Staffer.
Using Resource Allocation Reports: Allocation Detail by Staffer
Reference the section above to learn how to access the resource allocation reports. Once you're there, click on the ALLOCATION DETAIL BY STAFFER REPORT.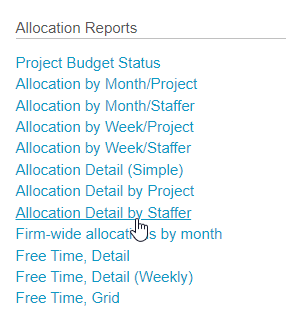 You can see at-a-glance how much time was allocated to each staffer and the hours they inputted during a specific period. Here are a few key points about this report:
Inputted vs allocated hours. See which staffers repeatedly exceed their budgeted number of hours.

In the example below, BigTime Manager is constantly going over his budget. This staffer may cause the entire project to go over budget, which, in turn, can put an unanticipated financial burden on your client. Alternatively, you may learn that a project is taking much more time than anticipated and multiple staffers are exceeding their budgets. In either case, if you're over budget it's a good idea to contact your client and talk about allocating more hours to the project.

Above all, use this report as a tool to keep you and your client informed.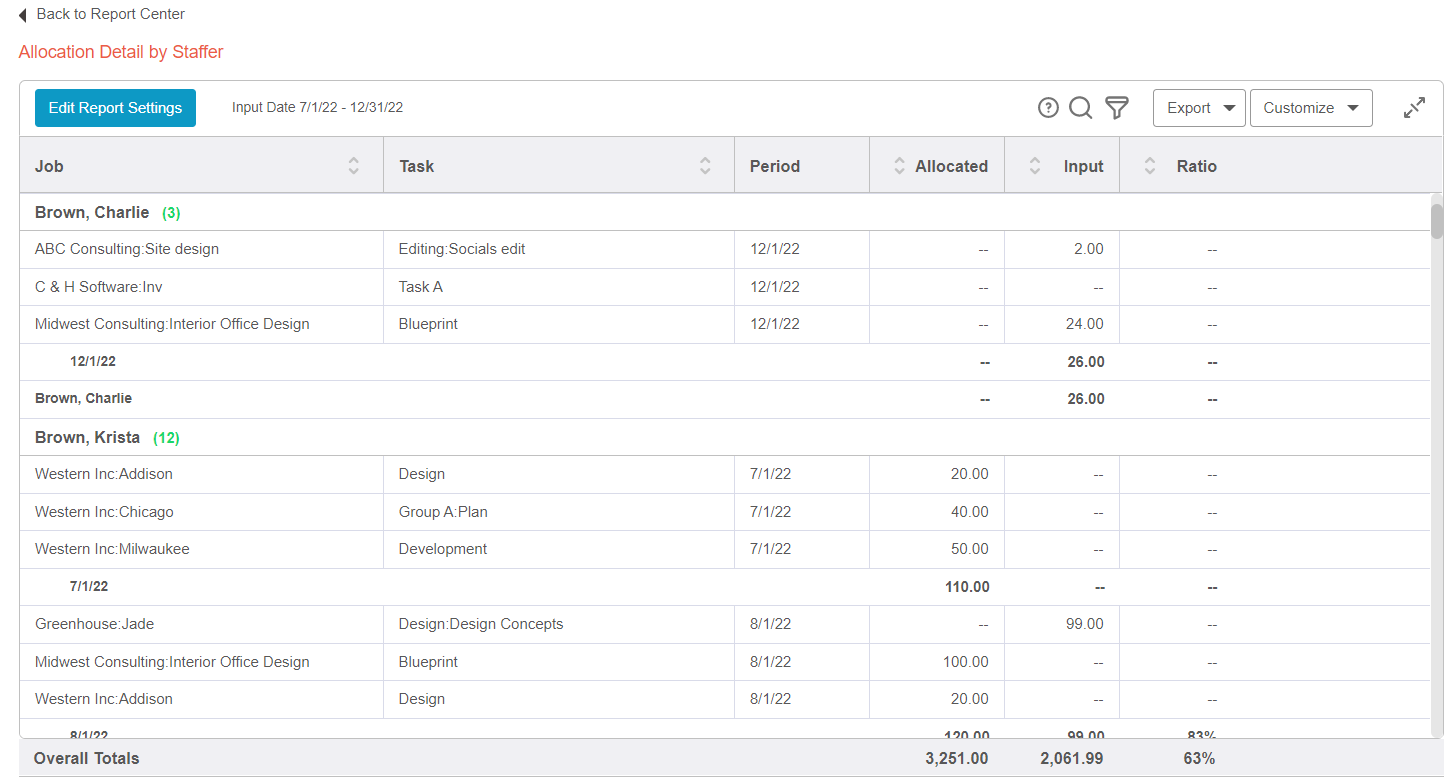 Adjust the time frame of this report. View this report at a weekly glance if you'd like to see a more granular view of your staffer's hours. Click on the button labeled

EDIT REPORT SETTINGS

and check the box SHOW ALLOCATION/ACTUALS BY WEEK.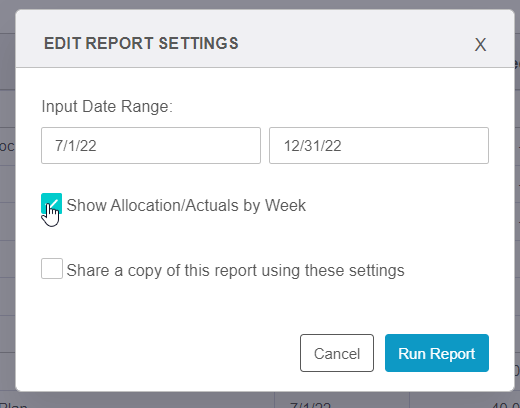 Now you can see if inputted hours by staffer change week-by-week. This view is helpful during mid-month reviews, so you can make changes before the month ends.
You can also look at allocated hours several months in advance. Click EDIT REPORT SETTINGS and adjust the date range, from July through October for example. Then, you'll see the allocated hours toward projects and tasks for each month.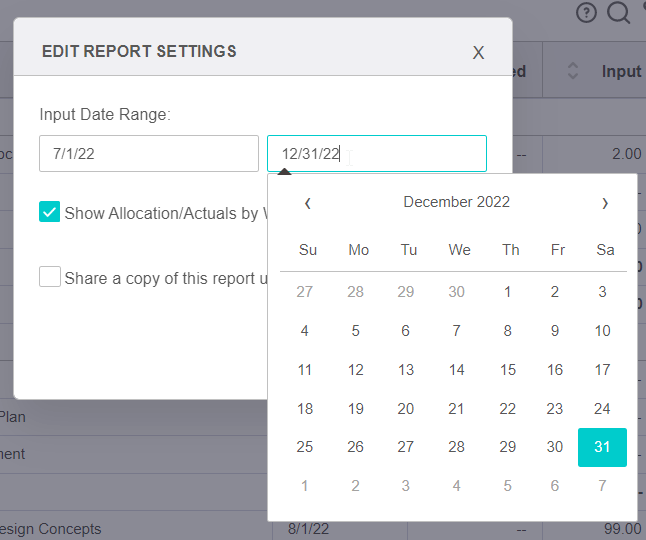 In the example below, you'll see that Krista is over allocated for the month of July.

You'll also notice she's under allocated in the month of August. We could still allocate 20 hours to Krista in August. Maybe she's got training to do, so August may be a good time to get it done. Or you may want to reserve him for a big project coming up. In short, this report gives you a chance to look forward and think about how staffers should use their time.
Using Resource Allocation Reports: Allocation by Month/Staffer
Now let's look at another pre-existing report in BigTime: Allocation by Month/Staffer. Reference the section "Accessing Resource Allocation" earlier in this article to learn how to access the resource allocation reports. Once you're there, click on ALLOCATION BY MONTH/STAFFER.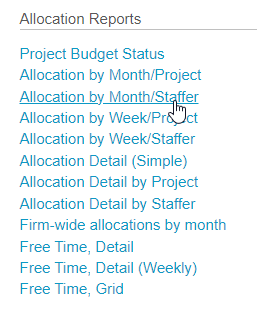 This report shows you who's allocated to what projects over the course of several months. Now you can get an at-a-glance view of where your staffers' time is going. Plus, you'll see who's over and under utilized—that is, who's at their capacity and who's able to take on additional projects.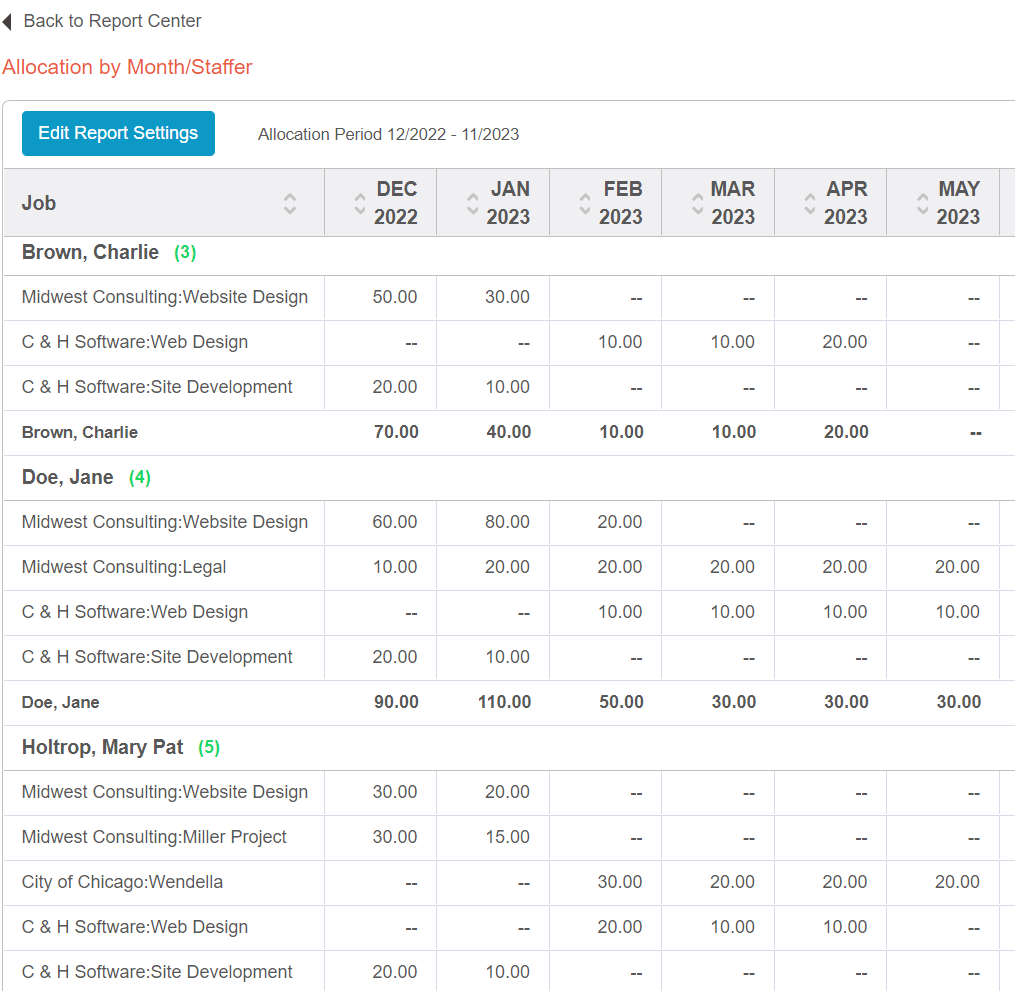 Notice that Jane Doe is pretty busy over the next few months, whereas Charlie Brown has hours available—especially in February. So we may want to shift a few hours from Jane to Charlie.