How do I apply for BigTime Wallet?
To start your BigTime Wallet application, go to MY COMPANY…INTEGRATIONS and click on the BigTime Wallet tile. Then, click the GET STARTED TODAY button in the middle of your screen.
Once you click that button, you'll first be prompted to share what country your firm is located in. BigTime Wallet is available to users located in either the U.S. or Canada. The BigTime Wallet application will be a little different depending on which country you're based in -- to learn more about the information you'll need for both the U.S. and Canada applications, take a look at this article.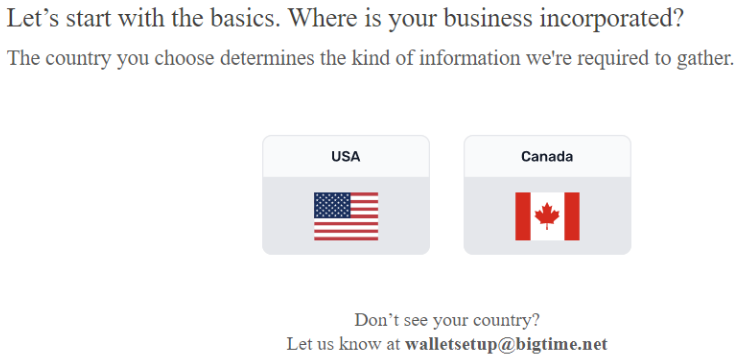 After this step, you'll be redirected to the application where you can fill out various fields with information about your company.
How long do I need to wait before my application is approved?
Your application for BigTime Wallet should be processed and approved after one business day. If one business day has passed and you still haven't been approved, contact support by sending an email to support@bigtime.net or by calling 312-346-4646.
How will I know if my BigTime Wallet application has been approved?
If all your information is correct and the right materials have been received, you will get an email from BigTime informing you that your application has been approved. You can also check your application's status by navigating to MY COMPANY...INTEGRATIONS, clicking on the BigTime Wallet tile, and clicking the hyperlink CHECK STATUS.
Why does my BigTime Wallet application status page say "Pending"?
If your application is "pending", that means BigTime needs either more time or additional documents in order to complete the approval process. If there are documents you need to submit, those documents will be listed on this page. Once you upload those documents, you can resubmit your application.
What documents do I need to submit with my application?
When you apply for BigTime Wallet, you can bypass the hard credit check portion of the application by including three of your most recent bank statements.
How will I know if my application has been rejected?
If your BigTime Wallet application was rejected, you'll receive an email notification that lists the reason(s) it was rejected. Once those issues have been resolved, you can resubmit your application to have it approved.
Why do you need my SSN/SIN for my BigTime Wallet application?
According to U.S. Federal Law, it's required for any merchant or business owner to submit their SSN for any transactional merchant agreement. If your firm operates in Canada and you have an SIN, you'll similarly be required by Canadian law to provide that number for any merchant agreement. Essentially, your SSN/SIN will be used to confirm your identity as the owner of your business. You can learn more about this by visiting the FinCEN webpage addressing this rule.