Keeping your staffers apprised of when tasks have been completed will help them see how their projects are progressing and what they need to prioritize next. With BigTime, you can set up notifications to alert certain staffers whenever a task has been completed. First, let's activate this feature.
Activate the Notification Feature
1. Click MY COMPANY…NOTIFICATIONS from your navigation menu.

2. Then, check the box next to FOLLOW-UP NOTIFICATION.

3. Click SAVE to save your selection.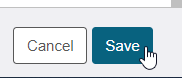 Use Task Follow Up Notifications
These types of notifications can be configured on a task-by-task basis. To set them up, go to MY COMPANY…PROJECT LIST from the main navigation bar.
Then, click on the project your task is associated with, and go to the TASKS tab.

Click on the hyperlinked name of your task, and go to the BUDGET/DATES tab on your TASK/BUDGET DETAILS pop-up window. Scroll to the bottom of this window and find the section labeled TASK FOLLOW UP.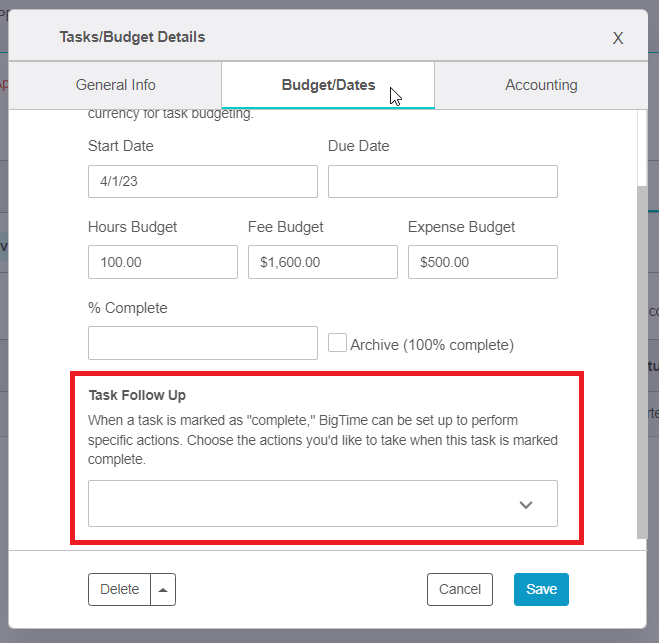 '
NOTE: You can also get to this pop-up window by going to the Task Dashboard (WORKFLOW…TASK BOARD in your main navigation bar) and clicking on the hyperlinked name of a task in your task list.
When you click the GRAY ARROW in the TASK FOLLOW UP field, you'll see a variety of options for sending task follow-up notifications. These options let you decide which staffers will be notified when tasks have been marked as completed. You can:
Notify project lead(s) that the task is completed
Notify all team members that the task is completed
Notify users assigned to linked tasks
Notify financial admin(s) that this project is ready for billing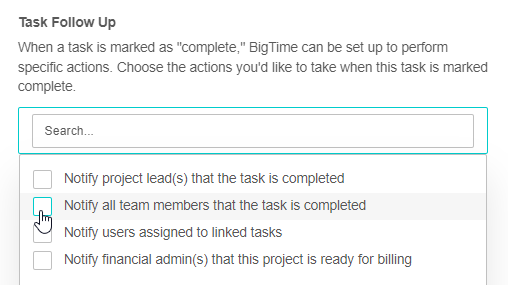 Clicking the box next to an option will let you configure which of your staffers will be notified about the task's status. You can check off multiple boxes if you'd like to inform multiple types of staffers when the task has been finished.

Once you've made your selections, click the blue SAVE button in the button right corner of your window.