You can disconnect BigTime from your QuickBooks online subscription whenever you like. Although we don't delete your subscription's data, you would be revoking access to your QuickBooks Online data moving forward. Note that only a user with system administrator rights can follow the step-by-step detailed below.
Step by Step
1. Click the QuickBooks menu item in the navigation bar at the top of the page. You'll find your QuickBooks connection settings within the INTEGRATION SETTINGS page.


2. Click on the logo for QuickBooks. Note that there are two: one for "QuickBooks" and one for "QuickBooks Desktop". Choose the one for QuickBooks (it will have a green active dot next to the label).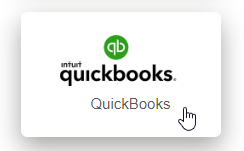 3. Click the DISABLE link beneath the logo on this page. This will open a prompt to confirm that you would like to prevent BigTime from reading or writing any data to/from QuickBooks.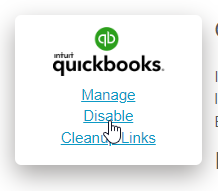 4. Click DISCONNECT to confirm that you would like to disable access to QuickBooks Online. Once the disconnect request is confirmed, the connection with QuickBooks is terminated.