The Lacerte integration for BigTime is another example of how we try to make BigTime work even better for you. Accounting firms that use BigTime and Lacerte can easily integrate the two with our synchronization application called TaxLink. Once you enable the integration and install TaxLink, all of your returns in Lacerte conveniently come into BigTime as clients or contacts. Then from the Engagement Dashboard in BigTime, you'll see a big-picture view of each client and return data (referred to as "engagements"), and can track the status of all your firm's tax returns.
Installation is simple, and the one-way syncing process is straightforward. Read on to learn more about how the Lacerte–BigTime integration works.
Takeaways
TaxLink is the synchronization tool between BigTime and Lacerte. TaxLink serves as the syncing tool between BigTime and Lacerte. Your firm should download the application on the machine that you would like to designate as the liaison between the two systems.
Syncing is a one-way process from Lacerte to BigTime. Do your work in Lacerte, and TaxLink will keep an eye on changes made there and sync that data in BigTime.
Easily manage and track your returns on the Engagement Dashboard. The advantage of integrating Lacerte with BigTime is the ability to bring in your returns and manage and track the status of each return in one place—the Engagement Manager/Dashboard.
How the Integration Works
Enabling the integration is simple and requires just a click of a button from the integrations area of the BigTime system. After you click ENABLE, you'll be prompted to download BigTime's TaxLink software: this is the key to establishing a connection between BigTime and Lacerte. Once TaxLink is installed, you'll point it toward the Lacerte data you want to bring into BigTime, and then the initial sync will happen automatically.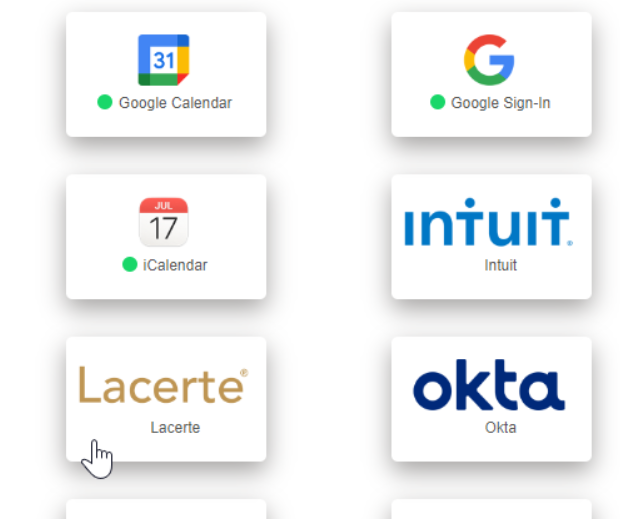 If you have a previous version of TaxLink, you should uninstall it before installing the most recent version. If you plan to use TaxLink on more than one computer, then it's important that you accurately map data files so that TaxLink reads the same files on each machine. Read these articles to connect Lacerte to BigTime and ensure you have the settings in place to bring in the right data.
Managing Integration Settings
After you successfully install TaxLink, you will want to configure your Lacerte integration settings. This will ensure that the most up-to-date addresses are in use and that fields for providers and statuses are correctly mapped from Lacerte to BigTime. You will also find the mechanism for disabling the integration from this area—if there's ever a need for you to do that.
Read Managing Lacerte Integration Settings for a detailed guide to configuring these settings.
Viewing Your Lacerte Data on the Engagement Dashboard
Once all of your fields are properly mapped and your integration settings are established, you can view and manage all of this data on your Engagement Dashboard. This is where the integration is featured within BigTime.
TaxLink brings in your returns from Lacerte along with return-specific data like due dates, preparation fees, client addresses, and preparer information (if available). All of the returns brought in through the connection appear on the Engagement Dashboard as clients and the return data is presented as an engagement for each client. Inside each engagement record you'll find the data synced from Lacerte to BigTime.
You can use important features on the Engagement Dashboard to view return due dates by certain preparers, track overall statuses by return type, and even mark returns complete and view all completed returns.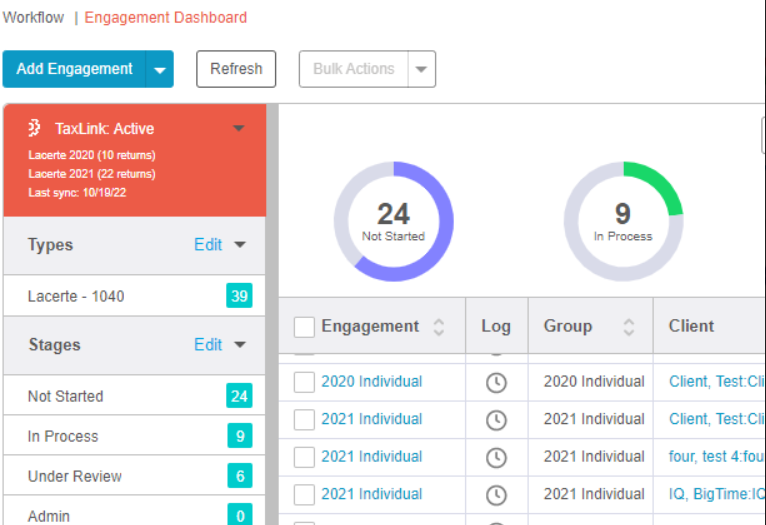 To understand the options for viewing and managing your Lacerte data on the Engagement Dashboard, read Viewing Your Lacerte Data in BigTime.
And for more on why engagements—also known more universally as "tasks"—are beneficial in tracking projects and budgets in BigTime, read the Tracking Tasks and Budgets section of the BigTime Knowledgebase.