BigTime's credit card upload feature is an efficient way to enter credit card expenses.
Say you download a bank statement to an Excel spreadsheet. Then, you can upload this spreadsheet directly into BigTime. As a result, expense entries will be automatically created in BigTime for each item in the spreadsheet.
This article will show you how to use this feature.
Import a File of Credit Card Entries
The process starts on your "expense summary" screen. So let's start there.
1. Click TIME/EXPENSE from your navigation bar, and then select EXPENSE.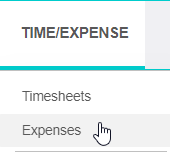 2. Then, click UPLOAD CREDIT CARD.

3. This will cause a window to populate, where you need to add some information about what you're going to upload.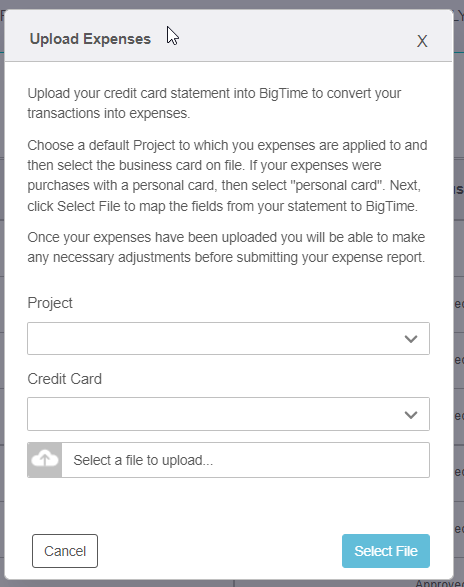 The text provided on the pop-up will give you some context about the uploading process, but there are a few things to note:
PROJECT: This is the default project that you want the uploaded expenses to be applied to. This project can be changed after the file has been uploaded, but before submitting the expense.
CREDIT CARD: Choose a credit card that'll be associated with the expenses. The cards listed are pulled from the "field values" in BigTime. Selecting "personal card" means your expense will upload as reimbursable expenses, rather than non-reimbursable by selecting a business card.
SELECT A FILE TO UPLOAD: Click on this button to select the file you want to upload to BigTime.
4. After you click SELECT A FILE TO UPLOAD and choose your file, the popup window will expand. Now you can map the fields from your file to fields in BigTime.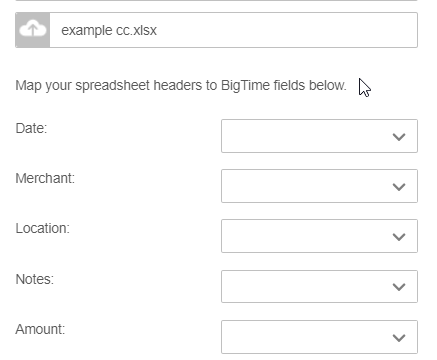 The left-side of the window shows BigTime fields (i.e., date, merchant, location, amount). The right-side shows the fields that are being pulled from your Excel file. The headers in your Excel file will show up here, on the right-side.
For example, your Excel file header "description" maps to BigTime's "merchant." Make any necessary changes before importing by clicking on the red triangle and selecting another value from the picklist.
5. Click IMPORT to import your file. A confirmation window will populate once the import is complete.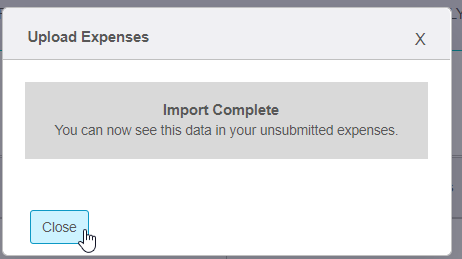 If the import fails, you'll be notified that it failed.
See Imported Credit Card Entries
Once imported, the credit card entries will automatically be populated as Unsubmitted Expense in your Expense History.

There are required fields that need to be entered before the expense report is submitted. In particular, you need to enter an EXPENSE TYPE, which is required in order to submit an expense.
So click on an expense, as shown above. This will populate the expense window on the right-side of your screen. Scroll down to the bottom of your window and you'll see the option to mark your expense as non-reimbursable, as well as a hyperlink that reads SPECIFY A CREDIT CARD. Clicking that hyperlink will allow you to add a credit card to your expense details.

Clicking that hyperlink will allow you to add a credit card to your expense details at the top of the window.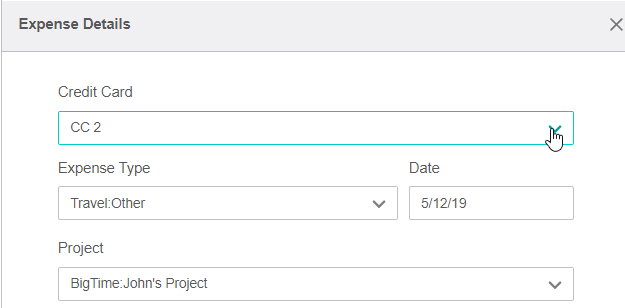 Add the expense type, and then click SAVE. Then, submit the expenses as you normally would.