To view and add staffers in BigTime, you'll need to frequently access your Staff List. The Staff List is where you can get high-level information about your staffers, like email address and department, or drill down into specific details about an individual staffer.
This article provides an overview of the Staff List window and highlights several features that you may find beneficial. You'll learn how to:
Access your Staff List and add staffers to BigTime.
Use the Staff List toolbar.
Access staffer details.
Access the Staff List and Add Staffers
To begin, navigate to the menu bar at the top of your screen and click MY COMPANY...STAFF LIST to access your list of staffers.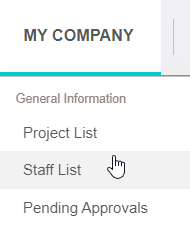 Now you'll see all of your current and past staffers. To add a new staffer, click the blue ADD STAFF button near the top-left corner of your window.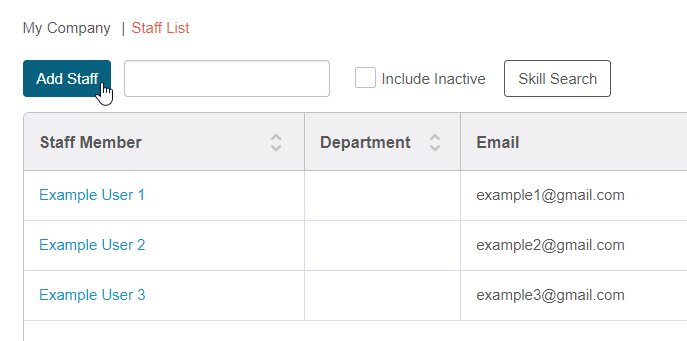 A new window will pop up and you can add details about your staffer, like name and email address. When you've added all your staffer's information, click on the white triangle and next to the blue ADD button at the bottom right side of the window. Select ADD from the picklist to add the staffer to your list without sending them an email invite, or click ADD + INVITE if you're ready to invite them to BigTime.
Note: Before inviting a new user, it's a good idea to have all of your company and project details in order to reduce confusion or miscommunication.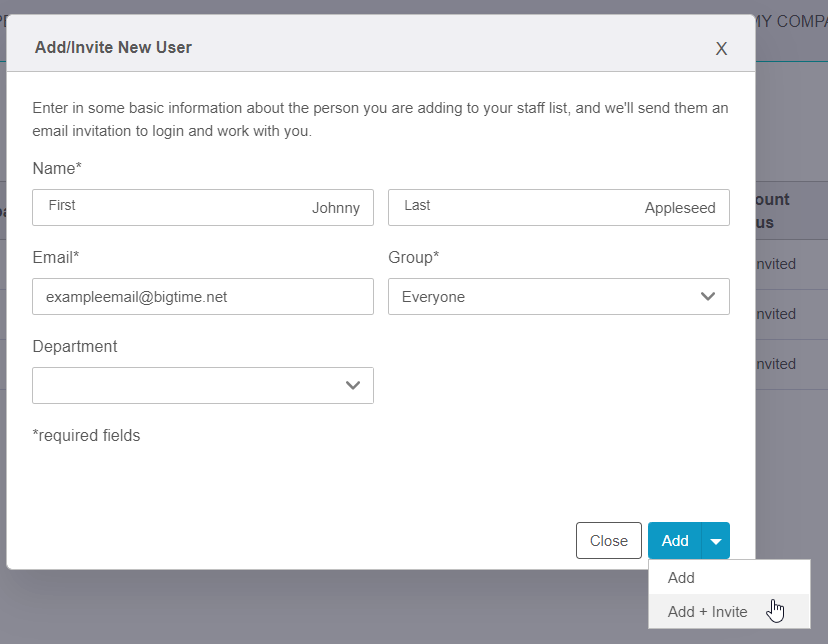 Use the Staff List Toolbar
Use the Staff List toolbar to customize your view. You can:
Search for staffers.

Include inactive staffers to your list of staffers.

Add filters to columns.

Add, remove, or re-arrange columns.

Export your information.
We'll explain each feature next.
Search Within the Staff List
Instead of scrolling through all of your staffers, start typing into the search field (next to the ADD STAFF button) and BigTime will generate the results.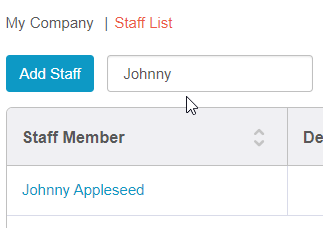 View Inactive Staffers
A staffer is marked inactive for many reasons, such as employment termination, parental leave, or sabbatical. An inactive staffer means the staffer won't appear in the Staff List, but BigTime saves the history associated with the staffer.
To see all of your inactive staffers, check the box next to the phrase INCLUDE INACTIVE.

Add Filters
At the top right side of your Staff List, there is a menu bar that displays a question mark, a funnel and a gear icon. Click on the FUNNEL ICON, located near the top-right of your Staff List, to add a filter to each column.

You will now see white boxes with gray arrows next to each column header in your Staff List. These will allow you to use filters to search within that column. Click on the triangle in one of your columns and a picklist will appear, as shown below.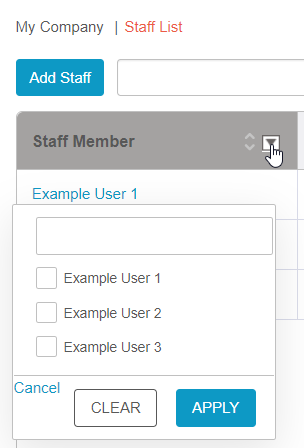 Check the relevant dialog boxes and click APPLY. You will see the arrow box at the top of the column change from gray to orange when these filters have been applied. BigTime will narrow your list to include the values you've selected.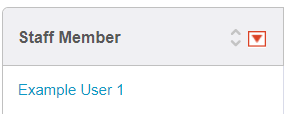 Note: Remove filters from your columns by re-clicking the FUNNEL ICON (near the top-right of your Staff List).
Add, Remove, or Re-Arrange Columns
Click on the GEAR ICON, near the top-right of your Staff List window, to add and/or remove columns.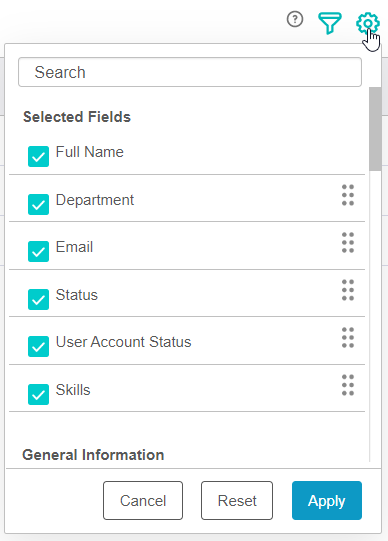 After you click on the GEAR ICON, a picklist will appear. Here's what you can do:
Re-arrange the columns. The six dots to the right of each field will allow you to drag and drop each category to appear in whatever order you'd like.


Add or remove columns. Scroll past the "Selected Fields" section in the picklist and you'll see a list of unchecked dialog boxes. Add more columns by clicking the boxes next to the respective category. Then, click APPLY to include your selections to your Staff List.

Remove existing columns by unchecking boxes under "Selected Fields." Then, click APPLY to save your change(s).
Restore your view to the default view by clicking RESET, at the bottom of the picklist.

Export Your Staffer Information
Click the EXPORT button at the top right to export your Staff List information as a PDF or XLS file.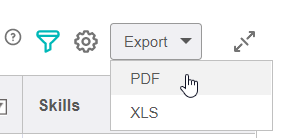 TIP: Expand Your View
Increase your Staff List view by clicking the icon with two arrows, located in the top right corner of your window. Re-click on the same icon to restore the Staff List view to the smaller view.



See Staffer Details
All of your staffers are hyperlinked on the left-side of your Staff List window. Click on a hyperlink and you'll be taken to the Staff Dashboard for a specific staffer.