When you start out with BigTime, there are several major categories you should add values to:
Basic Codes,

Field Values,

Status Codes, and

Cost Centers.
The values you create in each category will populate in picklists throughout your BigTime environment. They provide details about your staffers and projects.
Then, run reports on the values you create for additional information. You can find out, for example, which department, sales or engineering, costs you the most money.
NOTE: The category names may vary, depending on your lexicon settings and/or industry.
Takeaways
Add values to the four Field Value categories. The values will populate in picklists throughout BigTime, which you can select in order to provide more information about your staffers and projects.
Create values that are firm-relevant and edit them over time as your business needs change. For example, as your company grows you may add and/or edit Cost Center values. These values refer to the department responsible for a cost.
Use the values you create to run reports. This can give you detailed information about a staffer or project, which you can use to make business decisions.
This overview article will explain how to access these four major categories: Basic Codes, Field Values, Status Codes, and Cost Centers. It'll also describe each one and provide links to detailed articles that explain how to add and edit values to each category.
Access Field Value Categories
Easily navigate to the Field Value categories by clicking MY COMPANY...FIELD VALUES.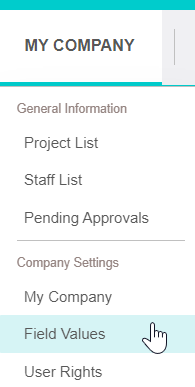 A new window will pop up and you'll see the four major Field Value categories at the top: BASIC CODES, FIELD VALUES, STATUS CODES, and COST CENTERS. Each major category has several smaller categories. In the image below, you can see that Basic Codes contains three smaller ones: CATEGORIES, EXPENSE CODES, and INVOICE TERMS.

About the Four Field Value Categories
Now we'll explain each of the four major field value categories.
BASIC CODES is the most used category in BigTime. Add values to each of its three categories so staffers can: categorize time in timesheets; specify expenses in expense entries; and indicate payment details in client invoices.
FIELD VALUES is a broad category that contains 12 smaller categories. They're used to add more information about your contacts, team, projects, clients, departments and merchants. You can also add company credit cards and grant staffers access, so they can create credit card expense entries.
STATUS CODES is a broad category that includes three smaller categories. Status Codes are used to apply detail about your projects, like its production and billing status, and identify the status of a staffer, such as "on sabbatical" or "terminated."
COST CENTERS has three smaller categories: Business Unit, Revenue Type, and Function. Each category refers to the department responsible for a cost. For example, if a sales representative purchases new sales-tracking software, the cost will be allocated to the sales department.