If you are an administrative user, the illustrated dashboard is the page you will see every time you login to BigTime. The dashboard offers an at-a-glance overview of key metrics - metrics that are pulled in real time from your BigTime data.
Your dashboard is configured with a grouping of individual tiles. Some of the tiles provide real-time functionality, like syncing with and updating your QuickBooks files. Other tiles provide insight into your billability status, pending invoices versus unbilled work in progress (WIP), active tasks and engagements, and invoices and timesheets that need review and approval.
Navigating Bigtime
You can get around BigTime using the navigation bar along the top of the screen.

Look for Help From the Utility Bar
The utility bar in the upper right corner of the screen has five icon tabs to choose from. Clicking the PROFILE ICON will allow you to update your profile, while the CLOCK ICON allows you to view/edit active timers. The ENVELOPE ICON allows you to keep track of your BigTime inbox, and clicking the QUESTION MARK ICON provides links to our KB and live-chat support options (as well as links to webinars and training articles). Finally, the MAGNIFYING GLASS ICON lets you search for projects, contacts, clients and staff within your BigTime account.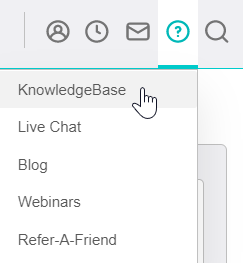 Getting Back to the Dashboard/Home Page
If you lose track of where you are while touring BigTime, just click the HOME ICON in the upper left hand corner and you'll be taken back to your dashboard.

Understanding Your Dashboard Tiles
In addition to the navigation menu, the admin/manager dashboard contains several status tiles that let you know where your firm stands. This section gives you a brief outline of those tiles and the data they represent.
QuickBooks Sync Status
This tile shows the status of your BigTime connection to your QuickBooks account. A pop-up screen shows you how many projects have been imported to BigTime, how many staff, the number of service items, and the date of your last sync/import.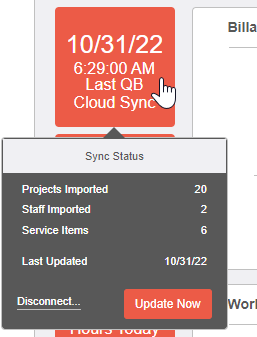 Pending Tasks
The PENDING TASKS tile will show you the number of tasks your firm has that are currently due or that are overdue. When you click on this tile, it will take you to the Task Dashboard, where you'll be able to figure out exactly which tasks need the most attention.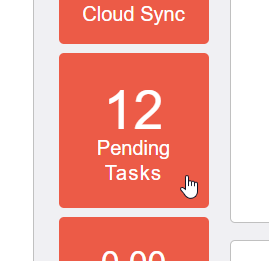 Hours Today
This tile will show you how many hours total have been logged on the day you access your dashboard. This number will include both submitted and unsubmitted hours. When you click on this tile, you'll be redirected to a time report with a breakdown of all the hours recorded for that day.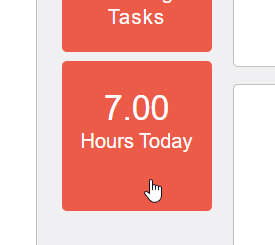 Billability
Clicking the "right left" arrows on the BILLABILITY tile allows you to look at billability from 3 different time periods: month to date, quarter to date, and year to date. Billability is based on 2 factors: staff capacity, that's the number of hours available in a work day (typically 8 hours); and the billable hours submitted by staffers; Divide capacity by tracked billable hours and you'll get the actual revenue that was generated from your billable work.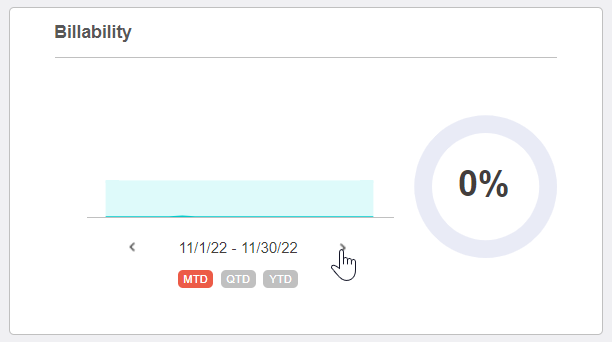 Invoicing
Check the status of your company's billing at a glance in real time in the INVOICING tile to the right of your screen. You'll see unbilled WIP, the dollar amount of drafted invoices pending review/approval, and the dollar amount of finalized invoices (those that have been sent to the client). Clicking this tile will navigate you to the INVOICING...OVERVIEW page, where you can view the statuses of your invoices in more detail.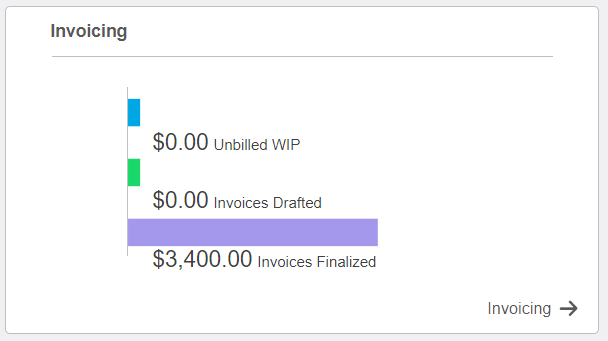 Workforce/Utilization
The WORKFORCE/UTILIZATION tile is a very useful shortcut that will help you monitor your staff's availability and utilization in a single glance. You'll see your total number of employees, the number of employees that are actually billable, your effective rate, and your overall revenue/head. The buttons at the bottom of the tile allow you to filter this data by month to date, quarter to date and year to date. Clicking the arrow at the bottom right hand corner will navigate you to the WORKFLOW...UTILIZATION BOARD page, where you can view your firm's utilization data in more detail.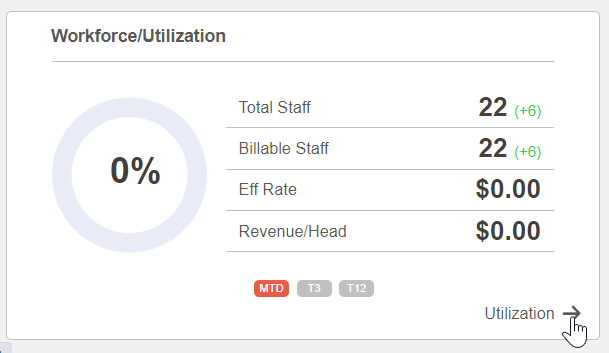 Review and Approvals
The REVIEW AND APPROVALS tile packs a lot of project management power in a very small space. Keep the reviews and approvals process on track with real time updates on the number of hours and expense reports waiting for your review/approval. The tile will display any invoices, hours, or expenses you need to review at this point in time. Click on this tile to jump immediately to the place where you can manage the review/approval process.